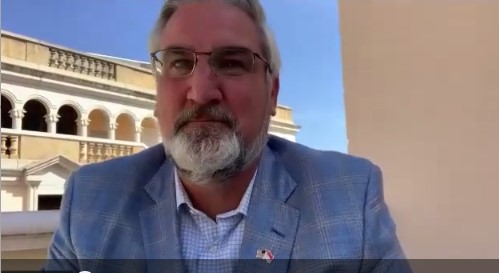 Indiana Gov. Eric Holcomb is wrapping up a trade trip to Europe, "energized" by the meetings this week with key prospects he hopes will do business in Indiana.
Holcomb and Secretary of Commerce Brad Chambers spent this week in Sweden, the United Kingdom and Monaco meeting with world leaders and companies. Conversations during the trip focused on emerging industries Indiana had been hoping to attract, including electric vehicles, batteries and clean energy.
In an interview with IBJ from the last stop in Monaco, Holcomb said he just got out of a meeting with prospective companies in the battery pack production industry. Two companies Indiana is working with, among others, are Innobot, which specializes in health care automation, and Ideanomics, a global electric vehicle company, he said.
Holcomb said Indiana is an attractive state for companies like those who are looking to expand, citing the state's manufacturing sector and being home to five automotive original equipment manufacturers.
"With the world kind of trending toward electrification, and in all those platforms, these are a couple of companies that have snapped pieces together to do just that," Holcomb said.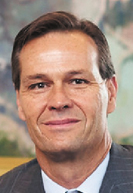 Holcomb said these discussions involving energy, batteries and electric vehicles are "absolutely" an indication that Indiana wants to be a leader in the growing industry. He was energized and surprised by the productivity of the discussions from the trip, he said.
Holcomb and Chambers also met with companies that are already rooted in Indiana: Rolls Royce and Saab, the Sweden-based global aerospace and defense company.
"We don't just want to be a player," Holcomb said. "We want to be a leader. Obviously, we have the pedigree, or the heritage, in manufacturing, in powering equipment, engines, turbines in, you know, from cars to airplanes. I've just been impressed with the conversations that we've had."
Holcomb said global companies, despite coming out of a pandemic and an the ongoing Russia-Ukraine conflict, are eager to overcome challenges and are looking to expand. He noted that Indiana's "sense of urgency" has struck a chord with leaders they met with.
"What resonates with them is our sense of urgency and our understanding that speed kills, meaning slow kills, and you're either growing or dying," Holcomb said.
Holcomb and Chambers will conclude their trip in Europe this weekend at a Formula E race in Monaco. Formula E is a motorsports series for electric cars.
Please enable JavaScript to view this content.