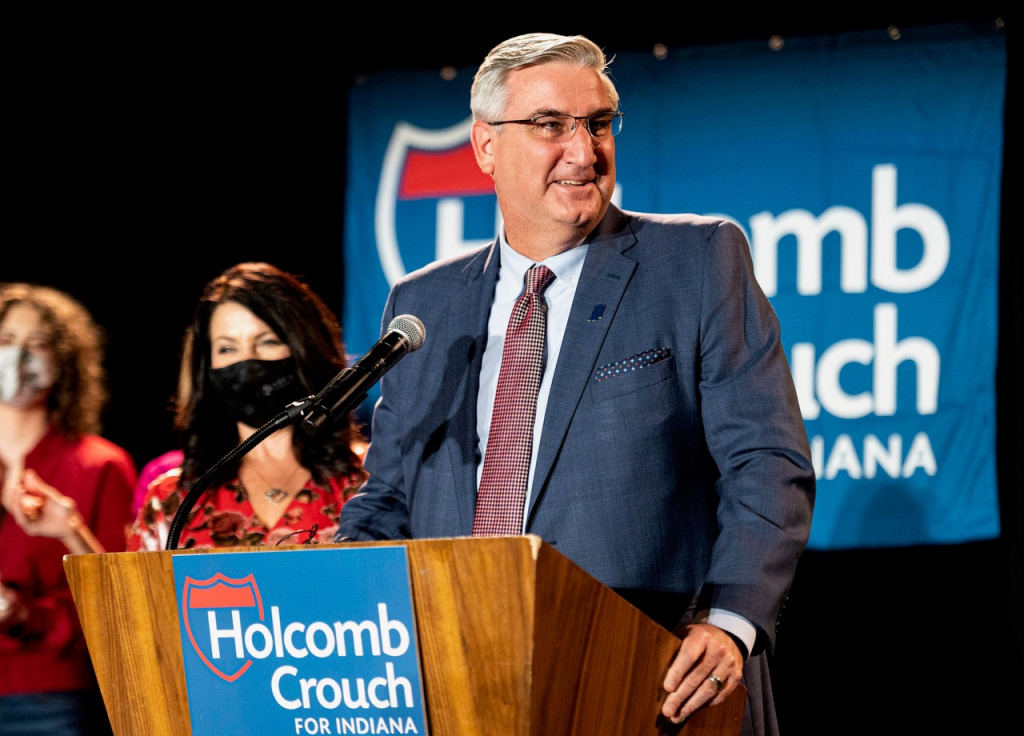 Republican Gov. Eric Holcomb is headed toward a second term in office.
Holcomb maintained a strong lead over Democratic opponent Woody Myers and Libertarian candidate Donald Rainwater all night on Tuesday as  election results trickled in.
As of 11 p.m., with 66% of the ballots recorded, Holcomb had 58.5% of the vote over Myers, with 28.6%, and Rainwater, with 13%.
Holcomb said he knows that he and Lt. Gov. Suzanne Crouch have "so much work to do" with another four years, but he's eager to get started.
"Let's get busy building one Indiana for all," Holcomb said at a small supporter event at the JW Marriott in downtown Indianapolis.
Crouch said she thinks the state can move "to new heights over the next four years."
"Eric Holcomb is a man who takes his job seriously, but he doesn't take himself too seriously," Crouch said. "He is a man who is committed to putting Hoosiers first."
Speaking to supporters at an election night event in Carmel, Rainwater said even though he didn't win, his campaign sent a message that Hoosiers are not OK with big government. Rainwater appears likely to have received a higher percentage of the vote than any Libertarian gubernatorial candidate in Indiana's history.
He told supporters he wanted them to leave Tuesday night remembering "this is not good enough."
"It won't be good enough until we get control of our government back," Rainwater said.
Myers said he knew the race would be an uphill battle.
"I ran because I knew we could be better and that we could do more," Myers said.
The governor's race largely revolved around Holcomb's handling of the COVID-19 pandemic, with Myers criticizing the governor for not doing enough to protect Hoosiers and Rainwater arguing the opposite—that Holcomb infringed on the personal freedoms of individuals with the mask mandate and economic restrictions.
Despite the attacks from both sides, Holcomb, 52, maintained a lead in the polls leading up to Election Day. He also had a significant cash advantage with more than $6 million in his war chest for the final weeks of the campaign, compared to Myers who had only $80,500 and Rainwater who had $131,000.
During his first term as governor, Holcomb focused on workforce and economic development, education and infrastructure. One of his more successful initiatives has been aligning training programs to workforce demand, particularly through two new programs—the Workforce Ready Grant and the Next Level Jobs Employer Training Grant.
Holcomb has said that skilling up Hoosiers to fill open jobs will continue to be a priority in his second term.
Prior to being elected governor in 2016, Holcomb briefly served as lieutenant governor under Republican Gov. Mike Pence. He also worked as deputy chief of staff to former Gov. Mitch Daniels, chief of staff to former U.S. Sen. Dan Coats and chairman of the Indiana Republican Party.
Despite being the state's first Black gubernatorial candidate from either major political party and a former state health commissioner, Myers, 66, struggled to gain traction and pull in big donations. He wasn't on air with a TV ad until Friday, while Holcomb went up on TV in August and Rainwater managed to fundraise enough money to be on TV earlier in October.
In addition to his time spent as Indiana state health commissioner under Gov. Robert Orr, Myers has spent time as chief medical officer for Anthem Inc., director of health care management for Ford Motor Co., CEO and vice chairman of Corizon Health and New York City health commissioner.
Rainwater, 57-year-old a software engineer, gained more attention than third-party candidates typically do as he was able to attract support from conservatives who were unhappy with Holcomb's mask mandate and economic restrictions in the spring to try to slow the spread of COVID-19.
Rainwater opposed the mask mandate and any government-mandated business closures. He also criticized Holcomb's workforce development plans and, during one debate, compared those programs to U.S. Sen. Bernie Sanders' free college-for-all proposal.
Please enable JavaScript to view this content.