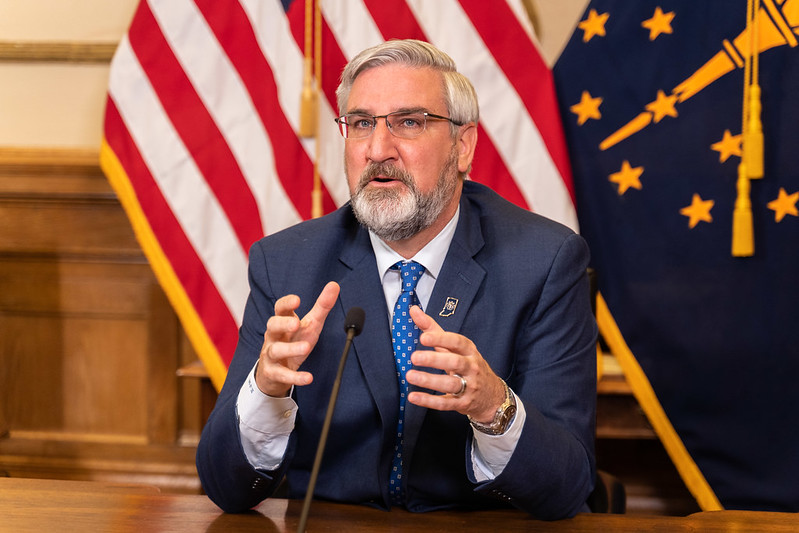 Indiana will open COVID-19 vaccine eligibility to all Hoosiers ages 16 and older on March 31, Gov. Eric Holcomb announced Tuesday.
In a statewide address, Holcomb said he will also let the statewide COVID-19 restrictions, including the mask mandate and capacity restrictions, expire after April 5.
Holcomb sounded an optimistic tone in the 22-minute address, suggesting that the worst of the pandemic could be over, with the vaccine supply increasing and the rate of hospitalizations and deaths falling.
"The light at the end of the tunnel becomes brighter and brighter," Holcomb said.
In recent weeks, Indiana has received a limited supply of vaccine doses from the federal government, which controls the supply. But Holcomb said his plans to widen the eligibility pool to everyone 16 and older is based on assurances that the supply will increase.
"Earlier today, our federal partner told states to expect large increases in the amount of vaccine that will be flown to us, beginning the last week in March," Holcomb said.
The governor has been expanding vaccine eligibility to younger and younger age groups over the last several weeks. Just Monday, the age limit dropped to ages 40 and up and within 24 hours more than 40,000 individuals signed up to receive the vaccine. More than 970,000 Hoosiers are fully vaccinated.
Holcomb said he will renew the public health emergency order, which was also set to expire April 1, for another 30 days because that could impact federal funding.
The governor's announcement comes as Indiana's coronavirus hospitalizations and death rates have fallen by more than 80% since their December peaks. He's also faced increasing pressure from the GOP-controlled Indiana General Assembly to end the mask mandate and other restrictions. A pending resolution that would end the public health emergency has 29 Republican co-authors.
Other states, such as Texas and Mississippi, have also already lifted mask restrictions.
Holcomb issued the first stay-at-home order last March, and the state began slowly reopening in May.
Since November, restrictions have been based on county-by-county spread and infection levels, but complaints from the public and some conservative state legislators have continued about the mask mandate that Holcomb first issued in July.
Holcomb's order that continued the mask mandate, which has been largely unenforceable with no penalties for violations, and limited gatherings in counties based on coronavirus risk is set to expire April 1.
He said he will extend that through April 5, because of all the out-of-state visitors in Indianapolis for the NCAA Men's Basketball Tournament. The final game will be played April 5.
Holcomb said masks will still be required in state buildings, COVID-19 testing and vaccination sites and schools. And he added that he will continue wearing a mask at restaurants and public events.
"It's the right thing to do," he said.
The governor added that he expects K-12 schools to have all in-person instruction by the next school year.
Based on the state's color-coded infection rate map, most counties are now in blue, which signifies the lowest level of spread. Less than 30 counties are in yellow, which is the second lowest level of spread.
Under Holcomb's current executive order, social gatherings are limited to 250 people in blue counties, but capacity is allowed to be 100% as long as social distancing can be maintained.
Starting April 6, all decisions about venue capacity will be made by local officials, Holcomb said.
Holcomb said he planned to schedule additional mass vaccination clinics in April, similar to the ones held earlier this month at the Indianapolis Motor Speedway and Ivy Tech Community College in Sellersburg, and the upcoming one this weekend at the University of Notre Dame in South Bend. He did not give any details on dates or locations.
Nevertheless, Indiana still averages about 10 coronavirus-related deaths per day, illustrating that the pandemic has not run its course.
Some public health experts say they wished Holcomb would keep restrictions in place for several additional weeks, until more of the Indiana population has been vaccinated. They said they fear that dropping all restrictions might result in another uptick in COVID-19 cases.
Only 18% of Indiana residents 16 and older are fully vaccinated, according to the state health department.
"We've been in this pandemic for a long time," said Graham McKeen, assistant director of public and environmental health at Indiana University. "And I think we should have learned our lessons about when to ease up. I think going through the month of April with the current state restrictions certainly would have helped."
 The Associated Press contributed to this article.
Please enable JavaScript to view this content.