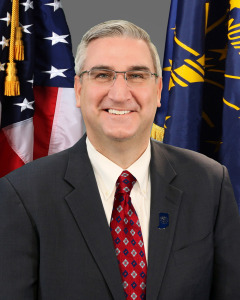 Indiana Gov. Eric Holcomb on Monday evening signed legislation that repeals the state's requirement for a permit to carry a handgun and vetoed a bill that would have banned transgender girls from participating in K-12 girls' sports.
Anyone age 18 or older will be able to carry a handgun in public without a permit starting July 1 unless they are prohibited for reasons such as having a felony conviction, facing a restraining order from a court or having a dangerous mental illness.
Indiana Senators approved the bill 30-20 early this month after House members voted 68-30 largely along party lines.
Holcomb said in a written statement that he supports the constitutional right to carry firearms and noted that Indiana will join 23 other states that have similar carry laws.
"HEA 1296, which I've signed today, entrusts Hoosiers who can lawfully carry a handgun to responsibly do so within our State," Holcomb said in the statement.
He also wrote that if a person is prohibited from carrying a firearm, they will still be prohibited under the new law. If someone is carrying a firearm illegally, they can be prosecuted and charged for "unlawful carry of a handgun." Firearm permits will still remain available without a fee for anyone who wants one.
Indiana State Police Superintendent Doug Carter, who was opposed to the measure and testified against it before the Legislature, said in a written statement that he will work with law enforcement around the state to make necessary changes to firearms enforcement and find proper ways to identify those who are prohibited from carrying handguns.
"We will continue to encourage citizens to apply for, and maintain, a firearms permit. A permit will assist law enforcement officers and will also allow a permit holder reciprocity with other states," Carter said in the statement.
Meanwhile, Holcomb also issued his second and final veto of the legislative session. House Bill 1041 would have prohibited students who were born male but identify as female from participating in a sport or on an athletic team that is designated for women or girls.
The bill could still become law if state lawmakers, who hold Republican supermajorities in the House and Senate, override Holcomb's veto with a simple majority vote. The legislation was passed by the Indiana Senate 32-18 and by the House 66-30.
In his veto letter to legislative leaders, Holcomb wrote that the bill "falls short" of maintaining consistency for fairness in school sports. He noted that states who have already passed similar laws are already facing or have been threatened with lawsuits. Some courts have already blocked those same laws from taking effect based on equal protection grounds.
The ACLU said it would fight the bill in court if it became law. The measure was opposed by the organization, along with many in the LGBTQ community and parents with transgender children.
Holcomb also wrote in his veto letter that he found no evidence of the problem the legislation is intended to address. He added that he was "heartened" by the work the Indiana High School Athletic Association is already doing with its existing policy to maintain fairness in sports.
"The presumption of the policy laid out in HEA 1041 is that there is an existing problem in K-12 sports in Indiana that requires further state government intervention," Holcomb said in his letter. "It implies that the goals of consistency and fairness in competitive female sports are not currently being met. After thorough review, I find no evidence to support either claim even if I support the effort overall."
He also wrote that the process for filing grievances was "wide open" in the bill, and he was concerned that each county and school could handle the provisions differently.
"This victory belongs to the trans youth of Indiana, who deserve to live as their authentic selves and to play the sports they love, free from discrimination," Katie Blair, ACLU of Indiana advocacy and public policy director, said in a written statement. "This win wouldn't have been possible without the thousands of Hoosiers who voiced their strong opposition to state legislators and who showed up at the Statehouse to oppose this harmful bill."
Holcomb has taken action on all 177 bills sent to him by the Legislature, signing 175 and vetoing two. His other veto was against House Bill 1211, which dealt with state agency rulemaking.
Indiana lawmakers are set to return to the Statehouse on May 24 to address any technical corrections and vetoes.
Please enable JavaScript to view this content.