Indiana Gov. Eric Holcomb is launching a marketing campaign to emphasize the importance of wearing a mask in public, but he said he doesn't plan to mandate their usage like governors in some other states.
During Wednesday's pandemic press briefing, Holcomb and Indiana State Health Commissioner Kris Box repeatedly encouraged Hoosiers to wear a mask when around other people to help prevent the spread of COVID-19.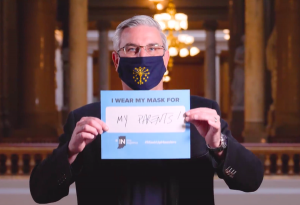 "It may be inconvenient but it's very important, and it works," Holcomb said. "This is one of the tools that we know can limit the spread."
As of Wednesday, the state had nearly 46,000 positive cases and nearly 2,500 deaths attributed to the novel coronavirus.
The administration is using #MaskUpHoosiers and sharing videos of officials, such as Holcomb and Box, talking about why they wear a mask and explaining that doing so is the best way to protect others.
"This good example needs to spread faster than the virus," Holcomb said.
Box said she hopes Hoosiers have been paying attention to what's happening in other states where social distancing measures and mask wearing hasn't been taken seriously and case numbers are rapidly rising again, which is causing reopening plans to be delayed or reversed.
"Indiana could very easily be in that same situation in the next two to four weeks or six weeks if we don't take this to heart," Box said.
The mask-wearing campaign comes as Holcomb delays the state from moving into the final stage of its reopening plan. Indiana will stay in what he's calling "Stage 4.5" from July 4-17 instead of entering Stage 5 on July 4 as previously planned.
When asked why he wouldn't mandate wearing a mask, given its effectiveness in preventing the spread of COVID-19, Holcomb said he believes in Hoosiers.
"I believe that Hoosiers are doing the right thing, for the most part, in terms of doing their part to help slow the spread," Holcomb said.
Please enable JavaScript to view this content.