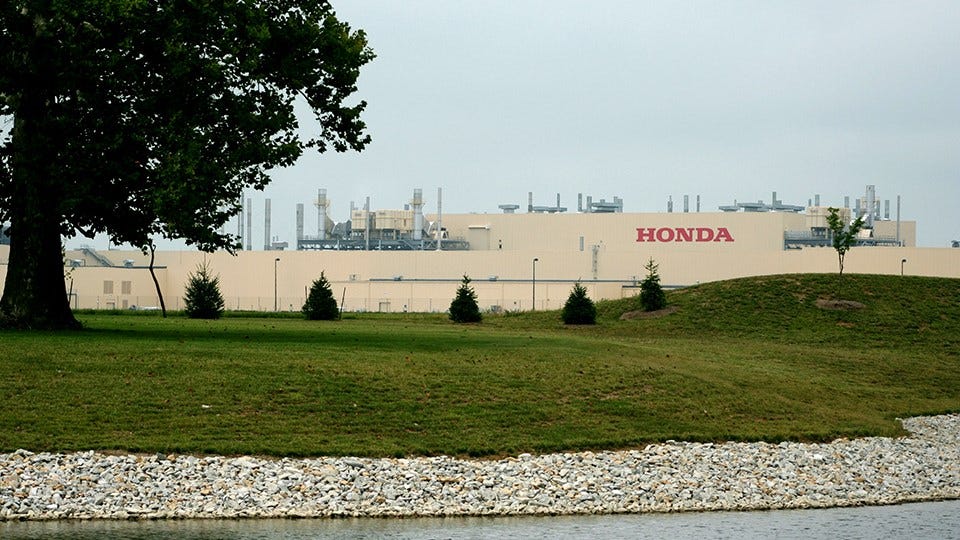 Honda Motor Co. plans to move its production of the Accord sedan to its plant in Greensburg, Indiana, by 2025, the automaker announced Tuesday.
The move comes as Honda prepares for the production of electric vehicles and components primarily at facilities in Ohio.
As part of the preparations, Honda said it will consolidate two assembly lines at its Marysville Auto Plant in Ohio and retool them for the production of EVs and EV components. The plant has assembled Accords for the United States since 1982.
The 1.3 million-square-foot Indiana Auto Plant in southeast Indiana began production in 2009 and employs about 2,500 people, according to the company's website. The plant currently manufactures the Civic Hatchback, CR-V and Insight Hybrid models.
Honda did not specify if any additions would be made to the plant or if any new jobs would be created in response to the additional production.
"We're excited to take the lead on this important model for Honda," Bryan Robbins, director of the Economic Development Corp. of Greensburg/Decatur County, said in an email. "This shows the important role that the Indiana Auto Plant plays in Honda's future and a testament to its flexibility and skilled associates. We continue to value our partnership with the plant and look forward helping in any way with the transition."
The move is part of a $700 million investment by Honda to retool several of its existing auto and powertrain plants in order to create a new EV Hub in Ohio. The Marysville Auto Plant is expected to begin EV production as early as January 2024.
Honda is also making changes to production at its Anna Engine Plant in Ohio and Transmission Plant in Georgia.
In October, Honda announced it had selected Ohio for a $3.5 billion EV battery factory that would employ 2,200 people as part of a joint venture with LG Energy Solution in South Korea. Indiana had been in the running for that project.
The joint venture recently broke ground on the facility, which is expected to be complete by the end of 2024. It will be located near Jeffersonville, Ohio, which is about 50 miles south of Marysville and about 40 miles southwest of Columbus.
Honda said its goal is to have battery-electric and fuel-cell electric vehicles represent 100% of its vehicle sales by 2040. However, the automaker added it plans to continue current internal combustion engine and hybrid-electric vehicle production "in order to continue to meet anticipated strong customer demand through 2030 and beyond."
The Accord model debuted in 1976 as a compact hatchback but was converted to a mid-sized model in 1990 with a lineup expanded to include a sedan, coupe and wagon. In 1982, Accord became the first vehicle from a Japanese automaker to be manufactured in America.
Honda sold 154,612 Accords in the United States in 2022, making it the automaker's second-best selling model behind the CR-V. Accord sales were down nearly 24% in 2022 compared with the previous year.
Please enable JavaScript to view this content.