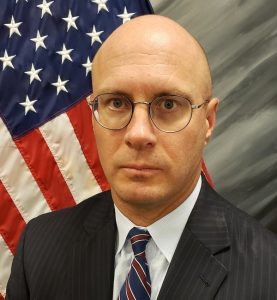 Spies are typically associated with thefts of military secrets or classified government information.
Who knew that agriculture technology and data—or ag biotech intellectual property—were among the top targets of foreign spies in the United States?
Dan Coats, former Indiana Senator and director of national intelligence, highlighted the risks to the nation's ag biotech interests in his 2019 Worldwide Threat Assessment. Now, FBI officials are warning those in the ag biotech sector to protect themselves—and their trade secrets.
Officials in the local FBI office recently told IBJ that local operations run by Corteva Agriscience (formerly Dow AgroSciences), Cargill and Beck's Hybrids are all likely targets, as are Purdue and Indiana universities and other land-grant colleges.
"We have a tremendous infrastructure in place in this state for agricultural innovation, and that makes us a target," FBI special agent Craig Moringiello said.
Moringiello is based in the FBI's Indianapolis office because Indiana is home to leading ag tech companies and to major university research facilities.
"Foreign companies and governments will try to exploit the open nature of our society and of our public land grant system that conducts a good deal of cutting edge agricultural research," Moringiello said.
But targeted entities go beyond big companies and universities.
"If any farmer has a competitive advantage, they would be at risk," Moringiello said. "As farmers have advanced technologically and have bigger stores of data on their farms, they have become bigger targets."
Foreign raids could come in the form of attempts to access a computer system belonging to a farmer, agricultural company or school. Or they could involve spies actually visiting or sneaking onto farms or into facilities.
Moringiello warned farmers to be aware of who is getting access to what.
"Farmers should be vigilant in protecting their operations and security measures," Moringiello said.
Midwestern agricultural companies have been targets of efforts by China and other nations to uncover proprietary research that would advance their own food-production initiatives.
Moringiello said spies could seek genomic data and information on seed-hybrid usage, irrigation and other field treatments, planting and harvesting schedules, as well as intelligence on equipment or the equipment itself. Agricultural technology and data with medical applications are also high on the target list, Moringiello said.
The theft of intellectual property is a central issue in the U.S.'s trade war with China, and that extends to agriculture technology and data. The spies will apparently go to extremes to steal U.S. agriculture trade secrets.
"There have been cases of individuals digging up seeds in a field in Iowa, and others trying to steal rice seeds from the National Research Center in Arkansas," Moringiello said.
The FBI reports that several agricultural firms in Indiana have already been hit. Moringiello declined to say which ones.
Foreign interests also try to recruit individuals with access to or knowledge of ag biotech innovations, FBI officials said.
"Their foreign talent recruitment programs target researchers doing cutting edge work in agriculture," Moringiello said, "and attempt to get them to move to their country."
Moringiello warned that while this might not be a matter of life and death, the impact should not be underestimated.
"All this leads to erosion of our agricultural exports," he said. "We live in a hyper-competitive global market and this kind of activity could certainly lead to a drop in our market share and the loss of jobs in the U.S."
Please enable JavaScript to view this content.