Indiana farmers are accustomed to adapting to difficult circumstances. It's the nature of a volatile business.
But this year, a combination of factors—including higher costs for chemicals, low supplies of agricultural materials and little rain—are adding stress to the bottom line at farms statewide.
Farmers and agricultural experts who spoke with IBJ pointed to the continued effects of the pandemic, government policy decisions and far-reaching impacts of Russia's invasion of Ukraine as reasons for the struggles experienced by Hoosier farmers in 2022.
"I think this is—in my career—a time that is fairly unprecedented [in terms of] the amount of moving targets in our industry," said Jonathan Sparks, a fourth-generation farmer in Hancock County. "These are all things that change our picture when it comes to what our financial situation looks like, and a lot of things that we don't have control over, and we just have to try to manage around them."
That matters in Indiana, the ninth-most-productive farming state in the nation in 2020, according to the U.S. Department of Agriculture.
Last year, farmers across the state harvested 5.64 million acres of soybeans and 5.27 million acres of corn. The value of those two crops added up to more than $10 billion.
However, farmers this year are facing prices for what they call inputs—things like seeds, fertilizer, herbicides, labor and more—that are rising faster than what they can charge for their outputs—essentially soybeans, corn and other crops. Those rising input prices are outpacing inflation across other sectors.
Prices for commonly used fertilizers increased from May 2021 to May 2022 anywhere from 47.2% to 128.7%, according to statistics published this month by Michael Langemeier, associate director of the Purdue University Center for Commercial Agriculture.
Diesel costs ballooned 76.7% in the same period, while prices for agricultural chemicals such as herbicides went up 33.2%.
And while the pandemic has created a host of supply chain shortages, Langemeier said farmers and others in the agricultural industry did not anticipate prices to be so high this year.
He blamed federal monetary policy—which flooded the United States with additional spending—for general inflation, which led to high prices for land, labor, equipment, fertilizer, seed and chemicals.
"All of this is revolving around COVID and policy responses to COVID, and we're not out of that," he said.
Langemeier added that farmers surveyed in June as part of Purdue's monthly Ag Economy Barometer expected prices to continue to increase next year.
"When you have this general inflation, it makes life difficult for consumers, but it makes life just as difficult—if not more difficult—for producers, because it creates uncertainty with their plans and marketing their crops," Langemeier said.
He also pointed to rising interest rates, another concern of farmers.
"Agriculture is a very capital-intensive business, meaning we have a lot of money invested in land, machinery and buildings, grain bins and all these assets," he said. "And any time you have an increase in interest rates, that [hurts] those asset values."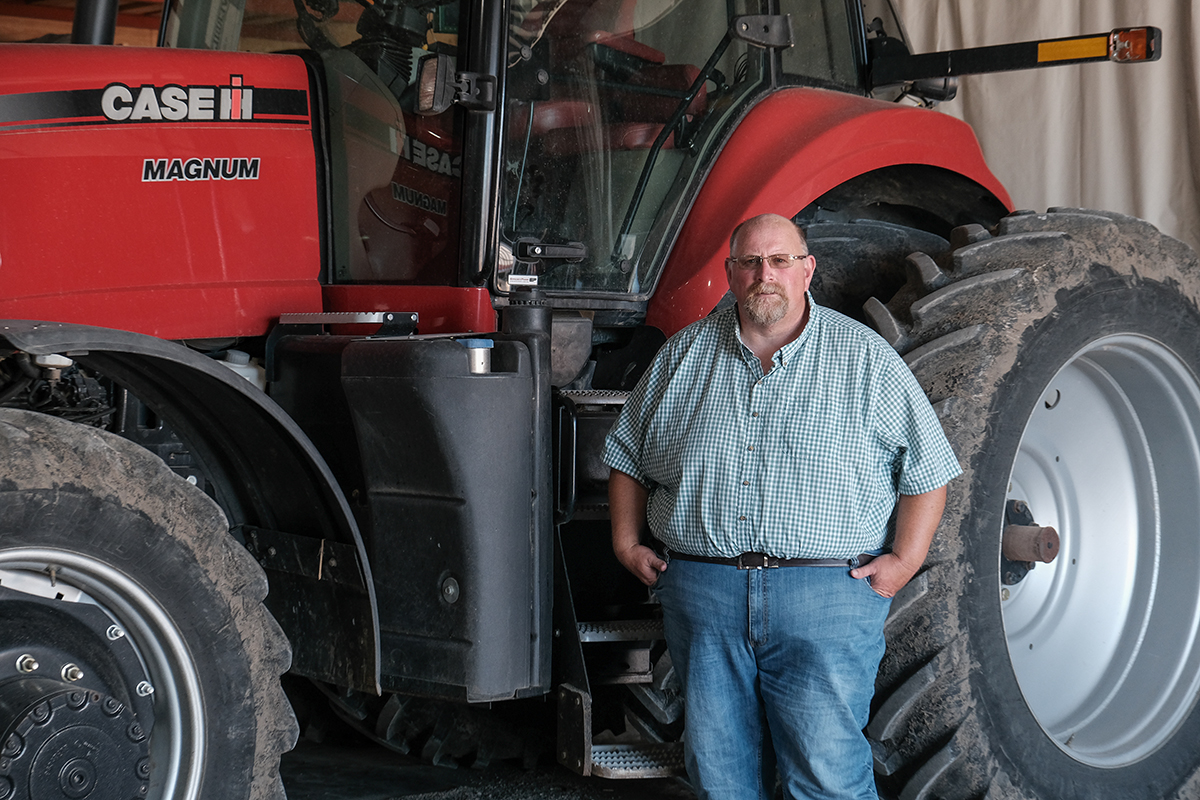 Tight supplies
Farmers surveyed last month by Purdue were asked to name the biggest concern they expected to face in the next 12 months.
While farmers typically point to lower crop or livestock prices as their top concern, Langemeier said he was somewhat surprised to see that 43% of farmers named input costs as their biggest worry, followed by availability of inputs (21%), and crop and livestock prices (17%).
The survey also found that rising costs and uncertainty about the future continue to create a drag on farmer sentiment. The survey's "Index of Future Expectations" fell to its lowest level since October 2016.
Farmers have not faced concerns about higher costs and supply availability in a long time, according to Langemeier. The respondents were concerned about "chemicals, fertilizer, insecticides, repair costs, and so it was fairly widespread," he said.
The shortage in herbicides is especially evident this year with commonly used products such as glyphosate and glufosinate in tight supply.
Bill Johnson, a professor of weed science at Purdue, said farmers have had to think creatively about how to control weeds with other herbicides. With more than half of the U.S. supply of glyphosate coming from overseas, he said the country is particularly vulnerable to supply shortages.
"I do think it led to a lot of anxiety for farmers in terms of being able to get the product they want," Johnson said. "I think, right now, what we're seeing is, some guys are really scrambling to try to find a way to do another spray pass over their field to control any weeds that escaped what they did earlier in the year."
Glyphosate, which is used in Roundup-brand herbicides, and glufosinate, the active ingredient in Liberty-brand spray, sold for about $20 a gallon last year. Today, they are going for about $60 a gallon.
Dean Jackson, who farms in Boone County, said he spends about a half-million dollars on herbicides in a normal year. He found the product he needed this year, but the cost represented a 100% increase from 2021.
"The price is the big thing," Jackson said.
Not everybody has been able to easily get their hands on their preferred herbicides, though.
Shawn Inman has owned Zionsville-based Spinner Ag Inc. for 20 years. In that time, Inman has seen wild swings in price levels, but he said this is the first year he witnessed a combination of pricing swings and ultra-tight supplies.
He said some chemicals that should have been in stock three or more months ago are just now arriving at his business.
"I think it primarily started with COVID," he said. "How things spun out of control from there, I mean, goodness gracious, it's hard to tell."
The long-term implications of continued high prices and low supply are hard to predict. However, Langemeier said farmers could be leery about making large investments in new technology, which could lessen productivity.
He said the federal government could help by continuing to invest in research and development.
"We need research and development in order to continue to increase productivity and make sure that, when we get to 9 billion people [in the world to feed] in 2050, that we continue to have food security," Langemeier said.
Farmland prices, which are at historic highs in Indiana, could also be hurt. In June 2021, top-quality farmland was valued at an average $9,785 per acre, up 13% from a year earlier, according to the Purdue University Farmland Value and Cash Rents Survey.
Rising land prices have been driven by a number of factors, including increasing food prices that make every acre of fertile land worth more, no matter where it's located.
How land prices could be impacted by high input costs and low supply is "the real wild card," according to Langemeier, because land is "far and away the largest asset on a farm balance sheet." If interest rates continue to increase and farmers see cash flow uncertainty, the bullish increase in land values could end, he said.
Dealing with adversity
Randy Kron, whose family grows corn and soybeans on 2,100 acres near Evansville, prefers to stay positive, even during what he calls "a challenging year."
"Farmers deal with adversity on almost a daily basis," said Kron, president of Indiana Farm Bureau, which represents the interests of the agricultural industry.
"Farmers are very good at adapting and adjusting," he said. "I think they're doing that now and figuring out how to make it work because they want to produce a crop. That's their livelihood."
A late spring prevented Kron's family from planting crops on time, but he said the delay also helped them get their needed supply of glyphosate.
"You're not a farmer unless you're optimistic," Kron said. "You gotta be optimistic about what you're doing because you're putting a lot of money into the ground."
It's been a lot more money than usual this year, however.
The price his family paid for anhydrous ammonia, a common fertilizer, more than tripled from $480 a ton in 2021 to about $1,525 this year—the "most we have ever paid in my career in farming," Kron said.
He said the previous high was $900 a ton.
Kron said farmers are working to manage risk with many factors outside their control, including weather and government policy.
Even though the United States does not get much fertilizer from Ukraine, which is a major global producer of the product, Kron said Russia's invasion of the country in February tightened the world supply, and now everybody is trying to buy from the same places.
"What happens around the world can change our outlook overnight," Kron said. "And I don't think people realize there's a lot of things that are outside our control that will—at the end of the day—decide if you make a profit or you don't."
The connected nature of the world means that is true for all businesses.
"This isn't just farms," Langemeier said.
Indiana's hot and dry summer has also been difficult for both farmers and their crops. The rain that fell in central Indiana on July 9 was the first measurable amount seen in nearly a month.
Sparks, who also serves on Indiana Farm Bureau's board, said the recent rain "helped a bunch," but farmers will not know the full extent of how this summer's weather impacted their yields until closer to harvest season. Crops will benefit, he added, if added moisture and cooler temperatures allow corn to pollinate.
"When you look out and your corn looks like an onion because it's 97 degrees and it hasn't rained in two weeks, it's all stressful," Sparks said. "No, it's not anything that we haven't dealt with before. Sometimes, you just gotta take a deep breath and say, 'These are things I can't control,' and move on. But it does add to the stress level."•
Please enable JavaScript to view this content.