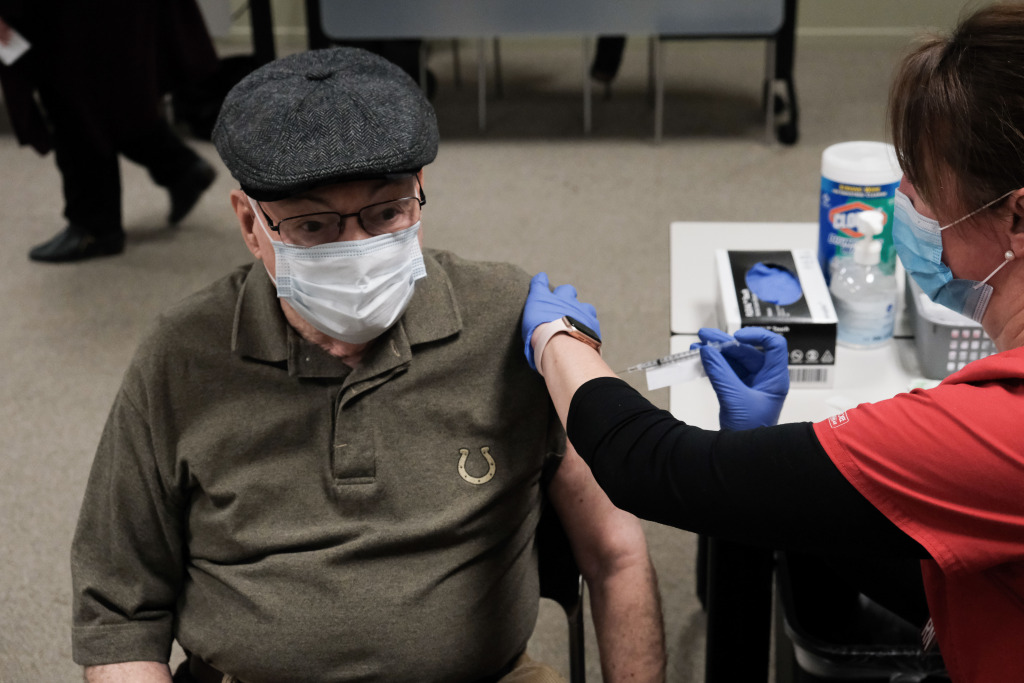 Bruce Melchert, 86, has missed going to the gym and getting together with his friends as the pandemic has swept across America, forcing millions of people to stay home and avoid crowds.
So when he heard last week that Hoosiers age 80 and older could register for a vaccine, Melchert had his daughter sign him up immediately. And by Monday afternoon, he was in line to get the first of his two shots at Indiana University Health's vaccination clinic near Methodist Hospital.
"I'm in that high-risk category of people 80 and older, and I want to stay safe," said Melchert, a retired hospital executive who lives on the northeast side of Indianapolis.
Across Indiana, thousands of elderly Hoosiers have turned out in recent days to get their vaccinations. IU Health, the state's largest hospital system, said its downtown clinic has vaccinated hundreds of people age 80 or older since Friday.
"It's been very steady, one after another," said Tammi Knight, an IU Health nurse who was manning a vaccination station. "I talked to two people today who were having a birthday. They said the vaccine was their birthday gift."
The clinic, which opened Dec. 15, has vaccinated an average of 1,100 people a day—most of them front-line health workers and first responders.
On Friday, state health officials began allowing Hoosiers 80 and over to get vaccinated, with other age groups to follow in descending order over the next few weeks, as Indiana begins to make the vaccine available to the general public.
Hoosiers 80 and older account for 3.8% of the state's population but more than 19% of hospitalizations and 52% of COVID-19 deaths.
The Indiana State Department of Health said more than 86,000 Hoosiers age 80 or older had registered as of 4 p.m. Sunday for vaccinations. The volume of people signing up was so large that the website could not keep up, causing delays. The health department issued a statement Friday cautioning people to be patient.
"I had to try four different times to sign up," said Joan Richter, 82, of Fishers, after getting a shot. "My son finally took care of it."
Around the IU Health vaccine site, a steady line of people waited for vaccines at one of six stations. After getting a shot, they scheduled a follow-up booster shot and then sat for about 15 minutes in an observation room to make sure they didn't have a negative reaction.
Hoosiers can continue to register at ourshot.in.gov. Vaccinations are free and family members can register for a senior. Hoosiers can also register by calling 2-1-1 from 8 a.m. to 8 p.m., seven days a week.
The state will make announcements as it rolls through the age groups. Last week, Gov. Eric Holcomb predicted it would take "weeks, not months" to progress through the 60-69 age group and throw open the vaccinations to the general population.
Please enable JavaScript to view this content.