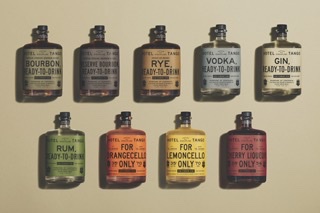 Craft distiller Hotel Tango said Thursday that it's expanding into Zionsville, where it will open a tasting room in a building that formerly housed Pizza King.
Village Station Pizza King and Pub, 10615 Zionsville Road, closed for good on Aug. 11 after 34 years in business. At that time, rumors swirled that Hotel Tango planned a tasting room at the site, which is south of the town's village, but Hotel Tango representatives wouldn't confirm their plans.
Hotel Tango said it's partnering on the project with Indianapolis-based Jackson Investment Group, which acquired the 10,300-square-foot building this summer from Lynn Easton. She had owned the Pizza King with her husband, Larry, who died in 2012.
"The Zionsville community has grown considerably in a short amount of time," Bart Jackson, a Jackson Investment Group partner, said in a statement. "As the population has grown, so has the need for dining and entertainment experiences. We knew Hotel Tango would be an excellent fit, since there aren't a lot of craft cocktail experiences similar to theirs in the area."
The Zionsville location is expected to serve the same spirits and craft cocktails as the company's original tasting room, which has operated at 702 Virginia Ave. in Fletcher Place since 2015.
The new location—which will include a yet-to-be-announced food component—is expected to open by summer. It will include space to rent for private events.
Hotel Tango produces nine spirits—Bourbon, Reserve Bourbon, Straight Rye Whiskey, Vodka, Gin, Rum, Lemoncello, Orangecello and Cherry Liqueur—and distributes them to retailers in Indiana, Michigan, Ohio and Texas, as well as on military bases.
In addition to the Fletcher Place tasting room, Hotel Tango has a tasting room in Fort Wayne.
Company representatives say a change in state law this year that allows distillery owners to own and operate multiple locations outside of their first tasting room led to the expansion.
"When we first opened our doors, we were pleasantly surprised by the reaction to our tasting room," Travis Barnes, founder and CEO of Hotel Tango, said in a prepared statement.
"While we started our business as a distillery, our tasting room quickly gained popularity and was the driving force behind growing the brand."
Hotel Tango in February closed on $2 million in funding from new investors. It is using the infusion to launch a two-year effort to bolster its retail presence on store shelves throughout Indiana.
Please enable JavaScript to view this content.