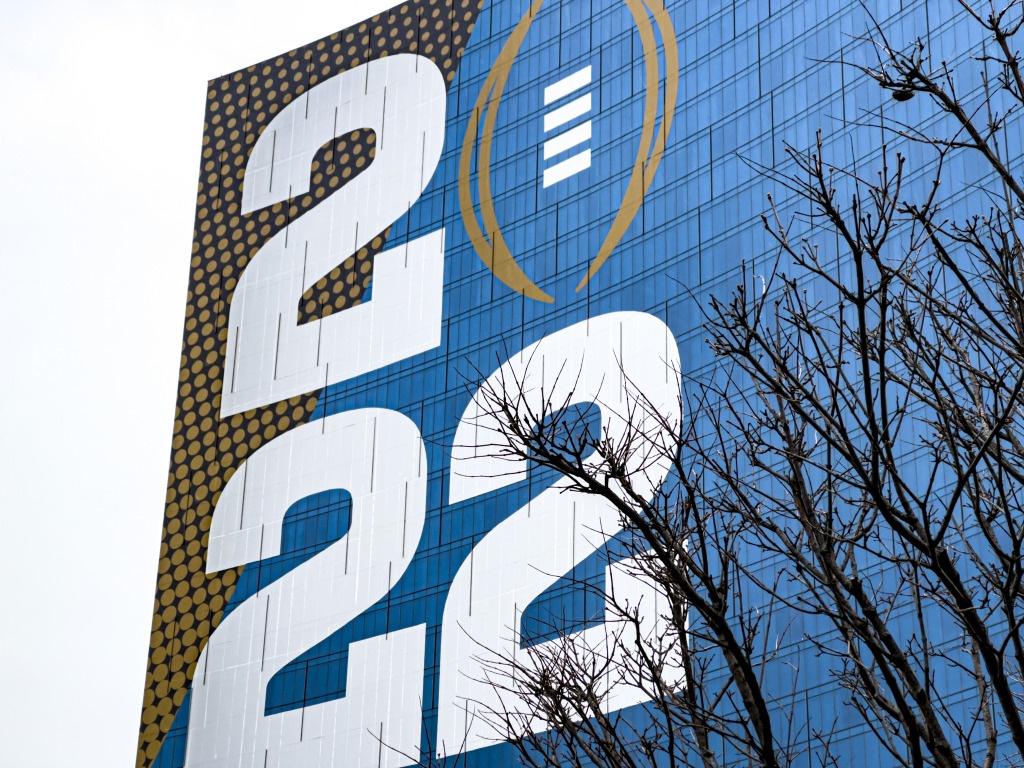 Downtown Indianapolis hoteliers and restaurants are ramping up for what's likely to be one of the city's busiest weekends on record, ahead of the College Football Playoff National Championship game on Monday night.
Most of the more than 7,400 hotel rooms in the downtown's inventory are expected to be occupied on Sunday and Monday nights, with few vacancies remaining—and prices on the rise—for Friday and Saturday nights. That includes the Hampton Inn-Homewood Suites dual-branded hotel that opened near IUPUI on Dec. 30.
Chris Gahl, vice president of Visit Indy, said the championship game at Lucas Oil Stadium between the universities of Alabama and Georgia and related events are expected to draw an estimated 100,000 people to Indianapolis over the four-day span, including about 70,000 who will attend the game itself.
He said the game is likely to make for one of the downtown area's best hotel nights on record, besting even the 2012 Super Bowl—in large part because the city has considerably more hotel rooms than it did 10 years ago.
"For all practical purposes, downtown has been sold out for months," he said, noting that most hotels have a three-night-minimum stay requirement. Minimum stays are a standard practice for major events, including the Indianapolis 500 and the NCAA Men's Basketball Final Four.
Phil Ray, general manager of the JW Marriott Indianapolis, the city's largest hotel with 1,013 rooms, said some rooms are still available on the hotel campus (which also includes the SpringHill Suites and Fairfield Inn & Suites) for Friday and Saturday, with single-night rates starting at about $339. The hotel campus is fully booked for Sunday and Monday nights.
The JW is the primary hotel for media, including ESPN, in Indianapolis for the game, along with members of the College Football Playoff national team. Meanwhile, team members and officials from Alabama and Georgia are expected to stay at the Westin and the Indianapolis Marriott Downtown.
Ray expects his hotel and the entire downtown area will be "extremely busy" over the next several days.
Some downtown rooms have become available since the finalists punched their ticket to the game, but industry professionals said those rooms are few and far between, and they are being offered at astronomical prices.
"I don't think you're going to be able to find a room downtown—it'll be a hard sellout for everybody," Ray said. "That'll push out to the suburbs as well, where rates were pretty aggressive as well. There may be a chance that some of that loosens up as we get into the weekend, but right now, Sunday and Monday in particular, I would expect that all of downtown will be fully compressed."
As of Thursday night, a three-night stay at the Indianapolis Marriott Downtown would set a traveler back more than $1,700, at $569 per night. The Crowne Plaza had rooms starting at $1,030 per night for a three-night trip. The downtown Embassy Suites is the highest-priced hotel in the city for the weekend, with some rooms still available Thursday starting at $1,575, or $4,725 for three-night booking.
Gahl said that while hotel prices are expensive, he expects the average rates will fall well below those for the Super Bowl, which saw even economy and midrange hotels ramp up prices to the thousands of dollars for a single-night stay.
Hotels in the Interstate 465 belt are also seeing price increases, even though thousands of rooms are still available in many locations such as Fishers, Carmel, Greenwood and other suburbs.
"It's probably pretty comparable in all aspects, with the exception of the average daily rate," Gahl said. "The X-factor, like with the Super Bowl, will be how many people come for the ancillary events. The game has sold out, so how many people will come for the fan experiences, the 5K, the free concerts? How many people will just want to be part of the action?"
Like hotels, restaurants are also ramping up ahead of what's likely to be their busiest weekend since at least the first weekend of the NCAA Men's Basketball Tournament in March.
Patrick Tamm, president of the Indiana Restaurant and Lodging Association, said while staffing levels aren't back to pre pandemic levels, he expects restaurants will be prepared for the major influx of visitors—something he attributes to the past year of ever-increasing visitor counts from conventions, most recently with the Performance Racing Industry trade show, which brought about 65,000 people to the city.
Tamm said while some restaurants have closed because of the pandemic, he believes there are plenty of places where visitors can choose to dine.
"We're managing our labor issues," he said. "This isn't like a pop-up event, so we've had quite some time to prepare for this. A lot of restaurants that are even traditionally evening-only will offer weekend, Monday lunch. There's also some creative uses of those spaces and restaurants for this influx of people, too.
Please enable JavaScript to view this content.