Indianapolis-based Indiana Farm Bureau Insurance is a pretty small player in the world of auto insurance—but it's holding its own against industry giants.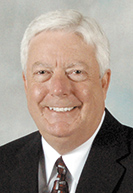 For four years, the insurer has held the state's No. 4 market share for private-passenger auto insurance based on direct premiums written. The company, which captured a 7.3% market share in 2018, was bested by State Farm Mutual Automobile Insurance, Progressive Corp. and Allstate Corp., which held the top three spots, respectively—but beat out GEICO and Liberty Mutual Group, among other national players.
Indiana Farm Bureau Insurance CEO Joe Martin said his firm's attention to customer service helps it keep up with the competition, even though its fiercest rivals are exponentially larger.
Putting it in perspective: Indiana Farm Bureau Insurance, which sells auto insurance in Indiana only, wrote just over $286 million in auto premiums in 2018, according to the Insurance Information Institute. State Farm, the nation's largest private-passenger auto insurer, wrote $42 billion in auto premiums nationwide that year. GEICO wrote $33 billion and Progressive wrote $27 billion.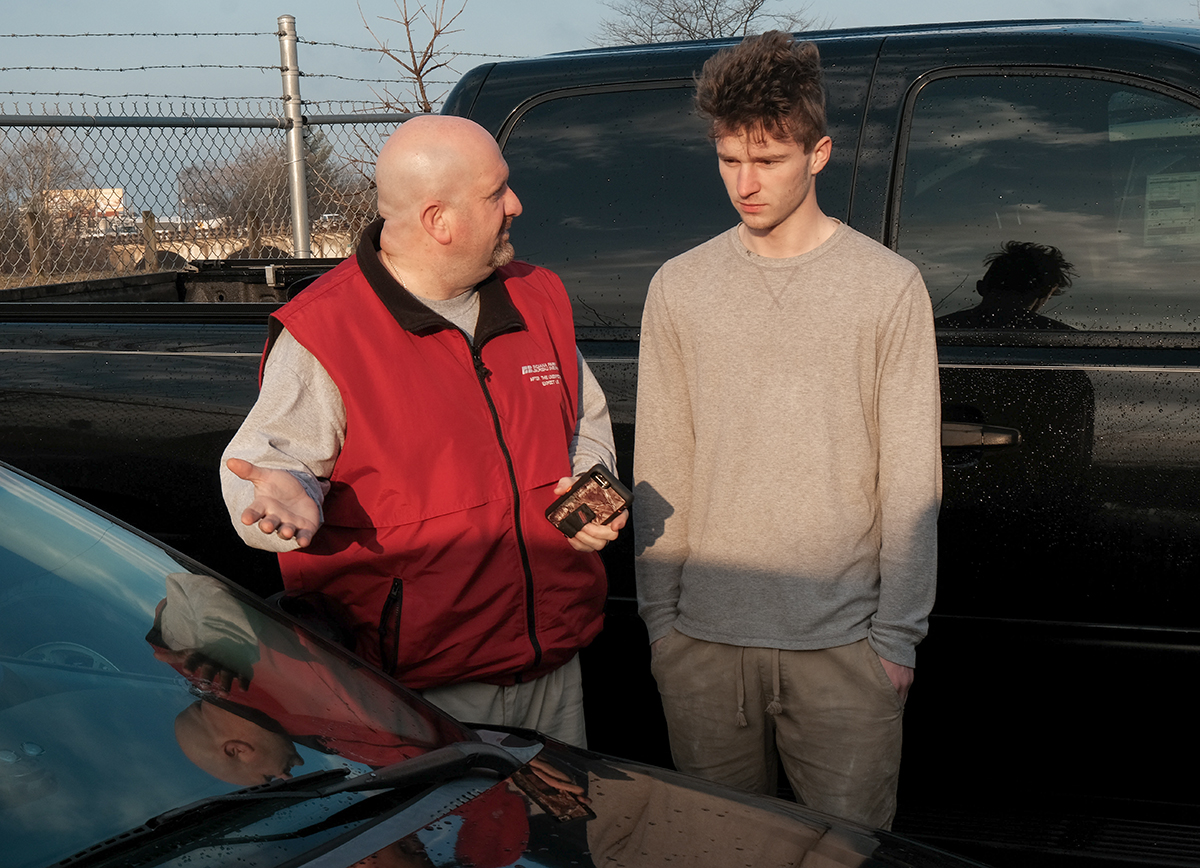 "We can't compete with them in terms of advertising in any form. But we can compete with them in terms of establishing a personal relationship with our clients," Martin said. "Our people are very good at establishing personal relationships. That's one of our strengths."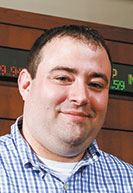 Similar single-state Farm Bureau insurers operate across the country, but few enjoy the market penetration of Indiana's. According to ratings agency A.M. Best Co., Indiana Farm Bureau Insurance had a 7.2% share of auto physical damage policies statewide in 2018, and a 6.9% share of the state's auto liability market—a higher concentration than all but four single-state Farm Bureau insurers. (The Kentucky Farm Bureau Group led the pack, with 18.7% of the auto damage market and 18.3% of the auto liability market in that state.)
Zach Finn, clinical professor and director of Butler University's Davey Risk Management and Insurance Program, agreed that personal service is one of the insurer's strengths. "I think Indiana Farm Bureau does a really nice job fitting that niche."
GEICO and Progressive may flood the market with clever advertising, he said, but what really matters to customers is how an insurer responds after an accident or storm. "Unless you have a claim, you don't even really know what you're dealing with."
Long history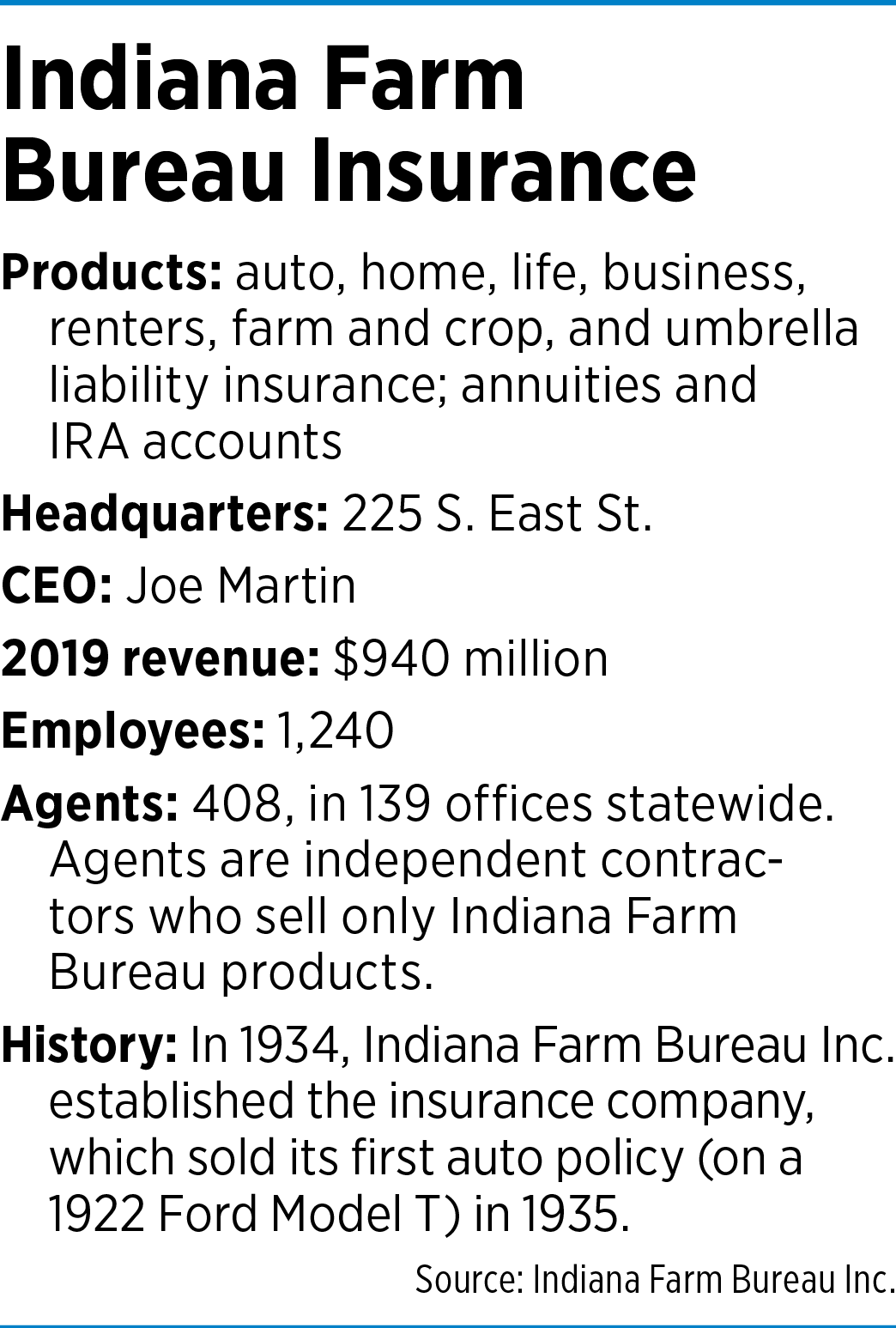 Indiana Farm Bureau Inc. established Indiana Farm Bureau Insurance in 1934 to provide insurance to Hoosier farmers. It sold its first auto policy the following year.
Today, the company sells auto, homeowners, life, farm and crop, business, and renters insurance and also offers annuities and other financial products to a mostly non-agrarian customer base.
"Today, we have far more members that are not in agriculture than are in agriculture," Martin said. "It's definitely a misnomer to think that we only sell insurance to farmers."
Revenue in 2019 was $940 million.
The company has 1,240 employees, including 629 who work at its downtown Indianapolis headquarters.
The company also has 408 insurance agents who work at 139 Indiana Farm Bureau Insurance offices around the state. The agents work as independent contractors who sell only Indiana Farm Bureau Insurance products.
This network of offices and agents is a key part of Indiana Farm Bureau Insurance's business strategy because few customers interact with the company entirely online.
Agents, for instance, check in with clients annually to review their insurance coverage and make adjustments as their life circumstances change. They also can advise customers on how much auto liability coverage to purchase above legally required minimums.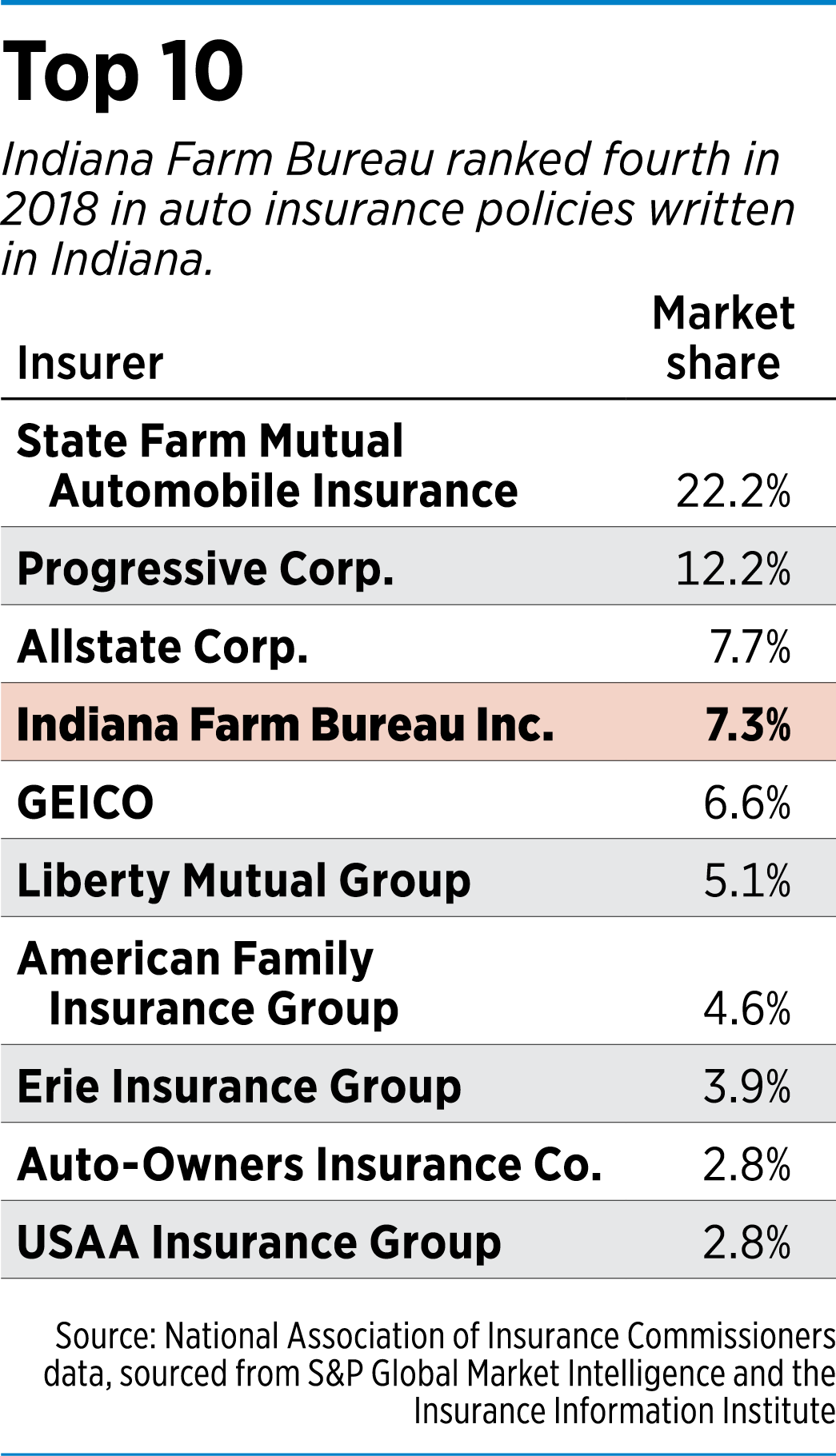 "It's that type of advice and counsel that we provide that some companies, maybe, aren't providing in the same manner," Martin said.
Homeowners insurance is the biggest part of the company's business. In 2018, the insurer wrote $159.9 million in homeowners coverage, representing 24.6% of its premiums that year, according to data from insurance rating company A.M. Best Co.
Auto liability premiums accounted for 23.8% of premiums written and auto physical damage premiums accounted for another 21.2%.
Car insurance is a key product for the company—and for all insurers—because it's what gets customers in the door. Car insurance is legally required, and it's usually the first type of insurance individuals buy in their lives.
Once an insurer sells customers an auto policy, it has the chance to add homeowners policies if they buy a home or commercial insurance if they start a business.
"The only reason anybody sells [car insurance] is to create that conversation to sell other types of insurance" that are more profitable, Butler's Finn said.
Indiana Farm Bureau Insurance has a strong record at cross-selling; just 10% of the company's 210,000 customers hold only auto insurance policies.
Many Farm Bureau insurers follow the same tack, A.M. Best says.
In a September report on Farm Bureau insurance companies, A.M. Best said such organizations "tend to rely on their strong cross-selling ability to generate growth, marketing additional products to existing customers. … this high rate of cross-selling provides more quality business that tends to be stickier, leading to more favorable persistency and retention ratios."
New ways to grow

Even as it continues to emphasize its personal touch, Indiana Farm Bureau Insurance is giving more attentiuon to its online presence.
In 2015, the company launched online auto insurance sales, allowing customers to buy a policy entirely online without interacting with an agent. It began selling renters insurance online in 2016.
"The market drove us in that direction," Martin said.
Indeed, the biggest players in the auto insurance market have been selling policies online for years.
Progressive says it launched the country's first auto insurance website in 1995 and, in 1997, became the first to sell policies and accept payments online.
By 2000, GEICO was also selling auto policies online. In 2010, GEICO says, it became the first to allow customers to purchase policies on their smartphones.
Currently, a tiny fraction of Indiana Farm Bureau Insurance customers buy their policies online. The company says 2,400 of its customer households, or a little more than 1%, have policies that originated online rather than via an agent.
However, Martin said, "we have to be in that market space because that's going to continue to grow."
In addition to its online push, Indiana Farm Bureau Insurance is also looking to diversify its customer base.
The company's typical customers, Martin said, are in their 40s to 60s and are living in a rural area or small town.
Over the past few years, he said, Indiana Farm Bureau Insurance has been going after a younger and more urban/suburban customer, with a focus on the state's larger cities, including Indianapolis, Lafayette, Evansville and Fort Wayne.
The company sees big possibilities for growth in this approach.
"The potential's enormous. For instance, in Marion County, our market share is about 3%, whereas, in some rural counties, it's 50%," Martin said.
Indiana Farm Bureau Insurance doesn't have any illusions that it can capture 50% of the Marion County market, he said, but in such a large market, "a 1% increase would be a material amount."
To reach beyond its traditional customer base, the company last fall launched an online and billboard campaign in Indiana college towns. The effort, which focused on renters insurance, targeted college students who might not be aware of the need to insure their personal belongings.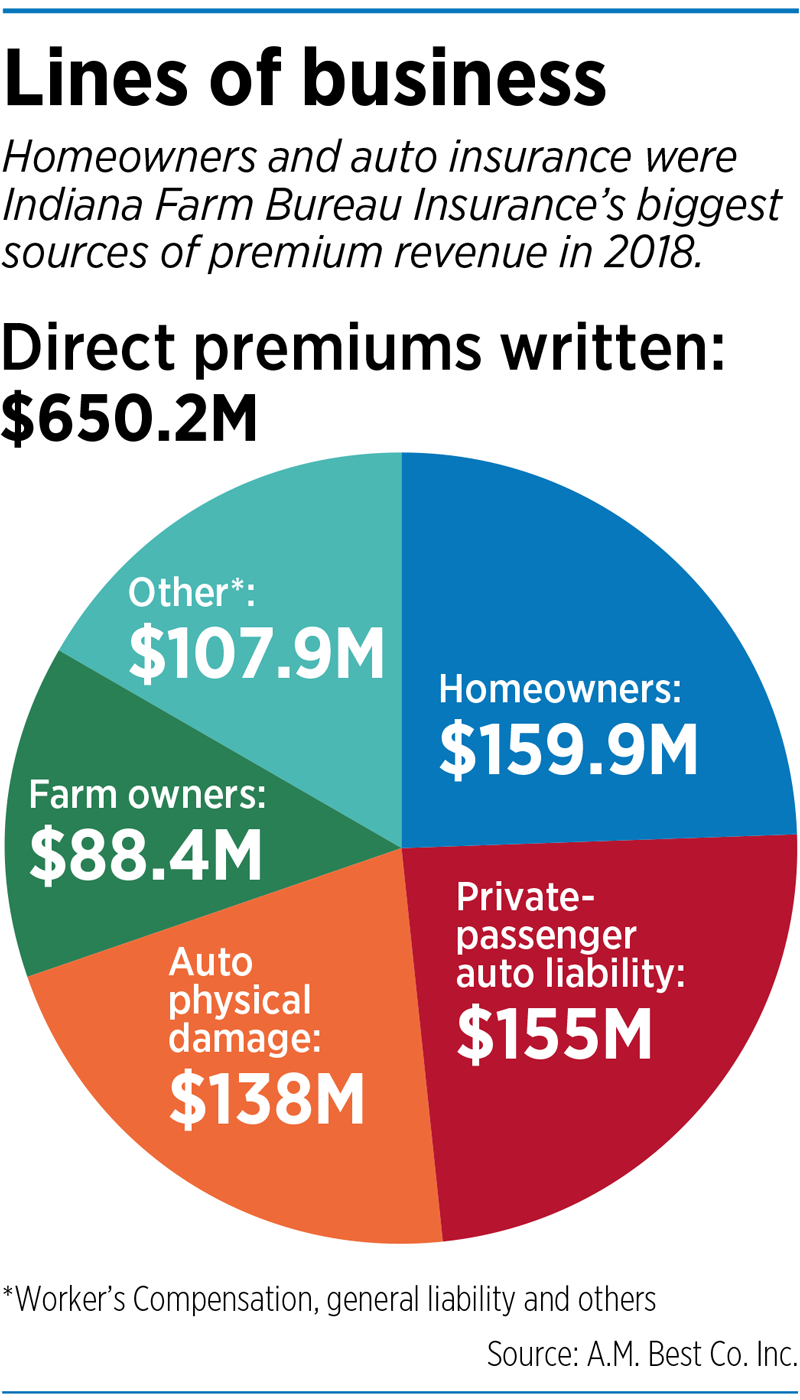 The campaign, the first of its kind, saw good results, Martin said.
Finn said Indiana Farm Bureau Insurance's customer acquisition strategy is "definitely possible, but there's some challenges they'll have to overcome."
The Farm Bureau name, he said, might not be one that attracts younger customers.
And the company's Indiana-only focus means it's not as cost-effective for the company to invest in the types of technology younger customers might favor.
When Progressive or GEICO invests in technology, for instance, it can spread costs among a much larger number of customers, Finn said. "It's going to be easier for them to make those kind of investments."
Bracing for change
Even so, he said, Indiana Farm Bureau Insurance should do well with its emphasis on offices and agents. "It's going to be an investment that pays off in the future."
Those relationships should help the company adapt when autonomous vehicles become widespread—a sea change Finn believes will end auto insurance as currently structured. In the new era, he predicted, automakers, not insurance companies, will be the ones insuring vehicles.
And at that point, he said, insurance companies will need to be able to pivot to other offerings—products like homeowners insurance, where personal service and quick response times are critical.
Insurers that haven't built strong relationships with their customers will struggle, he said.
"That easy, low-hanging fruit of auto insurance is going to die," Finn said. "It's like Chinese manufacturing—it was a great idea, until it wasn't."•
Please enable JavaScript to view this content.