CBS and Turner Sports will pay the not-for-profit NCAA some $850 million this year for the right to broadcast, stream and otherwise present the Men's Basketball Tournament. That will equal about 70% of the organization's revenue for the year.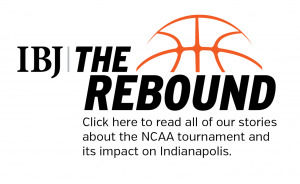 IBJ columnist and investigative reporter Greg Andrews explains why the rights to March Madness are so valuable even as the media landscape changes quickly. And he tells host Mason King why it's unlikely that the NCAA or its broadcast partners will want to renegotiate the deal—which runs through 2032.
You could read more details about the NCAA's contract and see a breakdown of the value of the contract by year in Andrews' story in this week's IBJ.
Click here to find the IBJ Podcast each Monday. You can also subscribe at iTunes, Google Play, Tune In, Spotify and anyplace you find podcasts. Here are some of our recent episodes:
IBJ Podcast: Three women explain how the pandemic impacted their jobs and their lives
IBJ Podcast: Restaurants rejoice in looser limits for March Madness
IBJ Podcast: What happens to downtown if workers stay remote?
IBJ Podcast: Why business execs are pushing back against legislative interference in Indy
IBJ Podcast: Spiffing up downtown Indy before March Madness arrives
Please enable JavaScript to view this content.