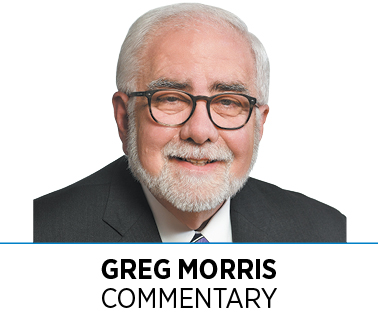 It's a busy time of the year for IBJ events. And while we can't be networking in person during the pandemic, our new virtual format is getting rave reviews.
In the past few weeks, IBJ presented two of our annual panel discussion programs—Health Care and Benefits, followed by Life Sciences. Our all-star panelists knocked it out of the park at both events. You can find the replays at ibj.com. Find the events tab and click the livestream button. And be sure to look for a recap of the Life Sciences discussion in this issue of IBJ.
You have several opportunities before the end of the year to view a live IBJ virtual event. They are free for individuals, and corporate virtual rooms can be reserved for $100. Register at ibj.com by clicking on the events tab.
Here's the lineup.
◗ Hunger and Health—Time for Creative Intervention, presented in partnership with Gleaners Food Bank of Indiana, Oct. 23, 8:30 a.m. This is the fourth year for this annual program, which searches for solutions to food insecurity in our communities. Moderated by IBJ Managing Editor Lesley Weidenbener, this event will focus on the urgency of hunger and related health issues in our region and the state.
◗ Women of Influence, Oct. 28, 8:30 a.m. At this event, IBJ spotlights some of our city's most successful businesswomen from both the public and private sectors while revealing the triumphs and challenges that have shaped their careers. Always inspirational, this recognition program honors these influential women, whose profiles will be featured in a special IBJ supplement that will be part of the Oct. 30 IBJ. This year's keynote speaker is Myra Selby.
◗ Advanced Manufacturing and Logistics—Indiana's Innovation Economy, presented in partnership with Conexus Indiana, Oct. 30, 9 a.m. Indiana makes and moves products that save, change and improve lives. This event highlights manufacturers that produce 30% of Indiana's GDP and companies involved in moving more than $650 billion in goods through Indiana. Evgeniya Makarova, partner at McKinsey & Co., will be the keynote speaker, and a panel of industry leaders will address issues of vital interest to our state's economy.
◗ Economic Forecast 2021—The Path Forward: Economic Signals on the Horizon, presented in partnership with Fifth Third Bank, Nov. 12, 8:30 a.m. Fifth Third Chief Investment Strategist Jeff Korzenik will present the latest update on financial markets and the economy. Korzenik will let us know what to expect in the coming months and year ahead, especially considering the ongoing effects of the pandemic.
◗ Engage Indiana—Business as a Force for Good, presented in partnership with Indiana Economic Development Corp., Dec. 3, 8:30 a.m. This event will convene Indiana's CEOs, other C-suite executives, community leaders and business professionals on how companies can engage to help create the cities of the future in Indiana and make them better places to live, work and play. IBJ's annual Michael Carroll Award will also be presented at this event.
◗ CFO of the Year, Dec. 11, 8:30 a.m. IBJ's CFO of the Year recognition program honors outstanding Indiana financial executives. Each year, IBJ celebrates the efforts and achievements of these too-often-unsung heroes of the corporate space, the CFOs.
Thanks for tuning in to our event webcasts and for reading and supporting IBJ.•
__________
Morris is publisher of IBJ. To comment, email gmorris@ibj.com.
Please enable JavaScript to view this content.