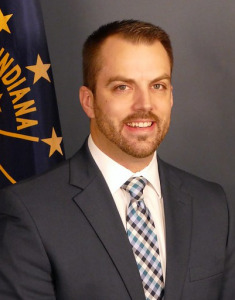 Indiana Gov. Eric Holcomb on Friday announced that he has promoted Brian Rockensuess to commissioner of the Indiana Department of Environmental Management.
Rockensuess has worked at IDEM for the past eight years, including the last five as the chief of staff.
Rockensuess replaces Bruno Pigott, who stepped down Dec. 3 to become deputy assistant administrator in the office of water for the U.S. Environmental Protection Agency. Rockensuess has been acting commissioner since Pigott's departure. He begins his new job Dec. 13.
"I have no doubt that Brian will build upon the great work IDEM is already doing," Holcomb said in written remarks. "His dedication to the agency and to protecting the environment will serve all Hoosiers well."
Prior to being named chief of staff, Rockensuess worked as the agency's director of governmental affairs and was the business, agricultural and legislative liaison. Prior to his service at IDEM, he worked for the Indiana State Senate.
"I want to thank Governor Holcomb for the opportunity to continue to lead the IDEM team to find creative solutions to challenges and opportunities that provide the best results for all Hoosiers," Rockensuess said in a statement. "Together, we'll continue to make great strides in environmental protection throughout the state while improving efficiencies within the agency."
Rockensuess earned an undergraduate degree from Ball State University and a master's degree in public administration from IUPUI.
Please enable JavaScript to view this content.