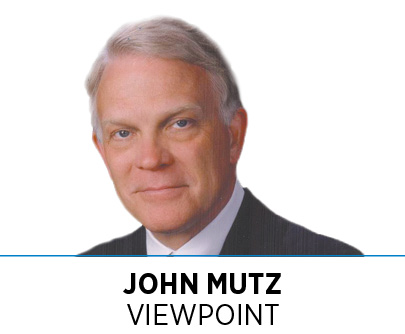 I am a lifelong Republican, a former lieutenant governor, and was a member of the Indiana House and Senate for 13 years. During my tenure in public office and 40 additional years as a corporate CEO, entrepreneur and volunteer, I never voted for a Democrat for president until Donald Trump's candidacy.
This year, I am faced with a candidate who has engaged in corruptive behavior and outright self-dealing. He has:
◗ Virtually destroyed our traditional network of allies, built during the world wars, and threatened the very existence of NATO, which has served as a bulwark against communism and authoritarianism for 75 years.
◗ Taken no action against foreign meddling in our elections. In fact, he has encouraged foreign involvement.
◗ Repeatedly asserted that mail-in voting is fraudulent or insecure, without evidence.
◗ Refused to assure the American people that he would accept the results of a free and fair election, win or lose.
◗ Denigrated our military leaders and our fallen heroes and POWs with language that cannot even be printed in this publication.
◗ Deceived the public about the dangers of COVID-19.
Character counts when evaluating a candidate. President Trump fails to meet my preference for honesty, empathy, respect for those who are different, and a willingness to admit mistakes. We deserve a president who seeks unity of purpose, who calls upon America to be "a Shining City Upon a Hill," and for all Americans to have "malice toward none, with charity for all, with firmness in the right, as God gives us to see the right." It is time to bind our nation's wounds. We can do better.
It is very difficult to say these things about a Republican. The party has been very good to me, supporting my political ambitions and encouraging me for more than 50 years. But the future of our country is more important than party loyalty. Like many other lifelong Republicans, I find it difficult to reject my party's nominee. Many Republicans couldn't do it in 2016 and elected him in battleground states.
Some of us fear the Democratic candidate's positions on a number of issues, both foreign and domestic. However, I believe the long-term damage Trump would do our democratic republic form of government is more worrisome than policy differences. In short, we could be headed toward an authoritarian state.
In raising these concerns, I am not rejecting my traditional Republican principles—specifically, a system of laws, not men; sanctity of contracts; private property; limited government; a free press; freedoms as enumerated in the First and Second Amendments; and a sound national defense based on partnerships with like-minded allies.
I am not leaving my party. Instead, I am following my conscience. Evil does prevail when good men and women do nothing. So, it is my conclusion that we must defeat Donald J. Trump and rebuild the Republican Party. Now is the time to come to the aid of our party and the United States of America.•
__________
Mutz is a former lieutenant governor of Indiana.
Please enable JavaScript to view this content.