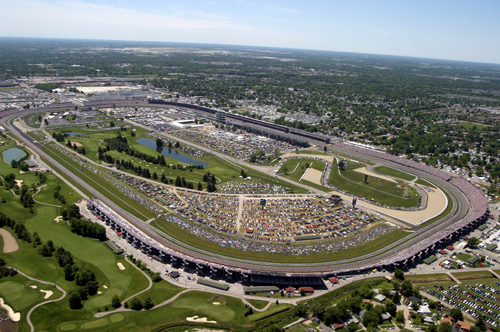 Indianapolis Motor Speedway is getting in on sports betting through a new partnership with Caesars Entertainment Inc.
The Speedway on Saturday announced the Caesars Sportsbook Lounge will debut in Pagoda Plaza during Saturday's GMR Grand Prix in the IndyCar Series, offering fans a dedicated area to place bets from their mobile devices and take in action from across the sports world.
The lounge is part of a larger agreement between the Las Vegas-baseed gambling company and Indianapolis Motor Speedway that makes Caesars the official sports betting partner of the racetrack and the Indy 500.
The deal, for which financial terms were not disclosed, also allows Caesars to use IMS logos and other assets, and to create VIP experiences for those enrolled in its Caesars Rewards loyalty program. Additionally, IMS will include Caesars logos and ads in its programs, on video boards and through public address announcements during racing events and practices.
The lounge will offer complimentary food and drink, along with live entertainment, racing games and support staff to answer questions from those needing help placing bets. There will be no dedicated kiosks for fans to place bets. Instead, bets will be placed on phones. The facility will be open during practices, qualification and race days, including the Grand Prix, the Indianapolis 500 and other major track events this year, such as Brickyard Weekend.
"We're extremely excited about this partnership with Caesars and believe their on-site presence–which is a first for our storied facility–will give fans a new opportunity to engage with the on-track action at the Racing Capital of the World," Indianapolis Motor Speedway President Doug  Boles said in written remarks. "This is another reason to look forward to an epic and historic month of May at IMS." 
IMS is the latest professional sports venue to add a space focused on bettors. Last year, the Indianapolis Colts announced two spaces at Lucas Oil Stadium and the Indiana Pacers created a lounge at Gainbridge Fieldhouse.
While fans 21 and older may place bets from anywhere in the state from their mobile devices, Caesars is billing the space as an ideal place for those interested in making the most of their wagers.
"The Indianapolis Motor Speedway and the Indy 500 are iconic sports traditions in the Hoosier State," said Eric Hession, co-president of Caesars Digital. "This will be an impactful partnership for us that builds upon our commitment to the state of Indiana alongside the investments into our resorts and the communities they serve." 
Those wanting to get into the lounge will be required to download the Caesars Sportsbook app to their smartphone. New customers who make a $20 deposit will also receive $106 in free bets, in recognition of the Indy 500's 106th running.
Caesars operates multiple casinos across the state, including facilities in Anderson, Shelbyville and Hammond. The company recently announced plans to spend $39 million to expand the gambling floor at the Harrah's Horseshoe Park in Anderson and completed a 25,000-square-foot expansion to the Shelbyville campus at a cost of $33.7 million.
Please enable JavaScript to view this content.