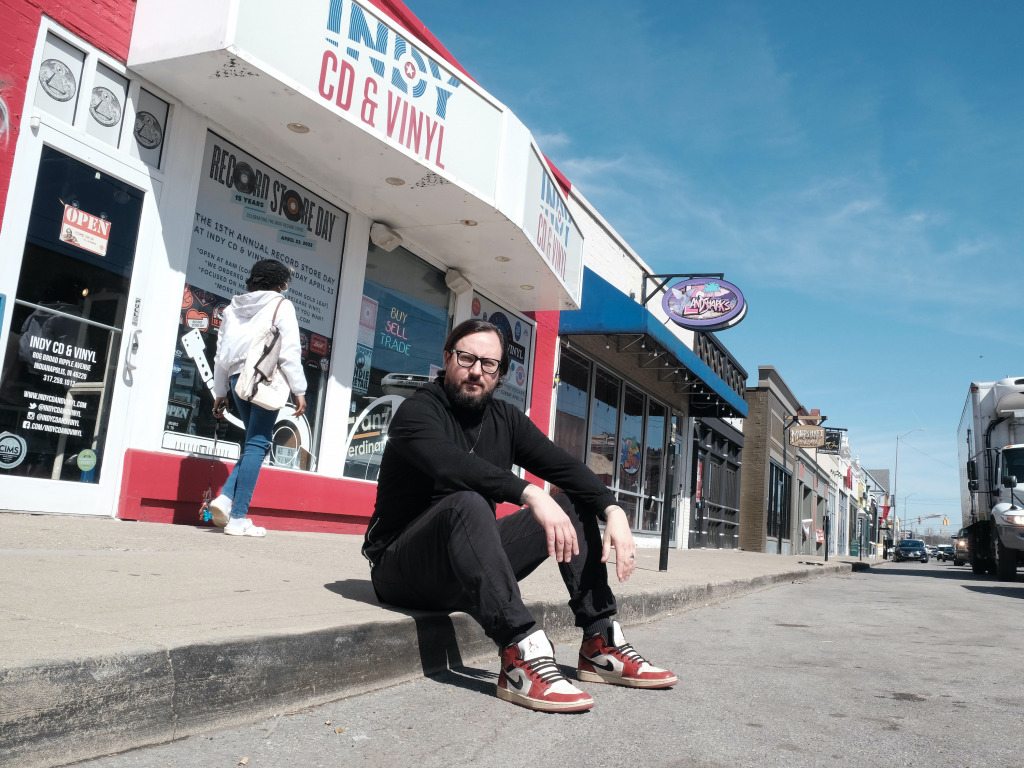 For the first time since 2019, international Record Store Day will follow its traditional format of being a single day in which shops sell limited-edition vinyl and some shops showcase live music and DJs.
April 23 is this year's Record Store Day, and consumers can observe the holiday at local stores such as Karma Records, Luna Music, Indy CD & Vinyl, Square Cat Vinyl and Irvington Vinyl & Books.
At Luna, DJs Rusty Redenbacher and Mr. Kinetik will provide the soundtrack for sidewalk shopping outside the store at 5202 N. College Ave.
At Square Cat Vinyl, 1054 Virginia Ave., the roster of indoor performers includes Mark Tester, Rob Funkhouser, Airport People and Mark Dippel.
And Irvington Vinyl & Books, 9 Johnson Ave., will present a trio of DJs: Duck Trash, Modest and Shaw Shank.
The party won't end on Saturday. After Indy CD & Vinyl, 806 Broad Ripple Ave., welcomes customers for a full day of Record Store Day shopping, the business will celebrate its 20th anniversary with a free outdoor concert on April 24.
Rick Ziegler opened Indy CD & Vinyl in May 2002, after closing a similar store in Salt Lake City, Utah. Annie Skinner, one of Indy CD & Vinyl's present owners, worked at Ziegler's store in Salt Lake City and offered to help Ziegler make the move.
Skinner, Andy Skinner (Annie's husband) and Eric Davis purchased the store from Ziegler in 2014. To preview the Indy CD & Vinyl celebration, the Skinners fielded five questions via email and shared details of the 10-artist concert lineup.
Annie, why did you take the leap and move from Salt Lake City to Indianapolis with the record store?
Initially I was only supposed to be here for a month to help out Rick with the move from Salt Lake. I had just finished my degree in massage therapy and I was headed down a very different path with the record store leaving Utah; however, I saw an opportunity once I arrived and fell in love with the city. I loved that I was able to see so many bands that weren't coming to Utah–especially with the proximity to other big cities that I wasn't used to in Salt Lake, and I quickly made friends here. There is a rich music history here, a depth that was new to me and I really was taken by Indy for that reason.
When did you know vinyl's comeback was more than a novelty or a fad? And how did that affect the way the store operated?
There is a misconception that vinyl was gone and needed a "comeback." Granted, vinyl sales are indeed much higher now than 20 years ago; however, they have always been in production and have always been a major part of this shop.
Both of us had healthy record collections when we met, and each of us had a long-term love affair with the format before working at the shop. What has changed, a specific movement that has cemented the sales numbers we are seeing now, is the demographic. What once was the realm of DJs, older men and punk & hardcore kids has now evened out across all ages and orientations. At any given moment in Indy CD & Vinyl you'll see a wide range of ages as well as an even amount of shoppers who are female-identified and male-identified. The appeal of physical media, especially vinyl, across every demographic means the future of the format is safe and we can expand our inventory with confidence.
What happens at the warehouse you added in 2021?
Our warehouse is our off-site operations center with employees working in the offices in the front of house, as well as our used LP product storage. We have all of our unprocessed used vinyl there, approximately 500,000 pieces, and every day (or every other day) we are dropping off used records we have purchased at the store in Broad Ripple and then we pick up the shop-ready records our warehouse staff has cleaned, processed, graded, bagged, priced and listed in our point-of-sale inventory and online.
It's a big space with big work going on. It has been really fun to imagine and create the space.
The initial reason for adding the warehouse was to take pressure off of the retail store and ensure our employees who process used vinyl are focused, and then our shop employees can provide good customer service without being distracted with work. It's also nice to be able to park in our garage again now that the used LP overflow has been moved to the warehouse! To be clear, it is a workspace, so our inner teenagers won't be throwing shows or raves there, and it isn't open to the public to go digging.
How did you select the artists who are playing your anniversary celebration on April 24?
We chose artists and bands with whom we have close personal relationships as well as truly being fans of their music (Odonis Odonis, Kiddo, Lily & Madeleine, DJ Little Town), artists we've had scheduled to play in the past but couldn't because of the pandemic (Deserta), regional artists we enjoy and matched up with their tour routing (Choke Chain), artists we are fans of and bands we wanted to see play because of how they have wonderfully represented our city and the music and arts communities here (Jennie DeVoe, Clint Breeze & The Groove, Sweet Poison Victim). We wanted an eclectic mix with something for everyone, including Dorin performing for the families to start off the event at 11 a.m.
Here's a crystal ball question: How will your business be different at Indy CD & Vinyl's 25th anniversary?
Ask us again after this weekend, after we've been able to catch up on some sleep! Since COVID began, it feels like the workload has been nonstop, at a breakneck speed. The rate of growth for the business and staff has been intense, so after what we hope is a monumental weekend coming up, we are then going to sit down with our shop managers and plot out the answer to that very question. Growth will be fantastic if it serves our customers and this city well, but not growth for growth's sake, just to add more work. We are extremely excited to see what happens.
Please enable JavaScript to view this content.