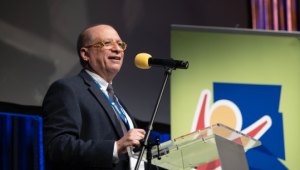 Lewis Ricci, who has led the Indiana Arts Commission as executive director since October 2006, plans to retire in fall 2021, the organization announced Wednesday.
The commission said a search committee made up of members, the governor's office and external stakeholders will work to identify a replacement.
Under Ricci, the commission has developed and implemented several programs, including PACE (Partnering Arts, Community and Education), Arts in the Parks and State Historic Sites, On-Ramp Entrepreneur Accelerator and Indiana Arts Homecoming.
The Indiana Arts Commission was created in 1965 as a 15-member board charged with stimulating arts and cultural development throughout the state. The commission also acts as the overseer of federal dollars that come from the National Endowment for the Arts.
In 1997, the commission was revamped to give more grants and more closely work with a chosen local partner in 12 regions. The commissioners, who are all appointed by the governor for staggered, four-year terms, oversee its direction.
Ricci, 63, was director of the International Jazz Collections at the University of Idaho prior to taking his current position. He grew up in New Jersey, got his undergraduate degree in biology at Bucknell University in Pennsylvania and his master's degree in arts administration from Indiana University.
In the early 1990s, he served as staff director for the International Violin Competition of Indianapolis and oversaw the 1991 Cole Porter Centennial.
From 1991 through 1996, he was the executive director of the Columbus Area Arts Council, where he started a visual arts festival, set up an arts-education endowment, and led development of a long-range cultural plan.
Please enable JavaScript to view this content.