Peter Lacy, commissioner of the Indiana Bureau of Motor Vehicles since 2017, plans to leave his position May 27 and will be replaced by Indiana Department of Labor Commissioner Joe Hoage the next day, Gov. Eric Holcomb announced Tuesday.
The governor's office did not say why Lacy, who served two years as BMV chief of staff before becoming commissioner, had decided to leave the agency.
"The focus during my time with the agency has been on driving the state forward and thinking beyond the traditional expectations of a motor vehicle agency," Lacy said in a written statement. "I am grateful to Gov. Holcomb for the opportunity to serve our state and for his support of the agency's goals, which has enabled us to keep providing efficient, exceptional service to Hoosiers."
Lacy's replacement is already familiar with the BMV. Hoage was general counsel for the BMV from 2017 until 2020, when he was named commissioner at the Department of Labor. He previously served stints as the state's public access counselor, general counsel for the Indiana Department of Natural Resources, an attorney with the Indiana Gaming Commission and as a deputy prosecutor in Marion County.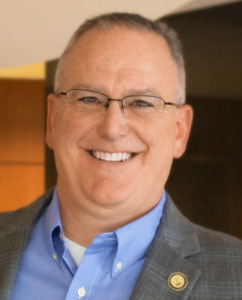 "The Indiana BMV is one of the most innovative motor vehicle agencies in the nation, and I know that progress will continue under Joe's leadership," Holcomb said in written remarks. "He brings experience from across state government and is well respected. He has led the Department of Labor team through a challenging time during the pandemic."
Holcomb praised Lacy's performance as BMV leader and pointed out several accomplishments by the agency during his watch. The BMV, he said:
maintained an average branch visit time under 20 minutes and a customer satisfaction rating over 98% across all transaction mediums (The governor's office did not say whether these statistics included the early part of the pandemic, when wait times soared and patrons were required to stand in long lines outside branches for needed services.);
redesigned the Indiana driver's license and ID, bringing the most modern and strongest security features available to our state;
increased BMV Connect kiosk transactions from 98,000 in 2016 to more than 850,000 in 2021;
grew Real ID adoption from 23% to 70%;
launched Indiana Driver Employee Link, a CDL employer notification system;
prioritized modernization of processes and technology, including expansion of how the agency notifies customers.
"Commissioner Lacy has delivered outstanding service to Hoosiers by investing in new technology and empowering employees to drive change," Holcomb said. "The result is an agency that provides Hoosiers with great customer service and more choices about how they interact with the agency. Peter has prioritized efficiency in operations and always focused on quality."
The governor said a new commissioner for the Department of Labor will be named at a later date.
Please enable JavaScript to view this content.