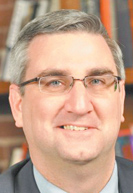 The Indiana Chamber of Commerce on Tuesday officially announced its support for Gov. Eric Holcomb in his bid for re-election in 2020.
The chamber, in announcing its endorsement Tuesday, said the backing of Holcomb, a Republican, marks only the second time it has endorsed a candidate in a gubernatorial race. The first time was in 2008 for then-Gov. Mitch Daniels.
The chamber's executive committee approved the endorsement, which was recommended by the group's political arm, Indiana Business for Responsive Government.
Kevin Brinegar, president and CEO of the chamber, said that the organization only makes endorsements in statewide races in "special circumstances."
"Gov. Holcomb's Next Level agenda has undeniably propelled the state forward in many meaningful ways. His leadership, drive and desire to bring people together to listen and learn have all been extraordinary," Brinegar said in written comments.
Holcomb, who previously worked for Daniels in several roles, said he has some similarities to the former governor that might have helped him earn the chamber's endorsement.
"We both lean heavily into looking out ahead and planning today for what may come years from now," Holcomb said. "And being able to pull people together around the same table—not just to talk, but to do—and address the issues or challenges that we may have."
Holcomb called the chamber's network of 25,000 members "invaluable as the days ahead unfold."
In past elections, the chamber has endorsed other statewide candidates, including current Superintendent of Public Instruction Jennifer McCormick when she ran in 2016 and former Superintendent Tony Bennett in his bid for re-election.
Indiana Democratic Party Chairman John Zody criticized the endorsement of Holcomb.
"I'm disappointed the chamber would reward Holcomb's inaction when educational attainment is slipping backward, especially when the rest of the country is making progress and Indiana employers still can't find skilled workers," he said in a written statement. "Leaders take bold action. Eric Holcomb stepped into office standing on third base. He's still standing there."
Please enable JavaScript to view this content.