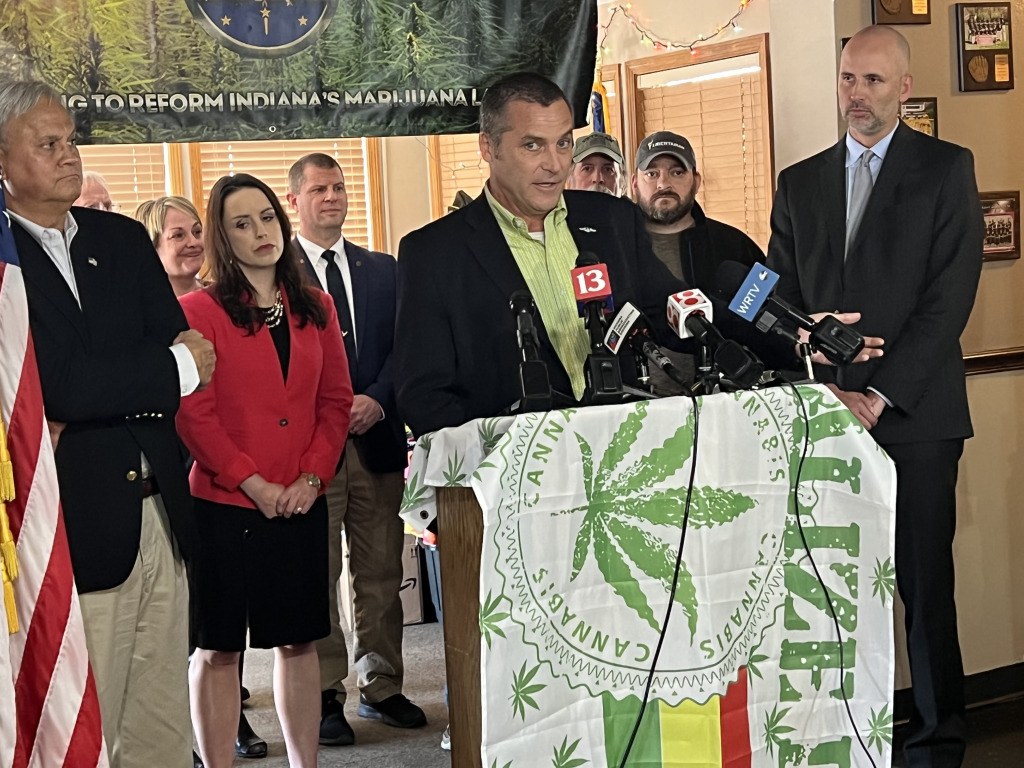 Marijuana legalization is coming to the forefront of the Indiana Democratic Party's 2022 platform.
Democratic U.S. Senate candidate and Hammond Mayor Tom McDermott lit up a joint one mile across the state border in Illinois for a new campaign ad he posted on 4/20—the unofficial weed holiday.
The same day, he joined the Indiana Democratic Party in launching a four-stop statewide tour in conjunction with veterans' groups to promote its push for cannabis legalization.
McDermott admitted on Wednesday to being nervous smoking a joint on camera for an ad. He was joined in the video by some of his campaign supporters—which included attorneys and a Hammond city councilor—who together smoked four joints they had bought in Michigan, he said. Recreational marijuana is legal in Michigan and Illinois.
McDermott, who will face Republican Sen. Todd Young in the Nov. 8 general election, is the second U.S. Senate candidate this election cycle to post a campaign ad smoking and advocating for legalization of marijuana. Democratic Senate candidate Gary Chambers, of Louisiana, also made news this year when he smoked a blunt in one of his campaign ads.
"I think dropping the commercial that I did today shocked people. There's a lot of people talking about it. And I think that's the first step," McDermott said.
The state Democratic party started advocating for a policy change to legalize marijuana in Indiana in November. The push continues with the statewide tour that kicked off at an American Legion post in Indianapolis.
McDermott was joined by other fellow Democrats, including Secretary of State candidate Destiny Scott and Marion County Prosecutor Ryan Mears. Also joining the launch was former Republican state Sen. Jim Merritt and Libertarian Party Chairman Evan McMahon.
Mears, who has refused to prosecute small-amount marijuana possession cases since he took office two years ago, said veterans' groups were the loudest in reaching out to his office about the issue. He said he's listened to stories from people talking about how using marijuana helps with emotional and physical pain relief.
"It makes absolutely no sense for us to continuously stigmatize and criminalize people who are not out here trying to get high to have a good time," Mears said.
Veterans' groups have been a leading voice for the legalization of at least medical cannabis. The VFW, American Legion and Amvets have passed resolutions supporting its legalization, said Jeff Staker with Hoosier Veterans for Medical Cannabis.
Wells, who is also a veteran, said it will take a cannabis supporter as secretary of state to maximize the economic benefits of the industry. She said she would set up a licensing structure for marijuana growers, processors and sellers in Indiana.
"Indiana is watching easy money leave the state because we're letting outdated ideologies and opinions on marijuana come before a revenue source for the state," Wells said.
While Democrats are making this a priority issue, Republicans in Indiana have not budged on the idea of marijuana legalization. Republicans in the state Legislature, who hold supermajorities in both chambers, have blocked hearing most marijuana reform bills. Gov. Eric Holcomb has also stood his ground on not wanting to take action until marijuana is legal on the federal level.
Please enable JavaScript to view this content.