Indiana Gov. Eric Holcomb on Tuesday walked back his previous statement that he expects to sign whatever abortion-restricting bill comes across his desk, but he struggled to articulate where specifically he stands on the incoming legislation.
The Republican governor previously said he has "no red lines" on abortion restrictions.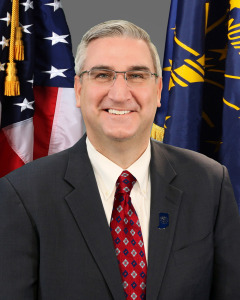 Holcomb said his comment did not imply that "anything goes," however, and that he "would never approach any issue that way."
"What I meant was, I have not laid out any ultimatums to say this is what should be in, or shouldn't be in, or can be in or couldn't be," he said.
Still, Holcomb did not make clear the particulars of any "bill or bills" that are expected to be proposed when lawmakers return to the Statehouse later this month for a special legislative session. Instead, he emphasized that he is involved in "discussions" with lawmakers as they work on abortion-related legislation.
Governor avoids pressure to reveal his stance
Holcomb remained silent about where he stood on specific elements of new state policy, including possible exceptions to an abortion ban, or if he thought criminal penalties should be imposed on doctors who perform abortions.
When asked directly if he was comfortable signing into a law an abortion ban that would require a teenage rape victim to give birth, the governor said he is "reserving comment until we see a bill."
Moreover, Holcomb would not say specifically where he stood on any exceptions to a possible abortion ban. Instead, he maintained that he's waiting for lawmakers to unveil their proposals.
"I am comfortable saying that I want to make progress to protect innocent life. And I will continue to be. That's just who I am," he said. "I've stated in the past when I reviewed bills that made it through the process, I checked my conscience. I'm not going to veer from that."
The governor only said he hopes the legislature will consider boosting support for the state's social systems, which are expected to be in increased demand if abortion is banned in Indiana.
"We have programs that are in dire need of more resources, including funding," he said.
No details on draft abortion bills
Holcomb initially called for legislators to convene for a special session to consider a taxpayer refund on July 6, but GOP leadership delayed the start date until July 25 to give themselves more time to craft anti-abortion legislation.
Republican leaders in the House and Senate have signaled support for new restrictions—possibly even an outright ban on abortions—but they have refused to release additional details.
"When it comes to the legalities and all the details that will be in that bill, that's to be determined," Holcomb said. "Very rarely do bills of this complexity and this emotionally charged issue end up where they start … the bill will evolve, I believe, from day one to the final day that it makes it to my desk."
Acknowledging behind-the-scenes discourse within Indiana's Republican caucus, which holds a supermajority in the statehouse, Holcomb said "we're not drones," but maintained that lawmakers are trying to make decisions on bills "in a condensed time period."
"It's probably unrealistic to think that we'll make 100% of people happy, or 90 or 80 or 70 or 60," he said, also referring to varying opinions held by Hoosier constituents.
For that reason, the governor added that any bills addressing abortion will require open debate and "transparency" in the legislative process.
"We have opinions, and they differ, right? And that's good," he said. "We can learn from one another—and there's two sides to the aisle, and both sides deserve to be heard. I think—and I hope—that we can do this in a thoughtful way. Just yelling and shouting at each other is not going to persuade anyone, and you probably won't learn if you're not listening."
The Indiana Capital Chronicle is an independent, not-for-profit news organization that covers state government, policy and elections.
Please enable JavaScript to view this content.