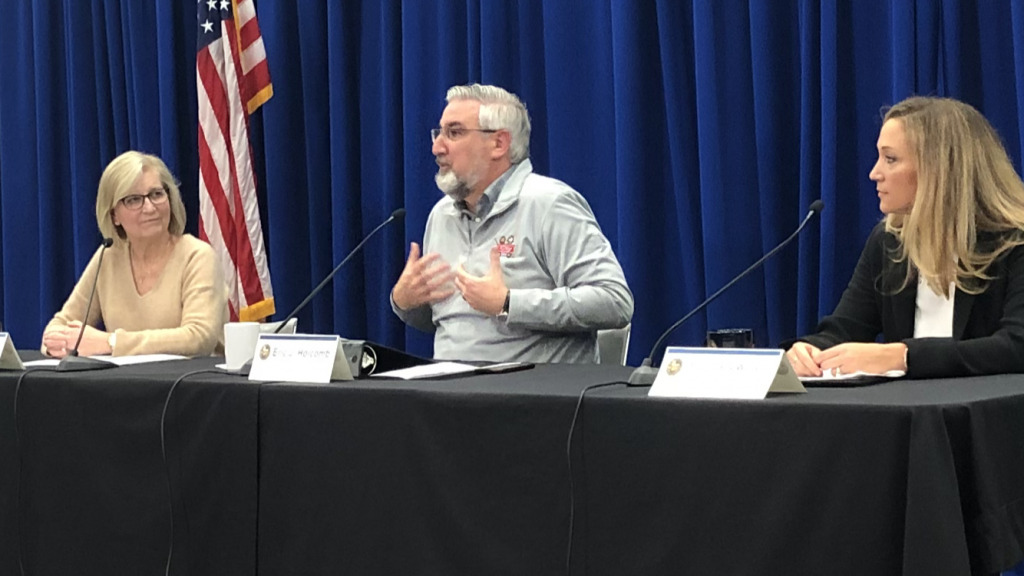 Indiana health officials warned Wednesday that cases of COVID-19 are expected to climb over the next two months as the omicron variant sweeps across the state, and they pleaded with Hoosiers to get vaccinated, avoid crowds and wear masks in public.
But they did not issue any new restrictions as the pandemic heads towards its second anniversary, having already claimed the lives of more than 18,000 Hoosiers.
The warnings came shortly before the Indiana State Department of Health issued its latest COVID report, which showed 7,967 new cases of the virus—the highest number of cases in the daily report in more than a year.
"We are once again facing a very bleak situation with this pandemic," said Dr. Kris Box, Indiana state health commissioner, during a media briefing. "…Our health care workforce is depleted, physically and mentally, as are our public health workers."
Box said hospitals across the state are nearing or over capacity, with long waits in emergency rooms. The COVID-19 census is at the high level in a year, with 3,058 people hospitalized as of Monday, the highest number since Dec. 22, 2000.
The number of people hospitalized with COVID-19 has increased more than 700% since late June, she said.
Box said she expects to see a "very steep rise" in omicron cases over the next four to eight weeks.
Indiana ranks 43rd among all states for percentage of the population fully vaccinated, 52%, according to the U.S. Centers for Disease Control and Prevention.
Gov. Eric Holcomb said the best way to increase the vaccination rate was through individual conversations, rather than mandates or lectures from state officials. Church leaders, neighbors and friends are the best ones to convince others to get vaccinated, he said.
"I think it's critically important we do everything we can to equip trusted, credible thought leaders within someone's sphere of influence. And that's how we'll continue," Holcomb said.
Holcomb also extended his state order declaring a public health emergency through Feb. 1. That marks more than 20 times that Holcomb has taken such a step, which allows Indiana to remain eligible for federal assistance.
Meanwhile rapid tests for COVID-19 are in short supply, as are treatments, including recently approved pills from Merck and Pfizer, which require a prescription and have just arrived in the state.
Store shelves are empty of at-home COVID-19 rapid tests, and people are lining up an hour early at test sites around the state, including one near the Indianapolis Motor Speedway. Holcomb said he was asking the Biden administration to send millions of rapid tests to the state immediately.
"We need them now," Holcomb said. "There is a state shortage and a record demand. We are appealing to get everything we can."
Box said local health departments, schools, state testing sites, jails and other institutions go through an average of 50,000 rapid tests a week, but Indiana is guaranteed to receive an average of only 11,000 a week from the federal government.
In recent weeks, several large hospital systems have been scrambling to boost capacity to treat more people, by adding beds to conference rooms and hallways. The state has sent Indiana National Guard teams, with medics and clerks, to nearly two dozen hospitals across the state.
Last week, a 23-member U.S. Navy team  arrived at Indiana University Health to help exhausted doctors and nurses care for patients.
"We are throwing every resource we have at this," Box said.
Please enable JavaScript to view this content.