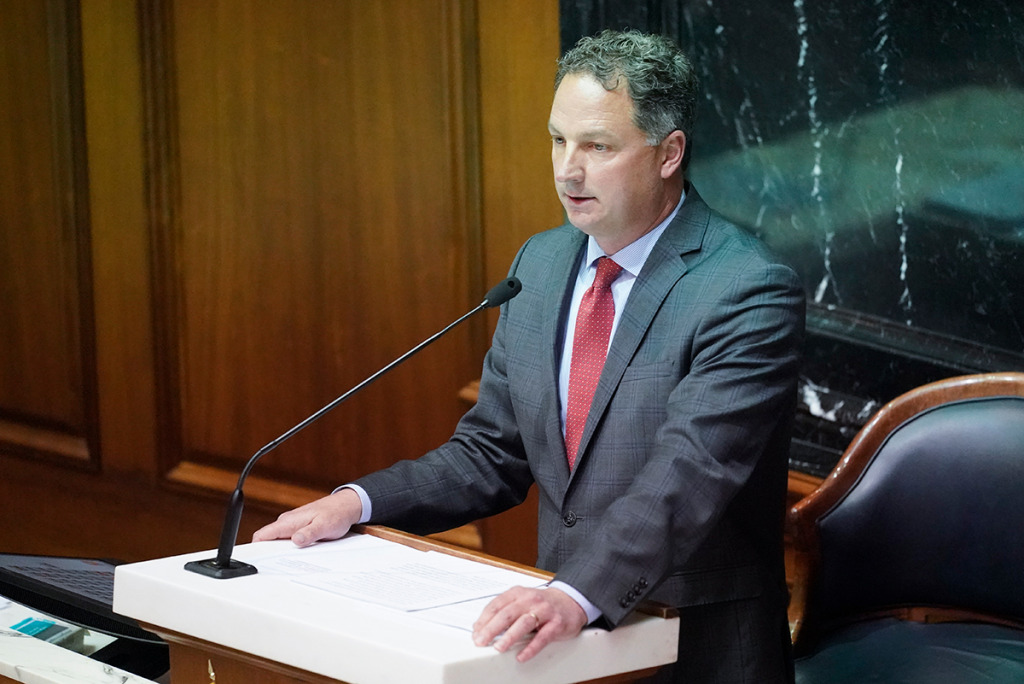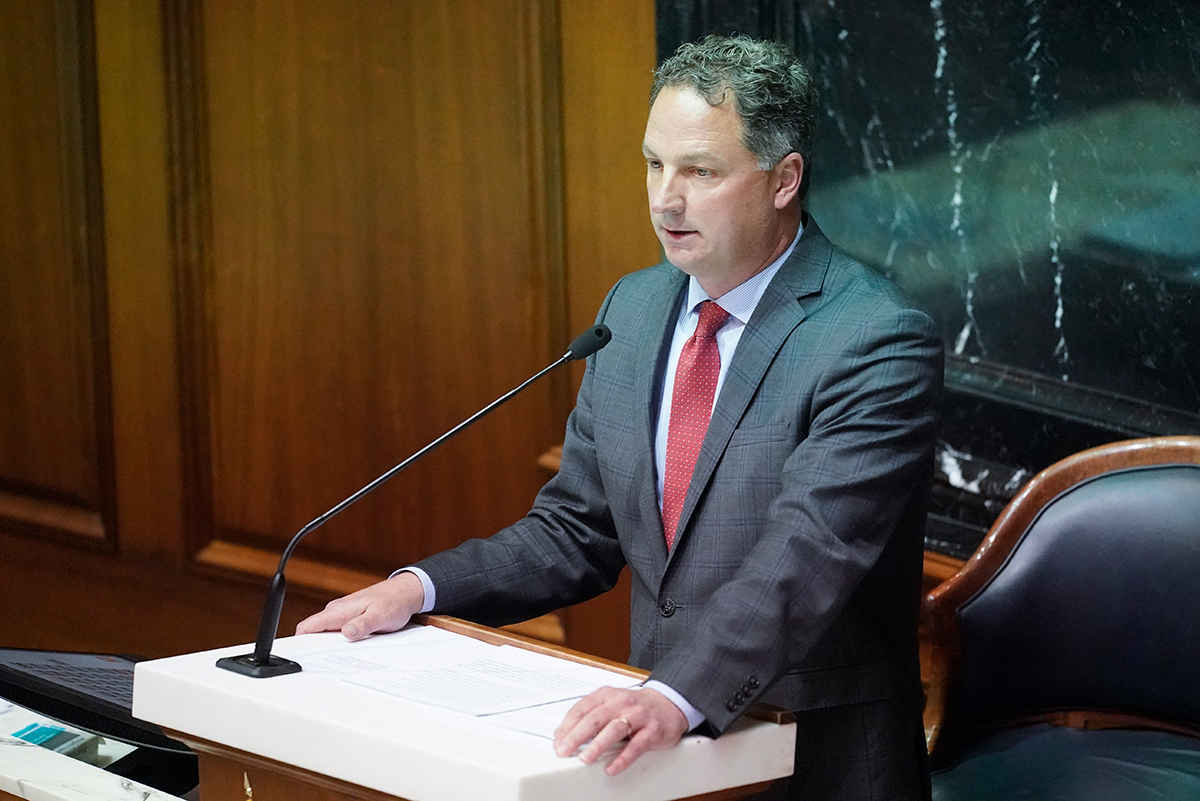 When it comes to pushing for state tax cuts and limits on employer vaccine mandates, Republicans in the Indiana House of Representatives are taking the lead.
IBJ asked the top House Republican, Speaker Todd Huston of Fishers, why his caucus has put these issues at the top of its agenda and why it has been more aggressive than Senate Republicans in its pursuit.
The differing attitudes on tax cuts became clear after a state budget forecast released last week showed the budget surplus could grow to $5.1 billion by the end of June.
House Republican leaders said the burgeoning surplus gave them even more cause to cut taxes, while Senate GOP leaders urged caution amid concerns that inflation could slow consumer spending and sales tax collections.
Here's what Huston had to say about how that issue and others might play out once the Legislature convenes on Jan. 4.
What tax cuts are you looking at specifically now that you have a better idea of what revenue will be coming in?
Mine, for me, has been the income tax. I think that's the one I've had my eyes fixed on. How do we continue to lower income taxes? I think there's taxes in the business realm around business, personal property taxes that this gives us some flexibility to address. … The great thing about giving money back to Hoosiers is, it's going to end up in our own communities, it's going to end up in our own economy. And I'm really excited about that. I think the best way to do that is to try to do as much as we can in the individual income tax.
With regards to reducing the business personal property tax, what can be done to make up the potential lost revenue local governments are concerned about?
The commitment I made to them is that we're not going to talk about cutting that tax on their back. And they've exchanged ideas with us, we've exchanged ideas with them about different proposals, and we'll continue to work through it. I mean, they're in the same boat. You know, they've got a lot of revenue themselves. So, you know, they need to be thinking about it collectively. We all need to be thinking about, how do we make sure that we create a great economic environment for Indiana? We're partnering with them on the READI [regional economic development] grants, super excited about that, and we'll partner on this, too.
The Senate appears to not be on the same page with tax cuts. How do you plan to get legislation through that chamber?
We've got a great working relationship with [Senate President Pro Tem Rodric] Bray, [Senate Appropriations Chair] Ryan Mishler. They're great friends, people I enjoy working with. [House Ways and Means Chairman] Tim Brown and I will continue to have those conversations. I know we share so much of the same philosophies, maybe a slight disagreement on timing. But look, I mean, the revenue forecast showed we have an abundance of resources. We need to be wise. We need to be prudent. But I think not to [cut taxes] now would be a mistake, too.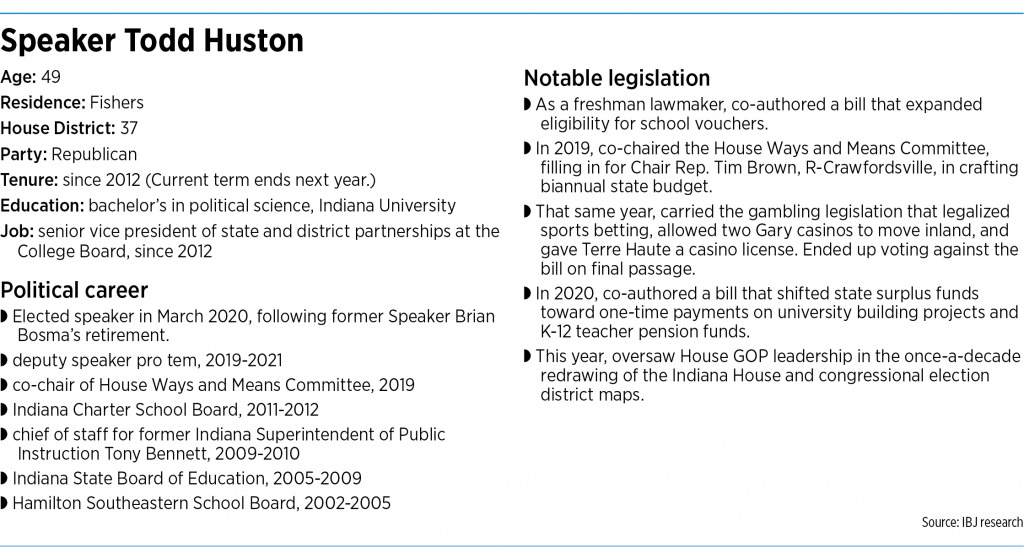 Changing topics to House Bill 1001, why move on a quick timeline to pass limits on employer vaccine mandates within the first week of the session?
We've heard from a lot of employers and a lot of a lot of our constituents who want protections in this. We recognize there are multiple components, as you know, to House Bill 1001, some dealing with a vaccine mandate, some [dealing] with all the things that can remove … the public health emergency. We feel like taking action on it quickly makes a lot of sense. We're continuing to work through the issues that continue to be discussed, and if we can do it on that timeline, look, it's a short session. I've been clear to our caucus: We're going to get in, and we're going to get to work right away. …
We're going to have to move a lot of stuff in the first and second week because it's a short session. And, and so that's much of it, but again, good conversations taking place with a bunch of different stakeholder groups to try and get to the right spot.
Is it the government's job to intervene on this business issue, not going so far as to force or ban mandates but essentially setting rules if a private employer wants to require the COVID-19 vaccine?
Some of the business organizations have come to us with their concerns, and we're trying to work through them. But I also want to note that there are a lot of businesses that have contacted us, individual members, or me personally, who were saying, "You know, look, we have supply chain issues, we have employment issues, and we need clarity on this if we want to protect our people. But we also don't want to get stuck in a box between a federal mandate and not having enough workers." So, you know, it's a complex thing. We will continue to work with our business community on it.
Is the Senate on the same page with passing HB 1001 quickly? Is there any disagreement on it?
I don't want to speak for Sen. Bray in the Senate. I know they're hearing the same things we're hearing, and they're working through the issues. I'm sure they'll have time, and we'll talk about it as a caucus. So, you know, what timeline [do] they act upon? To be honest with you, I'm just not sure.
You have said before that marijuana will not be legalized this year, but Gov. Eric Holcomb recently said he'd be for passing legislation to set up a regulatory system in the event marijuana is legalized on the federal level, or down the road in Indiana. Would you be for that legislation?
I will consider every bill, and I'll assign every bill to committee. I've kind of made my feelings known, and I've also told people if they can bring compelling evidence to me about why it's good public policy, we'll continue to have those conversations. I'm interested in hearing more of those conversations, but so far, you know, I've kind of stayed where I am on it. … I know, we're going to have members filing bills on this topic, and they'll have to be assigned to a committee. But, you know, for me, it's always been about, I just want to get to what I think is the right public policy.•
Please enable JavaScript to view this content.