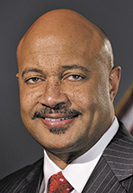 Indiana lawmakers are trying to send a message to Republican Attorney General Curtis Hill: If he loses his law license, even through a temporary suspension, he could be forced out of office and prevented from seeking re-election.
The Republican-controlled Indiana House on Monday afternoon added language to a bill that would require the attorney general to forfeit the office if the office holder is disbarred from or suspended from practicing law for 30 or more days. The forfeiture would create a vacancy in the office, which would be filled by the governor.
The amendment, which was added to Senate Bill 178, would also prevent anyone who has been disbarred or had his or her law license suspended for 30 days or more within the past five years from running for the office.
The move comes in response to questions over whether Hill could remain the state government's top lawyer if his law license is suspended over allegations that he drunkenly groped four women at a bar in 2018.
Former state Supreme Court Justice Myra Selby presided over a four-day disciplinary trial for Hill and has recommended that the Indiana Supreme Court suspend Hill's license for at least 60 days without automatic reinstatement.
Republican leaders previously said it was unclear whether Hill could remain in office if the Supreme Court—which will make the final decision on any discipline Hill should face—agreed with Selby.
The House voted 84-9 on Monday in favor of the amendment, which was authored by state Rep. Tim Wesco, R-Elkhart. Three Democrats and six Republicans voted against it.
"Is it acceptable for the attorney general in the state of Indiana to hold a suspended law license?" Wesco said. "If you vote 'no' on this amendment, you are saying it's OK."
State Rep. Ed DeLaney, D-Indianapolis, called the move "an impeachment in disguise" and supported it.
Top Republicans, including House Speaker Brian Bosma and Gov. Eric Holcomb, have called on Hill to resign. Hill, who has denied wrongdoing, is seeking re-election.
On Monday, Bosma said that lawmakers waited as long as they could this session to address the uncertainty, so that's why the amendment was considered. Monday is the deadline for amendments to bills before they return to the originating chamber.
"We felt like we needed to give some clarity, so that our state is not faced with a vacancy that cannot be filled or is undefined," Bosma said.
The allegations against Hill include that he grabbed the buttocks of Democratic Rep. Mara Candelaria Reardon and inappropriately touched and made unwelcome sexual comments toward three female legislative staffers—ages 23 to 26 at the time. A special prosecutor declined to file criminal charges and the women have filed a federal lawsuit against Hill and the state accusing him of sexual harassment and defamation.
Selby found that Hill used his state office "to intimidate the four women who alleged misconduct, three of whom were young women at the onset of their careers. (Hill's) unwavering public campaign in defense of himself showed little restraint and amplified the impact of his conduct on the four women."
Selby concluded that Hill committed a misdemeanor-level battery offense, but that the state attorney disciplinary commission didn't prove the more serious allegation of sexual battery.
If Hill lost his license without automatic reinstatement, it could take more than a year for him to regain it. Bosma said that's part of the reason why he felt lawmakers needed to address the issue.
"We thought this was the best way to do it," Bosma said.
Hill's office is not supportive of the measure.
"This raises some legal concerns—and this kind of rushed proposal lacks transparency and leaves no opportunity for public input," Hill's office said in an email to IBJ.
The bill still faces a final vote in the House. If it passes, it would return to the Senate. The deadline for the House to vote on the bill is Tuesday.
The Associated Press contributed to this report.
Please enable JavaScript to view this content.