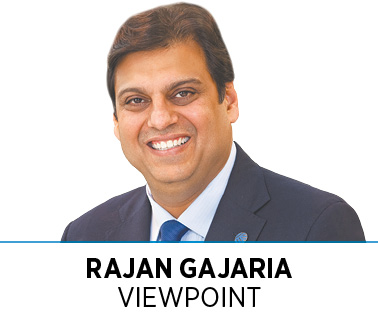 In his State of the State address, Gov. Eric Holcomb shared a quote from the movie character Indiana Jones. "To be a good archaeologist, you gotta get out of the library." It was a reference to Holcomb's efforts to recruit international business investment to Indiana, an approach that has served the state well.
The governor also mentioned the state's efforts to work with businesses in my native India. We are fortunate to live in a state that recognizes how forging strong relationships there, and around the globe, benefits the economy here at home.
As an executive with Corteva Agriscience, I know firsthand how important it is for our employees, customers and communities to have the support of state leadership that understands the value of global economic partnerships. With a presence in more than 140 countries, we recognize that being integrated into the global economy is critical to the growth of our company.
At the same time, our presence here reflects the global nature of our business. At our Indianapolis Global Business Center, we have employees from 30 countries. This diversity of perspective and experience is incredibly valuable to our success, giving us an advantage in fostering and growing business relationships worldwide. Indiana holds a special place in my heart, since I've been based here with Corteva the past 20 years.
Of course, continually integrating our state into the global economy is important for every local business. With 1,000-plus foreign-owned businesses supporting 193,000 Hoosier jobs, we can't afford to miss opportunities to invest in efforts that can directly help grow those numbers.
From 2016 to 2018, foreign direct investment committed to the state increased 300%. During that time, the Indiana Economic Development Corp., in partnership with local communities, secured 123 commitments from international companies representing 22 countries and territories to invest $5.8 billion in Indiana and create 15,502 Hoosier jobs.
Building the relationships that lead to these jobs takes many forms. Last year, Corteva hosted the Cric Indy League '19 networking event and panel discussion on "Unity in Diversity and Inclusion" before a day-long cricket tournament.
Cric Indy was formed in 2015 to promote culture and diversity in the corporate workplace, and the tournament has grown to include 16 companies and 350 participants. Indiana's reputation for having a strategically developed "sports culture" has proven to be an asset on the world stage.
During his recent trip to India, Gov. Eric Holcomb met with India's Prime Minister Narendra Modi, an honor not often bestowed upon a visiting governor or U.S. elected official, to discuss, among other things, a partnership between some of Indiana's best and brightest sports minds and their Indian counterparts.
I'm confident the results of this partnership will yield tremendous dividends for both Indiana and India, including opportunities for significant economic development and opening new markets for Hoosier products to be sold abroad. Agriculture is one of those key markets and it is through continually nurturing and growing our global footprint that new opportunities can grow and thrive.
As the governor has astutely said, "Winners are the ones who show up to play." I couldn't agree more. Attracting jobs, investment and talented people is always a competition. I'm happy we have a competitive edge because we have leaders in the state who wake up every day ready to play on behalf of Indiana.•
__________
Gajaria is executive vice president, business platforms, at Corteva Agriscience.
Please enable JavaScript to view this content.