Indiana officials say the state has more coronavirus cases than reported and the number is likely to increase as more testing becomes available.
Through Thursday, Indiana has 12 confirmed cases of COVID-19, including two in Marion County, two in Hendricks County and three in Johnson County. None of the cases have been fatal.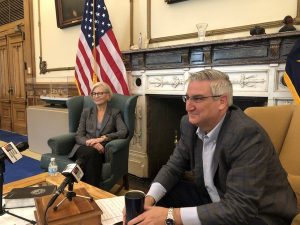 But across the state, people are regularly being denied testing because the Indiana State Department of Health has a limited number of test kits available, which is likely impacting the number of positive cases. The department had tested only 73 people through Thursday.
In Ohio, for example, state officials estimate that more than 100,000 individuals likely have the virus, even though the state has only reported five confirmed cases.
"We'd probably be close to that," State Health Commissioner Kristina Box said Friday morning when asked about the Ohio figure.
But she said she doesn't believe the virus has become a widespread problem yet because hospital systems would already be overwhelmed.
"I suspect there's definitely more cases than we've recognized here, but again it's not a Washington state thing because we don't have that kind of burden on our health care hospital system right now," Box said, referencing how the high number of cases in Washington are already causing delays in patient care.
Washington has reported 457 cases, with 31 fatalities.
Box said Indiana recently received more testing kits from the Centers for Disease Control and Prevention and has been promised to receive more next week. She added that the state has also been working with universities and large pharmaceutical companies to develop additional testing capabilities.
"As we begin to test more, I do believe that we'll start to see that there is more here in the state of Indiana just like other states are finding," Box said.
There have been 1,629 cases confirmed nationally, with 41 fatalities, according to the Centers for Disease Control and Prevention.
The state does not know exactly how many tests have been done or are currently being done by private labs, because those are not reported to the state unless the test is positive.
Of the 12 COVID-19 cases already known in Indiana, Box said there have been a couple of serious illnesses, but all of the individuals diagnosed seem to be getting better.
For individuals who display symptoms of the novel coronavirus, like a fever, sore throat and cough, but are denied testing because they don't otherwise meet the stringent eligibility requirements, Box said they can likely self-quarantine and manage the illness.
"The reality is that those individuals, if they're otherwise healthy and they're doing well—they don't develop severe shortness of breath or chest pain or their fevers don't resolve—can basically just stay at home and get better," Box said. "The concern we would have is if that individuals works in a long-term-care facility and went to work symptomatic, if that individual is a health care provider, if that individual has significant underlying health conditions themselves. That's when you want to talk to your provider and determine how you're feeling and how you're doing."
Gov. Eric Holcomb said he is confident the state is getting the help it needs from the federal government and he is in regular contact with federal officials, including Vice President Mike Pence and his task force.
"We are good right now," Holcomb said. "They are responding to every need that we've had so far."
On Thursday, Holcomb issued guidance that included limiting social gatherings to less than 250 people and encouraging businesses to utilize work from home options. He also made it easier for schools to temporarily close by giving school corporations a 20-day waiver of the required 180 instructional days.
Holcomb told reporters on Friday morning that he's expecting to release additional recommendations later today.
"We want to make sure that Hoosiers know that we are responding to their needs and the facts on the ground as they change," Holcomb said.
But he acknowledged that his announcement is simply a strong encouragement and there is no science behind deciding how many people at a social gathering is too many.
"We looked around and tried to find the sweet spot to have an impact on those larger scale crowds…. I mean, is it 225 or is it 250?" Holcomb said. "We thought this was a good place to start."
His guidance on schools did not go as far as some governors in other states, like Michigan and Ohio, where all schools have been closed.
Holcomb said he decided against such a sweeping measure because he thought it was best for the individual school districts to determine whether or not to stay open given the local ramifications, like the impact on meals for students, transportation and daycare.
"In this case, it may be more of a hodgepodge for the time being, and that may best serve the citizens of those individual communities… If we start to see community spread, then we're going to get more and more involved," Holcomb said.
Please enable JavaScript to view this content.