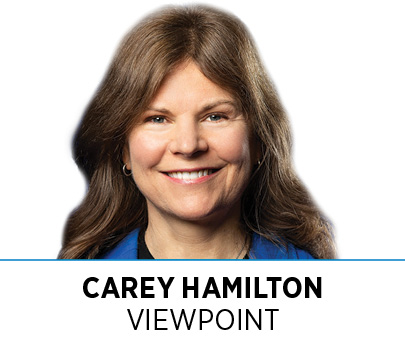 After spending a week at the 2021 United Nations Climate Change Conference in Glasgow, Scotland, I find myself inspired.
No, I did not see in that week the solving of the climate crisis—a crisis that is becoming ever more real with the past year's relentless climate disasters: deadly flooding, droughts, wildfires, heat waves and cold snaps. But I did see progress.
What inspires me most, however, is that we in Indiana have so much to offer—and to gain—from the movement to address these challenges. I am inspired by what the coming shift could mean for our innovative and industrious businesses and workers.
Consider just one example: Indiana is a leader in vehicle and parts manufacturing. We have a workforce over 100,000 strong with decades of experience, and we invest heavily in advanced manufacturing. We are very well positioned to become a leader in the production of electric vehicles if we do it right.
Doing it right means acting with purpose—and coordinating the efforts of industry, government and our workforce to be leaders in this manufacturing revolution. That is why I co-authored the bill creating Indiana's EV Product Commission and now serve as a member of that commission.
As we head into the 2022 legislative session, it is heartening to see the Indiana Chamber of Commerce call for the expansion of research and development, manufacturing, testing and deployment of EVs, calling them "the future of the transportation industry."
But it's not just about electric vehicles. Hoosiers also can turn our high rates of productivity and logistics expertise more fully to the production of solar panels, wind turbines, battery storage, electric-vehicle charging stations and other green-economy products. In addition, if we were to green our electricity grid faster, with more renewables and Indiana-made battery storage technology, our state would be more attractive to the growing number of companies that have set aggressive carbon-reduction goals.
Of course, our economy won't be the only beneficiary of increased climate consciousness. Our families and communities will benefit as well, as we mitigate the risks of a changing climate.
We have a lot of work to do: Indiana is one of the top two producers of carbon emissions per-capita in the country. Now is the time to take action. We can join the majority of states that proactively support renewables. We can also:
◗ Spur the transition to EVs.
◗ Make buildings more energy-efficient.
◗ Restore net-metering and develop reasonable standards for citing of renewable-energy facilities.
◗ Support stormwater infrastructure improvements.
◗ Protect natural landscapes and enhance carbon sequestration.
◗ Work to attract green-economy industries.
◗ Support the training of workers (including displaced workers) for green-economy jobs.
Climate change presents Indiana with a grave threat and a tremendous opportunity. If we act now, we can help reduce the negative impacts of climate change in our communities, while also strengthening Indiana's long-term economic outlook. It's an inspiring prospect that allows us to build on our strengths while building a better Indiana for future generations.•
__________
Hamilton is a Democrat representing District 87 in the Indiana House of Representatives.
Please enable JavaScript to view this content.