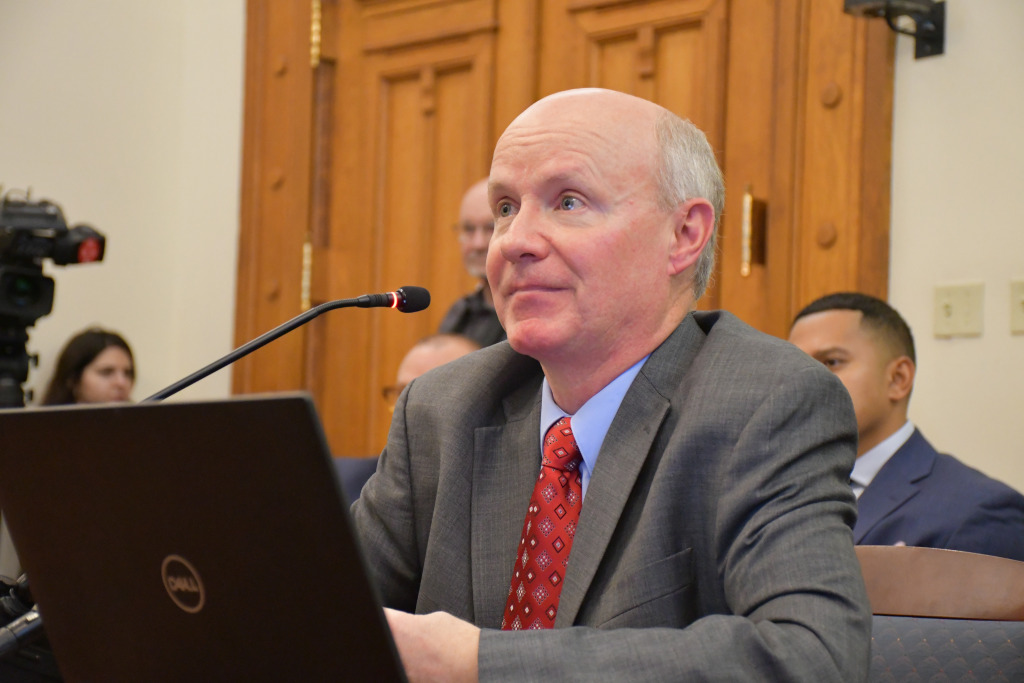 Signaling fears of a short-term recession in 2023, state officials predict Indiana's economy will stagnate next year as federal COVID-19 funding wanes, higher interest rates discourage borrowing and the rising cost of goods and services forces more Hoosiers to reduce spending.
The State Budget Committee released its economic forecast Thursday, projecting GDP growth to drop from around 1.9% in 2022 to anywhere between -0.2% and 0.3% in 2023. The state expects GDP growth to bounce back to 1.8% in 2024.
Consumer spending has remained stronger than expected, said Tom Jackson, principal economist at New York-based S&P Global, although any gains will be limited by inflation and a decrease in disposable income. Personal savings rates have also dropped to "unsustainable levels."
Payroll gains have been above expectations, which supports short-term growth, but inflation remains problematic, he added.
The Federal Reserve announced a half-point increase in its key rate Wednesday—after four straight three-quarter-point interest rate hikes—as it begins to claw back its efforts to combat inflation. The annual inflation rate in the U.S. slowed for a fifth straight month to 7.1% in November.
Homebuilding, which had rebounded in 2021 and the first half of 2022 to its highest levels since 2008, has suffered in the second half of 2022—in part due to sharply higher mortgage interest rates. Homes sales are also down.
The state's labor force participation rate hasn't recovered to pre-pandemic levels and continues to create challenges for employers trying to find skilled workers to fill open positions, Jackson said. Indiana's rate is about 63%, near the national average.
The revenue forecast was similarly cautious about growth in 2023 but optimistic about Indiana's long-term growth.
Total general fund tax revenue is expected to fall to $20.6 billion, in 2023, a 2.6% drop over the previous year, before rebounding to $21.2 billion in 2024 and $21.8 billion in 2025.
The forecasts comes as lawmakers prepare to return to the Indiana Statehouse on Jan. 9 to craft a two-year budget and consider legislation on a number of issues, including public health, education and workforce development.
Indiana closed the fiscal year 2022, which ended June 30, with a $6.1 billion surplus, the largest in the state's history. Republicans say the results speak to the state's strong economic growth and fiscally responsible spending, while Democrats accuse them of failing to invest in the health and well-being of Hoosiers.
"Our state remains on sound financial footing thanks to Indiana's longstanding commitment to fiscal discipline," Republican Sen. Ryan Mishler, chair of the Senate Appropriations Committee. "However, the economic growth is estimated to slow. While we have new money to spend, the agency requests to the State Budget Committee exceed that amount. Those requests do not include K-12 tuition support or increased Medicaid costs. We also have over $1 billion in capital project overruns from the 2021 budget."
Rep. Greg Porter, an Indianapolis Democrat who serves on the House Ways and Means Committee, lamented the elimination of the utility receipts tax, a revenue source of $220 million annually.
"This was not a tax burden borne by everyday Hoosier families – it primarily affected large corporations with big electricity bills," Porter said. "It would be a real shame if we are not able to fully fund the recommendations made by the Governor's Public Health Commission, which annually come to nearly the same amount as the utility receipts tax revenue, because of a corporate giveaway. I will always put Hoosiers' health ahead of corporate profits."
Please enable JavaScript to view this content.