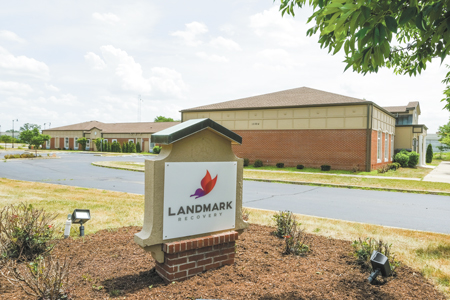 The state has revoked the licenses of a troubled northern Indiana addiction treatment center and two sister facilities, its parent company acknowledged Thursday.
The Indiana Division of Mental Health and Addiction revoked the license for Praxis Landmark Recovery in Mishawaka and sister facilities in Bluffton and Carmel, the company said.
The Carmel facility, 13594 N. Meridian St., is a 16,000-square-foot, male-only detox and rehab center with 48 beds.
"We respectfully disagree with this decision and believe it is based on misinformation," Landmark Recovery said in a statement. "We are working with our legal counsel to explore the next steps including an appeal. In the meantime, we are committed to the well-being of our patients and staff and will work to ensure a safe environment for everyone involved."
The state action follows three recent deaths at the Mishawaka center and calls by police to yank its license. Also, the company fired the executive director and director of nursing at the Mishawaka center.
Three men have died since July 4 and another man was revived with multiple doses of Narcan, authorities have said. Landmark Recovery then announced it would not accept new patients until "we confirm that all staff meet our high standards."
The St. Joseph County Police Department had asked state regulators to investigate the 160-bed facility and revoke its license.
There have been more than 200 police and fire runs to the Mishawaka center in 2023, said Troy Warner, a spokesperson for county police.
Those incidents include nine overdoses, two rapes, a sexual assault and a stabbing, he said.
"The facility is a large drain on our county first-responder resources and is harmful to its patients and our community," Warner wrote to Jay Chaudhary, director of the Division of Mental Health and Addiction.
Landmark Recovery, a Tennessee-based company that has locations in 10 states, said a national accrediting agency, the Joint Commission, has visited the Mishawaka center that opened last year.
"The full report is not yet available, but the preliminary findings indicate that our care model is sound. We look forward to sharing more in the future," Landmark Recovery said.
Please enable JavaScript to view this content.