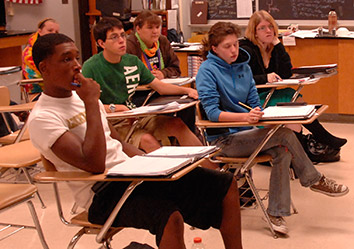 Indiana House Republicans touted that their budget plan would eliminate textbook and curricular fees for Hoosier kids in K-12 public schools. But a deeper look at the GOP-backed proposal shows that local school districts will still be on the hook to pay for those materials.
The House GOP budget that advanced to the Senate last week prohibits individual school districts and charter schools from charging fees for textbooks and instructional materials.
Budget writers did not specifically appropriate state dollars to cover the cost, however.
Instead, the current budget plan requires schools to dip into their foundational funding to fully pay students' textbook costs.
House Ways and Means chairman Rep. Jeff Thompson, R-Lizton, has boasted increases to that base funding in the House GOP budget.
But roughly a third of the $2 billion in new, additional state funds that House Republicans want to earmark for K-12 education over the biennium is actually earmarked for an expansion of the state's "school choice" voucher program.
That means about one-fifth of funding increases expected at public schools would go towards textbooks. State education officials warn that — for many districts — any dollars leftover won't cover inflation.
"I don't see here the mechanism — how these (textbooks) are supposed to be paid for. I'm having a little struggle with that being intermingled in the school formula," said Denny Costerison, executive director of the Indiana Association of School Business Officials. "Schools are going to have to set some money aside out of their formula monies for that purpose — which they've not had to do in the past— and that would potentially have less dollars going to teacher salaries and other things."
The House GOP plan differs from Gov. Eric Holcomb's proposed budget, which includes a line item — separate from the school funding formula — directing additional funds to the Indiana Department of Education (IDOE). The state agency would then be responsible for dishing out textbook dollars to schools.
The move is expected to cost the state approximately $160 million per year — but only $121 million would be new money. Indiana already budgets $39 million per year for textbook reimbursement for the 440,000 Hoosier students who qualify for free or reduced lunches.
Under the House proposed budget, that $39 million would be absorbed into the base funding for schools as well.
Schools still pay
K-12 education accounts for almost half the proposed two-year, $43.3 billion state budget.
Under the House GOP budget, Indiana schools could see increases to foundation grants — the basic grant for every student — of 4% in fiscal year 2024 and 0.7% in the following year.
That's less of an increase than was adopted two years ago for the current state budget. In 2021, the base funding for schools increased by 5.1% for fiscal year 2022 and 4% in the current fiscal year.
Thompson maintained that the plan to have schools pay textbooks costs from their state funding or local property taxes "is a good thing for Hoosiers families." 
"In the end, it's not about the state — it's taxpayers. It's their money, and we want to help them out in ways that are positive," Thompson said. "And it will — some families have paid a substantial amount (for textbooks), and this is going to help them."
Costerison held that the current budget language does not address other fees, like those for labs or technology, however.
"There are fees that are separate from textbooks, and those don't go away under this," he said. "Hopefully parents will understand that if this goes through, there still will be some fees they may have to pay."
Terry Spradlin, executive director of Indiana School Boards Association, added that if student funding formula increases decline or are minimal in the future, schools will have to decide whether to pay teachers more or cover the escalating costs of textbooks.
"There will be significant unintended consequences with this funding mechanism," Spradlin told the Indiana Capital Chronicle. "Over time, textbooks will be used for longer cycles, potentially diminishing the quality of textbooks and perhaps resulting in obsolete content in the older curricular materials. Down the road, school corporations may opt for classroom sets of textbooks and not issue textbooks individually to students for use at home or in school."
The House budget outlines a plan to pay for textbooks for low-income families at private schools moving forward, similar to the current allocation for public school students.
Private schools would still be allowed to charge students for textbooks and instructional materials but the state could then reimburse low-income families for textbook expenses.
Will funding increases be enough for traditional public schools?
Indiana's next two-year spending plan is now in the Senate's hands.
Lawmakers in that chamber are expected to make numerous amendments to the budget, but it's unclear where they'll land on state-funded textbooks or K-12 funding, overall.
Sen. Ryan Mishler, R-Mishawaka, said in January "it's probably time" to eliminate school textbook costs. Indiana is currently one of only seven states that allows families to be charged for textbooks.
"Especially now, with electronics, I don't think you're going to see textbooks in the future. It's just going to be iPads … so I think it's going to be more of a technology fee instead of a textbook fee, anyway," Mishler said. "I think it's probably time we deal with the textbook fees."
The Senate likely won't unveil their version of the state budget until later this month. A final version of the budget is expected by the end of April.
Holcomb was firm during his State of the State speech earlier this year, calling for an end to what he called a "hidden tax" imposed on Hoosier students and their families.
"Our state constitution promises a tuition-free education," he said in his January address. "Let's cover the full cost of curriculum fees … so that starting next school year, no parent receives such a dreadful bill again."
The governor said last month he remains "very optimistic" that he'll get most of his agenda priorities — including funding for textbooks — into the final draft of the budget.
Still, school spending plans proposed by the governor and the House GOP lack any mandated increases for teacher pay.
Thompson has echoed Holcomb and other Republican leaders who maintain that salary raises "should be left up to local school boards."
State lawmakers are also getting pushback for provisions in the House GOP budget that seek to generously expand eligibility for the state's "school choice" program — which allows families to receive vouchers to attend private schools.
Further, some traditional public schools could stand to lose millions in operating revenues under a proposed cap on operations tax levies.
The Indiana Capital Chronicle is an independent, not-for-profit news organization that covers state government, policy and elections.
Please enable JavaScript to view this content.