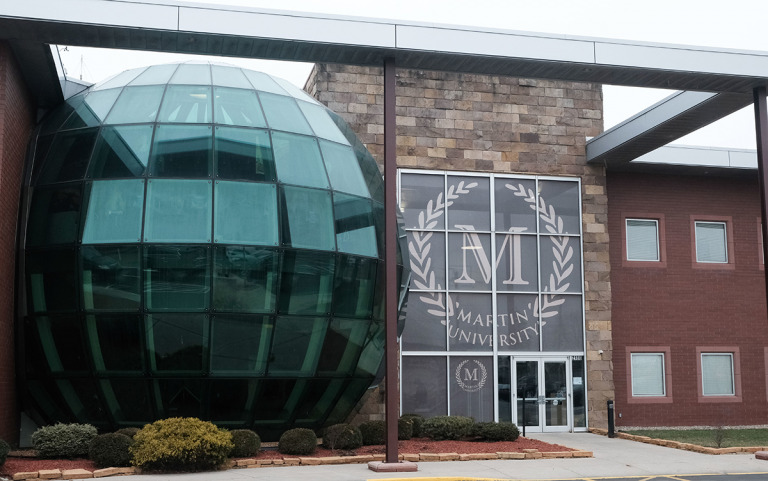 When Gov. Eric Holcomb introduced his two-year budget proposal in January, a few days ahead of the legislative session, he called for $10 million in funding for Martin University, Indiana's only predominately Black university.
Another pathway to "brain gain" is enrolling more first-generation and low-income minority college-goers, the governor said, which is why Indiana should support the institution's mission.
"It's a personal source of pride that we have Martin University in our backyard," Holcomb said at the time about the Indianapolis school. "This is Indiana's only predominately black institution. We will be seeking a $10 million infusion where they can help deliver on building direct pipelines with a population that's not just vulnerable but highly in need of that ticket to their success. … We can be a leader on this front for so many first-generation college and low-income minority students."
House Republicans honored the governor's request by directly funding Martin in their budget proposal while stipulating that the funding be used to attract and retain students in high-demand professions, including but not limited to teaching, law enforcement and careers in STEM fields.
With about 200 combined undergraduate and graduate students, the cash infusion would have represented about $50,000 per student—a historic investment for a small private university.
A $43.3 billion spending plan introduced Friday by Senate Republicans removed the direct funding for Martin and instead directed $10 million into a College Success Program that would offer aid to low-income minority students to public and private universities across the state.
Senate President Pro Tem Rod Bray, R-Martinsville, said the concept is based on a bridge program at the University of Southern Indiana that offers scholarships to low-income and minority students.
"I think it was a good program that had some merit, we just thought there might be an opportunity to create that throughout the state," Bray said.
Senate Democrats criticized Republicans for stripping the funding for Martin from the budget.
"The governor's position on that situation was clear that he wanted to support a minority institution that has contributed considerably to the welfare and safety of the east side of Indianapolis," said Senate Minority Leader Greg Taylor, D-Indianapolis. "We've got a lot of programs to support minority students across the state, and I'm not saying that they're enough, but to change the direction or the purpose of the intent behind it—I think I'm going to have to have some long conversations with my colleagues."
Sen. Eddie Melton, D-Gary, said his caucus is discussing ways to reintroduce the funding.
"The $10 million probably will be helpful statewide, but we don't want to discredit or take away from a majority-minority institution," Melton said.
House Speaker Todd Huston, R-Fishers, said providing funding to the university was "a very attractive thing" to House Republicans.
"It deals with a unique set of the adult population that has one of the lowest socioeconomic areas of our city and our state," Huston said. "That was important to us."
Martin University officials did not respond to a request for comment.
Established in 1977 by social activists Boniface Hardin and Jane Edward Schilling to serve low-income, the university remains the only Predominately Black Institution of higher education in Indiana, though it is excluded from the list of Historically Black Colleges and Universities in the U.S. because it was founded after the cutoff date of 1964.
The university enrolled 170 undergraduates in 2021, with the average student paying about $15,000 per semester after receiving financial aid, according to the U.S. Department of Education. About 90% of students receive some form of financial aid, according to the university.
The Indiana Legislature faces an April 29 deadline to adopt a two-year budget.
Please enable JavaScript to view this content.