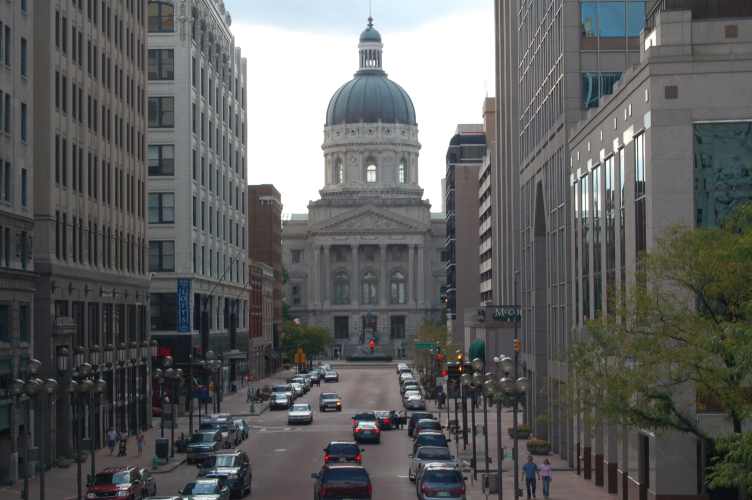 Indiana's redrawn state legislative and congressional district maps are headed to the governor's desk following final votes in both chambers.
The  Senate on Friday morning voted 36-12 nearly along party lines to pass the Republican-redrawn election maps. The House concurred on the measure later in the day in a 64-25 vote, also mostly along party lines.
Indiana Gov. Eric Holcomb is expected to sign the redistricting legislation into law.
In the finale of the once-in-a-decade redistricting process, the state legislative and congressional maps made it out of the Legislature with few changes from when they were introduced two weeks ago.
Political projections say Republicans are expected to hold their advantage in Indiana, keeping the 7-2 majority in U.S. House of Representatives seats and its supermajorities in both chambers at the Statehouse.
Retiring Sen. Ron Grooms of Jeffersonville was the only Republican Senator to join Democrats in voting against the maps.
Reps. Jeff Ellington, R-Bloomington Ellington, Matt Hostettler, R-Patoka, and John Jacob, R-Indianapolis, joined Democrats in voting against the concurrence in the House.
Jacob was the sole Republican to speak on the House floor against the maps.
"Gerrymandering is going on," he said. "We all know it. We don't want to talk about it."
Jacob has said his district, House District 93, was "butchered" to give him a disadvantage in the next primary election.
Democrats dominated debate on the Senate floor Friday for more than two hours. All 11 members of the Democratic caucus spoke, centering on a common argument that the legislative maps were not fairly drawn to represent how the public votes, giving Republicans an advantage in elections.
Sen. Karen Tallian, D-Ogden Dunes, said the Legislature does not benefit from one-party power, and Republicans can make decisions in caucus meetings without Democrat input. She announced this week she is resigning from the Senate next month.
"We, the non-Republicans in Indiana, still make up 40% of our population," Tallian said. "What's happening is that those people are being disenfranchised. These maps so artfully guarantee that."
Democrats also criticized the Republican-drawn maps, particularly in the Senate, as diluting Democrat and minority population votes by splitting up typically urban communities where those populations tend to be prominent. They tried to amend changes into the maps Thursday, but all the proposed amendments were rejected.
House Democrats also joined in, making similar arguments Friday. Rep. Cherrish Pryor, D-Indianapolis, said fracturing Fort Wayne four ways and splitting Evansville were "voter suppression at its fullest."
Republicans have defended the maps, saying the districts are compact, communities of interest are kept together and minority groups still have a "significant influence" in the state, Senate President Pro Tem Rodric Bray, R-Martinsville, said.
Sen. Eric Koch, R-Bedford, the sponsor of the redistricting legislation, said there was "no shortage of advice" in the map-drawing process, with input from 47 senators, a dozen public hearings, legal consultants and political input from both parties.
"We have maps that meet all legal requirements and maps that meet our aspirational goals in a way that really hasn't been done before," Koch said.
Please enable JavaScript to view this content.