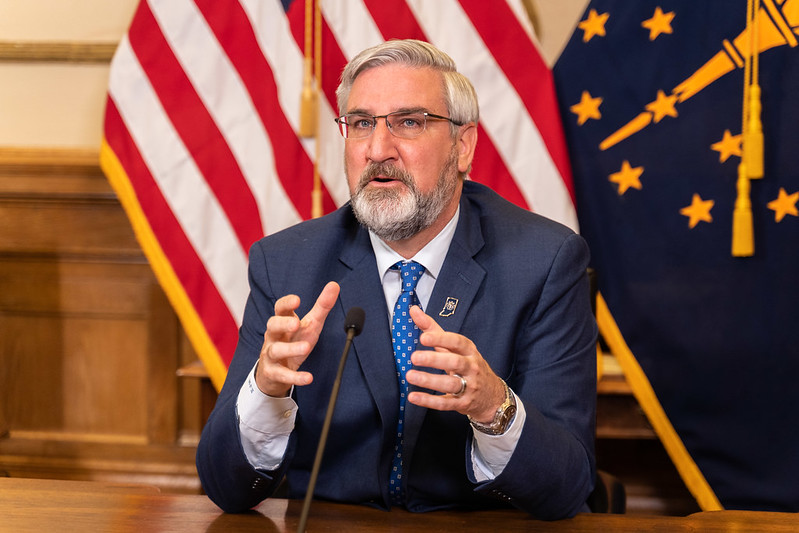 Whether a ban on transition-affirming care for minors will become law in Indiana remains unclear after the state's Republican governor said Tuesday that the bill on his desk is "clear as mud."
The bill Republican state lawmakers advanced last week would prohibit transgender youth under 18 from accessing hormone therapies, puberty blockers and surgeries in the state.
"It wasn't part of my agenda," Gov. Eric Holcomb told reporters Tuesday. "I've told some people very close to me: This is clear as mud. There's some vagueness to it. So I want to make sure I completely understand."
Holcomb can sign or veto the legislation before a Wednesday deadline, or allow it become law by doing nothing. The ban would take effect July 1. Trans youth currently taking medication to transition would have until the end of the year to stop doing so.
At least 11 states have enacted laws restricting or banning gender-transitioning care for minors, but federal judges have blocked them in two states. Around two dozen other states are considering bills to restrict or ban care.
The bill banning gender-transitioning care in Indiana won approval by wide margins in both the House and Senate. Indiana lawmakers can override a governor's veto by a simple majority vote.
In March 2022, Holcomb vetoed a bill banning transgender girls from participating in girls school sports. The Republican-dominated Legislature later voted to override his veto, and the measure became law anyway.
The governor appeared to rule out letting the bill become law passively.
"I have made it a habit to either sign or veto bills, and I suspect that habit will continue," he said Tuesday. "Obviously, every word matters in Indiana's bill, and that's why I'm taking the time to go through it piece by piece."
Please enable JavaScript to view this content.