Indiana's unemployment rate rose from 2.2% in May to 2.4% in June while the national rate held steady at 3.6%, according to numbers released Friday by the Indiana Department of Workforce Development.
June's numbers broke a string of three months in which the state's unemployment rate rested at 2.2%. It dropped from 2.3% in February to 2.2% in March. That was a record dating back at least to 1976, when the current method of compiling unemployment rates began.
June's rate of 2.4% still was a far cry from the mid-teen highs seen in the first months of the pandemic in 2020.
Meanwhile, the state's labor force participation improved from 62.6% in April and 62.9% in May to 63.1% in June, which was slightly higher than the 62.2% national rate. The labor force participation rate indicates the percentage of all people of working age who are employed or are actively seeking work.
In effect, a labor force participation rate of 63.1% means that more than a third of Hoosiers of working age (16 and over) are not employed and are not seeking work.
The rate plunged to 60.8% at the beginning of the pandemic and then bounced back a bit. It began the 21st century hovering near 68% but began a bumpy descent in late 2003 to about 64% just prior to the pandemic.
The unemployment rate is a different measure, only representing those in the labor force who are actively looking for work but cannot find a job.
An estimated 79,803 Hoosiers are currently unemployed and seeking jobs, the state reported. That's up from 73,911 in May but down from 88,240 in December and 100,696 in November.
Indiana's labor force—composed of both employed and unemployed-but-seeking-work residents age 16 and over—was 3,378,333, an increase of 13,968 from May.
Total private employment now stands at 2,765,700, a gain of about 5,000 jobs from May, translating to a gain of 108,300 jobs from this time last year.
The state noted that sectors that added employees in May included Manufacturing (100), Financial Activities (500) and Leisure and Hospitality (6,700).
There are 156,813 open job postings in Indiana, while 14,757 people received unemployment benefits in June, the state said.
"For the third time in four months, Hoosiers have set a new record for private-sector employment in Indiana," said DWD Interim Commissioner Josh Richardson. "And, as a sign of Indiana's strong economic growth, employers still have near record numbers of job openings."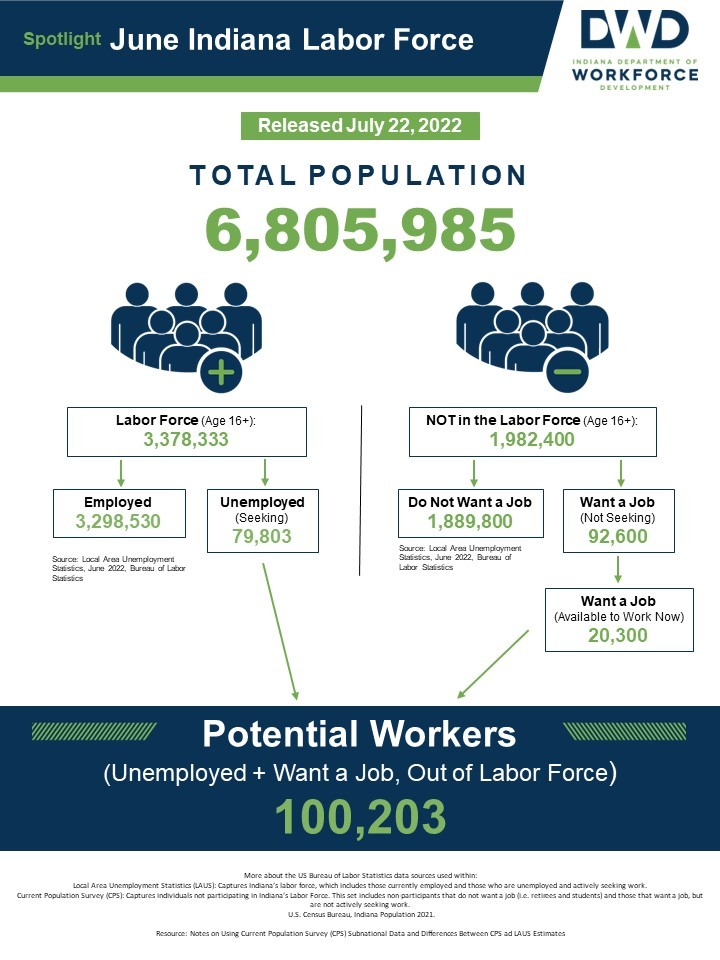 Please enable JavaScript to view this content.