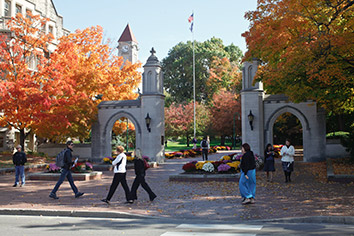 Indiana University has raised almost $3.9 billion over the past eight years through its philanthropic Bicentennial Campaign, the school announced Thursday, exceeding its goal of $2.5 billion by 56%.
IU quietly launched its first university-wide campaign—"For All: The Indiana University Bicentennial Campaign—in 2012. It officially announced the campaign in September 2015, setting a goal of $2.5 billion. But two years later, the school had already raised more than $2 billion, so officials increased the goal to $3 billion.
The university last year received some of its largest donations ever, with 45 donors giving big gifts worth nearly $411.6 million.
The final total for the campaign, which ended in June, was $3.86 billion. The university said more than 320,000 alumni and other donors from all 50 states and more than 100 countries contributed to the campaign.
IU said the effort was one of the most successful capital campaigns ever at a U.S. public university. Of campaigns completed in the past 10 years, IU's was the 12th largest overall and the third-largest among public universities.
"Over the past eight years, the Bicentennial Campaign has galvanized hundreds of thousands of IU supporters," IU President Michael McRobbie said in written remarks. "It has transformed the landscapes of IU's campuses with state-of-the-art facilities. It has helped to ensure the future success of a number of IU schools that now bear the names of their supporters. It has generated support for our most outstanding faculty. And it has offered the promise of an affordable education to some of the state's and the country's very best students."
The campaign supported four broad university priorities: "supporting IU students and enabling their success; preparing the next generation of global leaders; developing new ideas that change the way we live; and creating a healthier state, nation and world."
IU, founded in 1820, said the campaign has endowed more than 5,800 undergraduate scholarships and graduate fellowships, a 45 percent increase over the total created during the university's entire 192-year history before the campaign. The campaign also raised funds to endow 235 professorial positions, a 52 percent increase over the previous total.
Among the highlights of the campaign announced Thursday:
More than 20,000 current and former faculty and staff members donated over $275 million;
The IU School of Medicine and its faculty and staff raised more than $1.7 billion;
The total included more than $1.6 billion in gifts and grants from nongovernmental organizations, such as philanthropic foundations, endowments and companies;
IU's regional campuses raised nearly $83 million;
More than 156,000 individuals made their first gifts to IU.
"It has been an honor to be a part of such a rewarding and collaborative effort. IU Foundation President Dan Smith said. "Philanthropy has helped shape who we are today. As a result of the support raised by the For All campaign, IU is positioned to create the talent and the innovations necessary to advance our state, nation and world."
Please enable JavaScript to view this content.