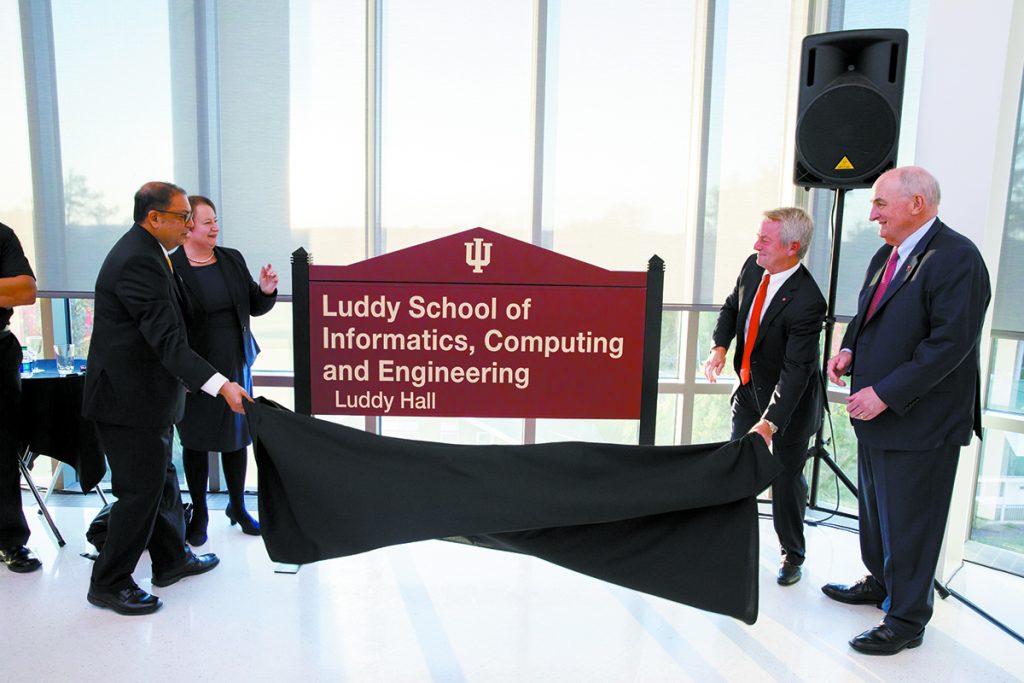 Indiana University last year received some of its largest donations ever as it began to wind down its eight-year, $3 billion capital campaign.
And one person who isn't technically on the development staff is credited as a key player in securing those gifts—President Michael McRobbie.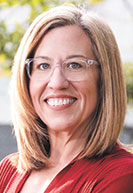 Sometimes, McRobbie is called in to schmooze with donors in a suite at Memorial Stadium. Other times, he and his wife have dinner with a donor to discuss how he or she can work with the Bloomington-based school.
Last year, McRobbie put his computer science background to use and locked in the second-largest individual gift in IU's history—$60 million from Silicon Valley tech leader Fred Luddy to create a center for artificial intelligence research and coursework.
IU Foundation CEO Dan Smith said transformational gifts like that don't happen without McRobbie's help.
"He plays a very significant role," Smith said.
Angela White, senior consultant and CEO of Greenwood-based Johnson Grossnickle and Associates, said McRobbie's "time with those donors is critical to securing those large gifts."
She also credited McRobbie's wife, Laurie McRobbie, with playing an important role.
"As a couple, they have done a great, great deal to ensure this campaign is successful," White said. "That's how it should happen."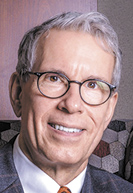 The $60 million Luddy donation is the second-largest publicly announced gift from an individual to an Indiana not-for-profit in 2019, according to data compiled by IBJ. IU has three of the 10 biggest gifts on the IBJ list. The school secured $30 million from former U.S. Secretary of the Treasury Paul O'Neill and $20 million from Indianapolis philanthropists and real estate developers Sidney and Lois Eskenazi.
In 2019 overall, Indiana not-for-profits announced gifts of $1 million or more from 45 individuals, totaling nearly $411.6 million.
IU is well represented on the list, with 17 gifts totaling $150 million. And that's just what was announced. Donors often do not wish to have details of a gift shared publicly. IU Foundation actually recorded 40 gifts of $1 million or more, for more than $201 million, in 2019.
Smith said having three gifts in one year of $20 million or more is "exceptionally rare" for the school.
"These are transformational gifts," he said.
The fundraising haul is part of the school's eight-year capital campaign—For All: The Indiana University Bicentennial Campaign—which is set to end in June. It was IU's first university-wide campaign, rather than having separate campaigns at different campuses.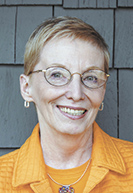 And the fundraising has been even more successful than school officials had hoped. Initially, when IU announced it in September 2015, the campaign aimed to raise $2.5 billion. But two years later, the school had already raised more than $2 billion, so officials increased the goal to $3 billion.
And they've exceeded that, too, bringing in $3.3 billion as of the end of November.
'It's a big deal'
Multibillion-dollar, multi-year capital campaigns are fairly common at higher education institutions. Purdue University, for example, wrapped up its seven-year Ever True campaign last summer. The West Lafayette school raised nearly $2.53 billion, exceeding its goal of nearly $2.02 billion. Northwestern University is nearing the end of a six-year, $5 billion campaign; the University of Michigan closed a five-year, $4 billion campaign in 2018, bringing in $5.28 billion.
Still, fundraising experts say IU's goal was ambitious.
"It's still a lot of money; it's still a lot of donors," said Jen Pendleton, vice president for Toledo, Ohio-based Aly Sterling Philanthropy's Indiana office. "It's still a lot of moving parts. It's a big deal."
White said the success of the campaign is a "testament to the long work of IU."
"The IU Foundation has been a leader in philanthropy," she said. "They have had a strong, strong legacy there."
In addition to capital projects, the campaign has brought in enough funding to support more than 5,200 scholarships and fellowships and more than 220 endowed chairs and professorships.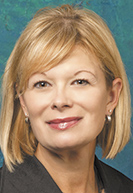 Smith said surpassing the goal probably surprised everyone, and he gives credit to the message school leaders tried to share with prospective donors—that giving to IU can have a long-term impact on social good and can change the world.
"That really resonated with people," Smith said.
The Luddy gift is the second-largest in the school's history. The largest from an individual donor is $92 million, which came from Jesse and Beulah Cox in 2008, although $15 million of that gift was actually donated in 2005.
Smith said landing the donation from Luddy took 1-1/2 to two years of relationship building and putting together the final proposal.
Luddy, who attended IU but did not graduate, wanted to make a difference in artificial intelligence. So when IU gift officers started talking to him, he asked what it would take to make IU a leader in AI.
Smith said Luddy believed now was the right time for this gift, as opposed to a few years earlier when the technology was not as good or a few years later when other universities might have taken the lead.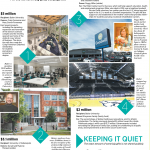 "He had a pretty clear vision of what he wanted to do," Smith said. "He wanted to help put IU squarely on the map in this area."
School of Informatics, Computing and Engineering Dean Raj Acharya worked on a proposal for months—what type of facility IU would need, what kind of programming and equipment would be necessary, and how many endowed professorships it would take to attract the smartest educators and researchers.
And when Acharya made the final pitch to Luddy, McRobbie was in the room to help.
'Part of the job'
Pendleton said fundraising is "part of the job" for university presidents and other not-for-profit leaders, because donors "really want to talk to the head honcho."
"You really want to understand your investment and what you're doing," she said. "It becomes more of an investment mentality."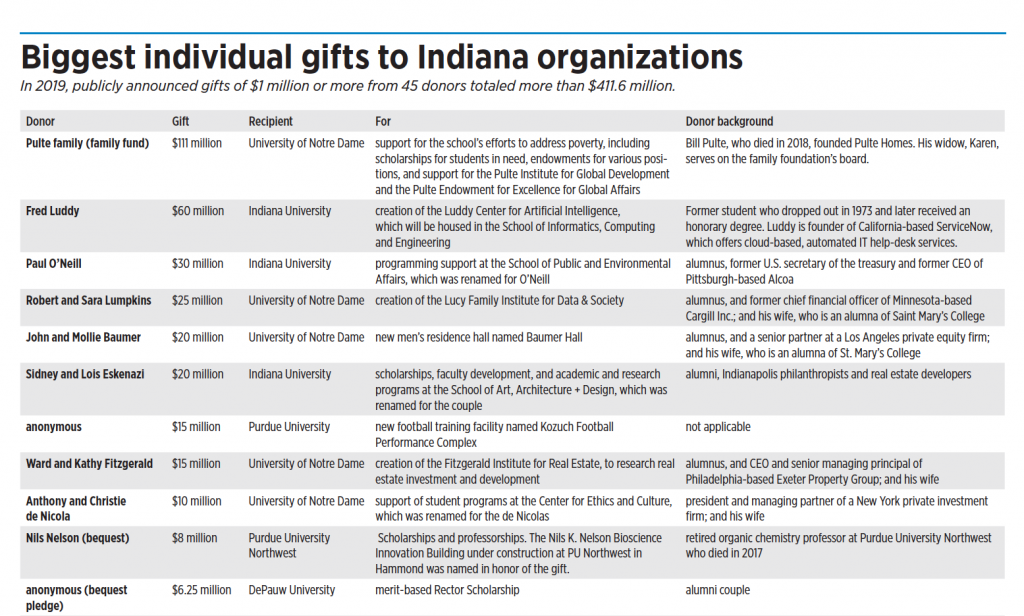 Jessica White, president of Indianapolis fundraising consulting firm Jessica White Associates, said the head of a not-for-profit is the one who can really share the vision and convey the passion behind whatever the funds are supporting.
"If you don't have the head of the organization, no matter how large or small, if you don't have them involved in talking to donors, you're probably not going to succeed," Jessica White said.
Even when other university leaders have relationships with big donors, McRobbie is still key, Smith said.
For example, O'Neill is longtime close friends with John Graham, the former dean of the IU School of Public and Environmental Affairs, but O'Neill's $30 million donation would not have happened without McRobbie's involvement, Smith said.
The same holds true for the $20 million IU received from the Eskenazis for the School of Art, Architecture and Design, which has been renamed for the Indianapolis couple.
Smith said that gift came out of a conversation McRobbie had with the Eskenazis about modern architecture, specifically the work of architect Ludwig Mies van der Rohe and a 1952 drawing of his that never became a building. That design is now being used to construct the building that will house the IU architecture school.
"I guess the message here is, there is no one common story," Smith said. "Usually, gifts of this size emerge over many, many years and invoke many touch points."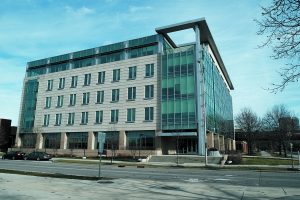 Smith said leaders will evaluate what went well with the campaign and what could be improved. And while there won't be another formal campaign immediately, they will "be laying the groundwork for a future campaign."
And, possibly just as important, they will be finding ways to thank donors and show them how their gifts made an impact.
Jessica White said continuing that relationship with donors is important.
"So when you're ready for the next campaign, they're also ready with you," she said.
Angela White said an establishment like IU always has new donors coming online and existing donors who are getting older and more able to give, so starting another campaign shouldn't be a struggle.
"With an institution the size of IU—the number of alumni, the number of friends they have—it's more about building relationships and engaging younger generations," she said.•
Please enable JavaScript to view this content.