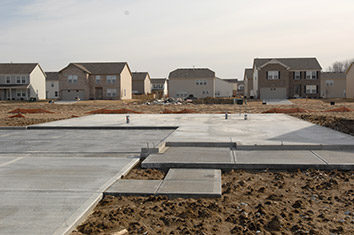 Applications for home construction permits surged 14% in the Indianapolis area in December, continuing a solid second half of 2019 for area builders.
The late increase, however, was not quite enough to make last year's construction pace exceed 2018's. It was the first year since 2011 that fewer single-family building permits were filed in the area than in the previous year.
Builders filed 433 permits in the nine-county area last month, compared with 381 permits in December 2018, according to the Builders Association of Greater Indianapolis.
Altogether, 6,968 permits were filed in 2019, down 1% from last year's 7,072.
Permit filings rose on a year-over-year basis in five of the last six months of 2019 following seven straight months of declines.
"After fighting through headwinds with weather and a spike in interest rates, seeing the permits rebound to similar levels compared to last year has been encouraging," says Todd Pyatt, CEO of Pyatt Builders and BAGI board president, in written comments. "I am excited about the industry and our current market conditions. Strong consumer and builder confidence, low inventory levels, and record low interest rates should all lead to a solid 2020."
County numbers
Marion County permit filings rose 11% in December, from 76 to 84, and jumped 2% during the year, to 1,390.
Hamilton County saw filings rise 7% during the month but decrease 11% during the year, to 2,305.
Hendricks County's numbers were up 49% in December, to 67, and rose 4% during the year, to 913.
Johnson County saw a 24% decrease last month, to 54, and a 6% decline in 2019, to 753.
Hancock County saw permits drop from 18 to 16 in December and dip 2% last year, to 580.
Filings rose 64% in Boone County last month, to 41, and were up 14% in 2019, to 511.
Filings jumped from 11 to 26 in Morgan County in December and rose 47% during the year, to 257.
Madison County filings slipped from 10 to nine last month but surged 44% in 2019, to 186.
Filings ticked up from four to six in Shelby County in December but dropped 35% during the year, to 73.
Please enable JavaScript to view this content.