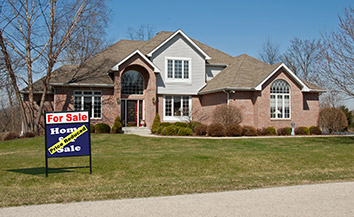 Sales of existing home in central Indiana fell in July, ending a year-long streak of increasing sales. Meanwhile, inventories remained tight and prices continued to escalate.
Completed sales of single-family homes in the 16-county area fell from 4,073 in July 2020 to 3,794 last month—a year-over-year drop of 6.8%, according to the latest data from the MIBOR Realtor Association. Sales were down 4% from June to July.
The last time area sales fell on a year-over-year basis was in June 2020 as the market completed a pandemic-created three-month sales slump.
On a year-to-date basis, closed sales are up 7.2% so far this year, to 21,469, compared with 20,022 in the first seven months of 2020.
The median price for homes sold in the area last month rose 15.6%, to $260,000, compared with $225,000 in July 2020.
Homeowners in July, on average, got 101.6% of their asking prices, down from 101.9% in June.
The average number of days that homes spent on the market remained at 14.
The active inventory in July dropped 24% on a year-over-year basis, to 2,498 houses. However, active inventory rose 21.9% from June to July.
New listings were up 3.8% in July on a year-over-year basis, to 4,392.
Shelley Specchio, CEO of MIBOR, said the number of new listings was the highest July level in almost a decade.
"This data, along with the increase in active listings, indicates sellers are becoming more comfortable with listing as they have more opportunities to find a suitable replacement home," she said in written comments.
Marion County
In Marion County—the most active market in central Indiana—closed sales in July dropped 4.7%, to 1,447.
The median sales price in the county rose 21%, to $225,000. New listings increased 9.3%, to 1,734. The active inventory of available single-family homes sank 8.7%, to 1,137.
Other area counties
In Hamilton County, where inventory is extremely tight, sales sank 17.5%, to 709, in July. The median sales price rose 9.5%, to $375,000. The inventory of houses fell 52%, to 311. Homes spent 14 days on the market, on average, in July and fetched 102.7% of their asking price.
In Hendricks County, sales dipped 0.3%, to 309, and the median sales price increased 14.1%, to $290,900. Homes spent just eight days on the market, on average.
In Johnson County, sales fell 5.1%, to 300, and the median sales price rose 21.4%, to $273,250.
Sales in Boone County dropped 19% last month, to 128, while the median price of a home escalated 21.7%, to $398,500.
Hancock County sales were up 12.5%, to 180, and the median price rose 20.1%, to $280,500.
Sales rose 26% in Madison County last month, to 208. The median sales price increased 25%, to $162,500.
Morgan County sales decreased 14.5%, to 112, and the median sales price rose 15.1%, to $237,072.
Shelby County saw 53 closed home sales last month, down from 57 in July 2020. The median price rose 29%, to $200,000.
Please enable JavaScript to view this content.