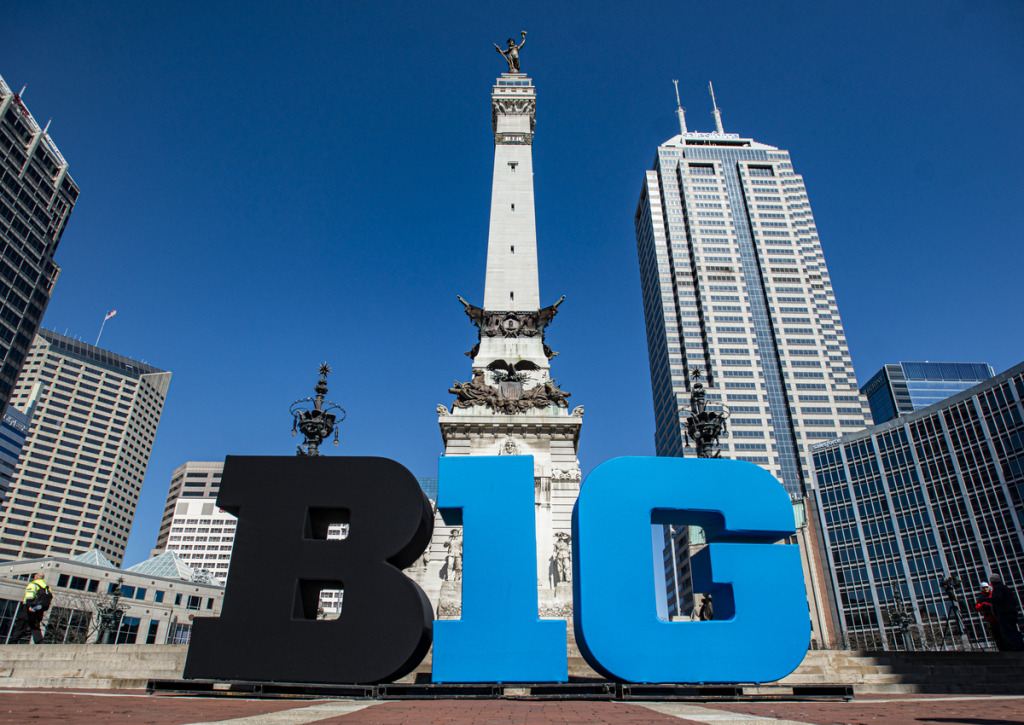 The Big Ten Conference is sticking with Indianapolis for its football title game through 2024, but is shaking up its sites for two other marquee championships.
The Big Ten on Wednesday announced  Indianapolis will host the football title game at Lucas Oil Stadium in 2023 and 2024. But the men's and women's basketball tournaments will move to Chicago and Minneapolis, respectively, in 2023. Both tournaments will be held in Minneapolis in 2024.
Indiana Sports Corp. submitted bids for the 2023 through 2025 football championships two years ago, reportedly competing with cities such as Minneapolis and Detroit for the right to host the events.
The next three football championships will be played on Dec. 3, 2022; Dec. 2, 2023; and Dec. 7, 2024 at Lucas Oil Stadium. The host city for the 2025 game was not announced Wednesday.
Economic development officials estimated that the 2021 game generated as much as $20 million in hotel, restaurant and other expenditures in Indianapolis.
The selection of Indianapolis comes after Conference Commissioner Kevin Warren in July 2021 declined to rule out the possibility that the title game could rotate between Indianapolis and other cities. But he said he's eager to continue working with Indianapolis on the game.
"Indianapolis has demonstrated its ability to host world-class events in an easily walkable city that provides great experiences and memories for student-athletes and fans alike," Warren said in written remarks. "We look forward to the opportunity to continue making a lasting impact in the community and deeply appreciate our strong partnership with the city of Indianapolis and Indiana Sports Corp." 
Indianapolis has hosted the conference football championship game since its inception in 2011. During that span, nearly 700,000 fans have attended the championship. The 67,183-person crowd at the 2021 game was the third largest in Lucas Oil Stadium history, trailing only the 2012 Super Bowl and the 2022 College Football Playoff National Championship.
"Indiana Sports Corp and its partners are thrilled with the decision made by the Big Ten member institutions to return the Big Ten Football Championship Game in 2023 and 2024," Indiana Sports Corp President Ryan Vaughn said in a statement. "We look forward to continuing this long-standing partnership and creating community impact through this event for years to come."
Indianapolis has hosted the Big Ten's men's basketball tournament 13 times and the women's tournament 25 times over the past 28 years, including both events during the 2020-2021 and 2021-2022 seasons. The women's tournament has been hosted in Indianapolis every year since 2015.
Vaughn said Indianapolis didn't put forth bids for 2023 or 2024's basketball tournaments "due to scheduling challenges based on other events," but would pursue more Big Ten basketball tournaments in the future.
Please enable JavaScript to view this content.