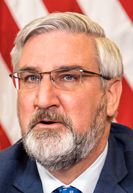 The Indianapolis-based law firm that represented Indiana Gov. Eric Holcomb in his lawsuit against the Indiana General Assembly made more than a half-million dollars off the legal fight, according to financial records.
Holcomb's administration paid Lewis Wagner LLP $518,420.01 for its services from July 2021 to June, according to the state Auditor's Office. 
Indiana Attorney General Todd Rokita's office, which sided with lawmakers on the fight, said it didn't hire outside counsel, and didn't track hours spent on the case. Instead, the office used its existing budget to fund the work.
Holcomb's administration contracted the law firm to challenge House Enrolled Act 1123, passed over the governor's April 2021 veto. Lawmakers who disagreed with Holcomb's pandemic-era executive orders passed the law to enable the legislature to call itself into special session. Holcomb sued after its passage, arguing Indiana's Constitution gives only the governor that power.
A Marion County judge sided with lawmakers in October 2021, but the Indiana Supreme Court in June sided mostly with Holcomb.
The initial contract was for $195,000, but was amended twice to add $100,000 and $230,000, to land at $525,000. The agreement runs from April 1st, 2021, to March 30, 2023.
Partners working on the lawsuits charged between $292.50 and $382.50 hourly for their work, associates $202.50 and paralegals $130.50, according to the contract. The law firm agreed to discount its rates by 10%.
The Indiana Capital Chronicle is an independent, not-for-profit news organization that covers state government, policy and elections.
Please enable JavaScript to view this content.