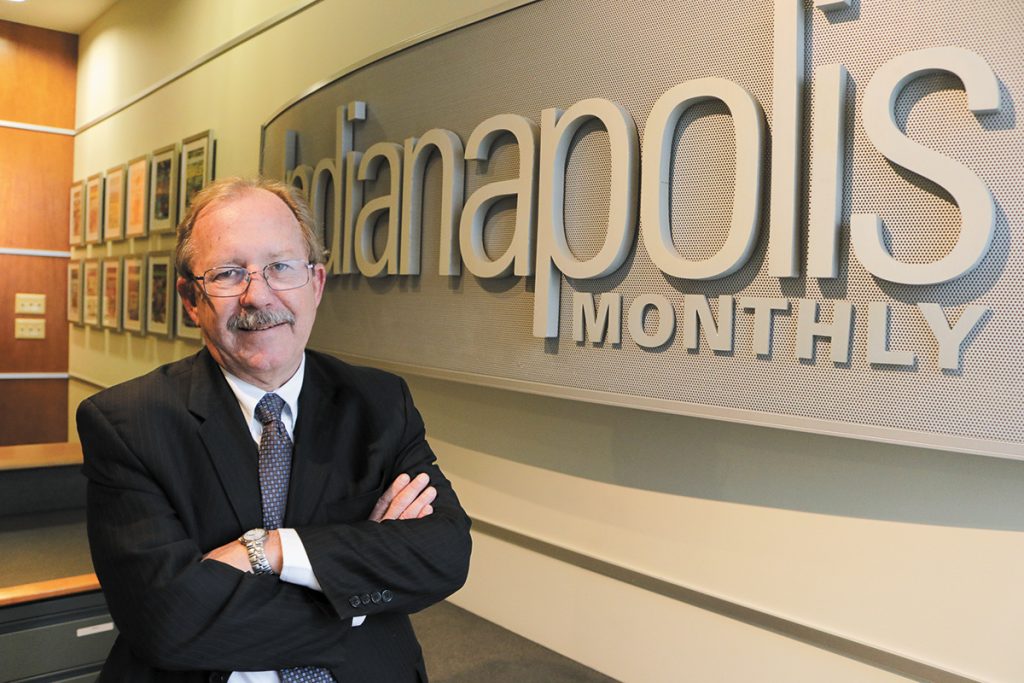 Indianapolis Monthly is not abandoning print. The lion's share of its revenue still comes from its glossy print publication.
But the 42-year-old magazine is making a serious push into digital in an effort to grow its reach—and eventually revenue.
"I don't necessarily care how people find us. I just care that people find us," Indianapolis Monthly Editor Michael Rubino told IBJ. "We're looking for new ways to reach new readers."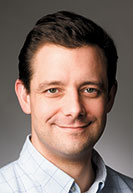 To increase that reach, Monthly—which is owned by Indianapolis-based Emmis Communications Corp.—spent much of 2018 overhauling its website, then relaunched it earlier this year.
For now, it has not imposed a pay wall, opting to offer online content for free in the hope of converting digital readers to paid print subscribers. About 90% of the magazine's print content goes on the website.
The new site, Rubino said, features additional functionality—a restaurant finder, for instance, and a feature that tells readers how long it will take to read an article. In 2020, the staff will introduce some revamped templates and freshen the site's overall look.
Monthly also dramatically expanded its use of Instagram this year and launched a podcast in October.
When Rubino joined the IM staff in 2007, the magazine's web presence was minuscule and the site wasn't content-driven, he said. "Today, I think as much about digital as I do about print," said Rubino, who became editor in 2016.
The magazine posts new content daily, a good chunk of which is dining, real estate and travel news. "This is something I've put a big emphasis on since becoming the editor," he said. "It's a way for us to get into different spaces we haven't before."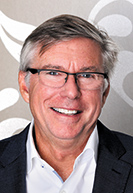 As part of the online focus, Indianapolis Monthly in recent years has added a full-time digital editor and a digital advertising sales executive—and its digital footprint is growing.
Indianapolis Monthly has nearly 129,000 website visits and 336,000 digital page views a month. It has 71,800 Twitter followers, 29,400 Instagram followers and almost 18,000 Facebook followers.
"Instagram has become something of a smart play for us," said Indianapolis Monthly Publisher Keith Phillips. "In January, we were at about 20,000 Instagram followers, so we've increased it by over a third. That's very specifically the social space we feel we are best represented. We've invested time and energy there."
Phillips said Instagram is important because it's "a younger audience. And if you think about what a magazine is all about, it's perfect for Instagram. Great pictures, great photo essays and the ability to create a story behind those photos to drive [readers] to our website."
Growing digitally is tricky for any traditional print publication, but it might be trickier still for a hyper-local publication like Indianapolis Monthly.
"Digital is a challenge for a small, local media company," said Greg Loewen, chief strategy officer for Emmis and president of its publishing division. "When your strength is serving a small niche really, really well, digital is a business that wants to be large scale and it's tough sometimes to reconcile those two, but we're investing seriously behind digital."
Ad buyers take notice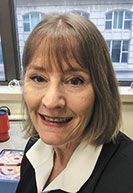 Emmis officials declined to divulge how much they've invested recently in digital, but the effort has not been lost on advertisers and ad buyers.
"We've absolutely noticed their digital expansion over the last year," said Kristine Warski, media director for local ad agency MKR. "One of the really strong points with Indianapolis Monthly is … they've always had a very strong connection to their readers and I think the relationship goes both ways. I think their digital initiatives are really deepening those relationships."
The hope, Rubino said, is that the younger readers who are attracted to the magazine's website will eventually become subscribers to the print magazine.
That's the desire for good reason; about 90% of revenue still comes from print, Phillips said.
And as more readers have moved their eyes to the digital realm, Indianapolis Monthly—like many print publications—has struggled to grow the way it once did.
That's not to say it isn't growing. Revenue growth in 2018 was 8%.
"That's above a typical expectation," Loewen said. "We just want to see the business as a whole continue to grow. … We are happy with a stable circulation and revenue growth of 4% to 7%."
This year, however, revenue is likely to be flat, Phillips said.
He and Loewen declined to disclose Indianapolis Monthly's annual revenue.

But in the six-month period that ended Aug. 31, Emmis' publishing division lost $191,000 on $1.9 million in revenue. The publishing division is now composed of Indianapolis Monthly and its commercial printing division—which is sizable. So it's difficult to see from public filings how Monthly alone is doing.
Those numbers include overall corporate costs, which are the expenses involved in being part of a public company, Loewen said.
"There's the cost of the building and cost of staff and the cost of having a board of directors, and all of the business divisions share an allocation of that cost," he said.
If you remove those corporate allocations, Indianapolis Monthly has been profitable 30 out of the 31 years Emmis has owned it, Loewen said.
"We're not living in the days we did in 2005, 2006 or 2007 when we would generate 15, 20, 25% cash flow," he said. "To be honest, depending on the year, that [annual] cash flow is now between a mid-single digit and a low-double digit."
Phillips said that, as Emmis has shrunk, the remaining divisions have had to absorb more corporate expenses.
Monthly's staff size has also declined—from 40 full-timers 15 years ago to 25 now.
Phillips and Loewen also said revenue for Emmis' publishing division can be affected by the timing of its custom publishing jobs, as was the case during the most recent reporting period when the division registered a loss.
Declining circulation
"We have a very positive vision of where Indianapolis Monthly is headed," Phillips said. "We all have to change and move to the directions of the needs of the consumer."
Phillips said Indianapolis Monthly is in a unique position to capitalize on one trend.
"Cities in general have started to re-urbanize," he said. "Now we're rethinking the value of our [city] cores. We do a good job telling the story of the core and why people should love the core."
For years, Indianapolis Monthly had a stable paid circulation of about 40,000. But from 2016 to 2019, that number dropped to about 37,000, according to the Circulation Verification Council, an audit service that analyzes the circulation of various categories of media. According to Phillips, research shows that about five people read each Indianapolis Monthly print issue—giving it a monthly readership of about 185,000.
Phillips said several factors led to the circulation drop, including the 2017 demise of Marsh Supermarkets, which displayed the magazine prominently at all its checkout aisles.
"Forty percent of our newsstand sales went through Marsh," he said.
A separate hit came in October 2016 when Emmis sold Texas Monthly, which had staff and infrastructure that handled circulation duties for all of Emmis' city magazines, including Indianapolis Monthly.
In fact, Indianapolis Monthly was once part of a cadre of city and regional magazines owned by Emmis. But in March 2017, Emmis sold its magazines in Atlanta, Cincinnati, Los Angeles and Orange County, California, to Detroit-based Hour Media Group LLC for $6.5 million—a price print industry experts said highlights the uncertain value and business model of city magazines.
Only five months earlier, Houston-based private equity firm Genesis Park LP had paid $25 million for Texas Monthly alone.
Emmis also owned Country Sampler—a publishing group that produced Country Sampler and Smart Retailer—from 1999 to 2012, when it was acquired by Annie's, a special interest publisher.
Phillips is confident Indianapolis Monthly's circulation has stabilized.
Tim Bingaman, CEO of the Circulation Verification Council, said city and regional magazines seem to be faring well as one of the "best-performing categories in print and digital," based on data from 192 magazines.
Bullish outlook
Despite recent circulation declines, Indianapolis Monthly advertisers and ad buyers still find value in advertising in the local magazine.
"In today's world of digital marketing, the Indianapolis Monthly is still the magazine of Indianapolis," said Dan Moyer, president, CEO and owner of Carmel-based Moyer Fine Jewelers, which spends more than $60,000 a year to advertise in the publication.
"We sell pretty things, and you need quality photos to advertise those things," he said. "Not only does Indianapolis Monthly have unparalleled print quality, but I sell expensive things, and Indy Monthly is getting its publications into homes that are my types of clients."
"It comes down to content," MKR's Warski added. "If done right, city magazines have a pulse on the city and have a wealth of content in short and long form. As long as the Indianapolis Monthly continues to produce the type of quality content they've become known for, there's going to be a place for them with advertisers."
Monthly has long made its mark with its long-form stories—both features and hard-hitting pieces. Its articles have run the gamut from a profile on basketball icon Larry Bird to a recent investigation into Eli Lilly and Co.'s long-ago involvement with cannabis production and marijuana farming.
Its most popular content by far, Phillips said, is dining news and reviews. Monthly devotes 15 full pages each month to dining news.
"Dining is our No. 1 driver for readership," Phillips said. "And No. 2 isn't close. Ninety percent of the Indianapolis Monthly's subscribers read the magazine's dining news every single month."
That helps the magazine stand out in the Indianapolis market.
"The Indianapolis Business Journal kicked [dining coverage] to the curb," Phillips said, referring to the publication's elimination of dining reviews two years ago. "The Indianapolis Star has a dining section once a week. What's in it? It's recipes on how to make butternut squash soup. At some level … we have an obligation to do our best to bring to the attention of our readers how vibrant the local dining scene is."
Wealthy readers
One of Monthly's biggest selling points is its demographics.
"The No. 1 demographic that defines our audience is affluence," Phillips said. "Wealthy readers flock to the content."
Nearly 90% of subscribers attended some college and a quarter have graduate degrees. Average household income is $194,000 and average net worth is $1.16 million. Ninety-six percent of subscribers are homeowners and their average home value is $334,000, according to the magazine's media guide.
Ninety percent of the publication's circulation is from subscriptions, and more than 10,000 of those subscribers live in wealthy Hamilton County. About 20,000 live in Marion County, with strong pockets of distribution in Avon, Bargersville, Bloomington, Brownsburg, Columbus, Greenwood, Lafayette and Plainfield, magazine officials said.
"The best way I like to describe our circulation is to take a martini glass and place the bottom right at the Monument Circle and run the stem right straight up Meridian Street," Phillips said. "You hit 38th Street and it kind of flairs out; you hit Meridian-Kessler, Butler-Tarkington, you hit Broad Ripple, then you get to the top of Marion County, and it spreads and goes straight up."
A major challenge for Indianapolis Monthly—and for most print publications—is attracting younger readers. Its average reader is 53 years old. While that's not ancient, it's closer to retirement than should be comfortable for the publication, said industry experts.
Part of Monthly's strategy to gain younger readers is to reel them in through the web. According to Indianapolis Monthly officials, the magazine's average web reader is considerably younger than its print reader.
But Laurie Borman, a veteran magazine editor and publisher who now teaches a course in magazine writing at Indiana University, isn't so sure that strategy will work.
"My views on this have really changed in the last five years," Borman said. "I used to think that print and online would happily coexist. There's no denying that magazines are lovely to hold and they offer a whole different experience than reading online. But sadly, I think more and more people will learn to read online.
"I see that in my classroom. People in their teens and 20s just aren't picking up print publications. Almost none of my students read print magazines. And I'm not sure there's a way to get them to do that."
But Borman said Indianapolis Monthly has a better shot than most.
"Indianapolis Monthly has a real presence, and it goes far beyond the borders of Indianapolis," she said. "They have great long-form writing and dining news you can't get anywhere else. They just have to convince upcoming generations to pick it up. And I'm afraid that's no easy task."•
Please enable JavaScript to view this content.