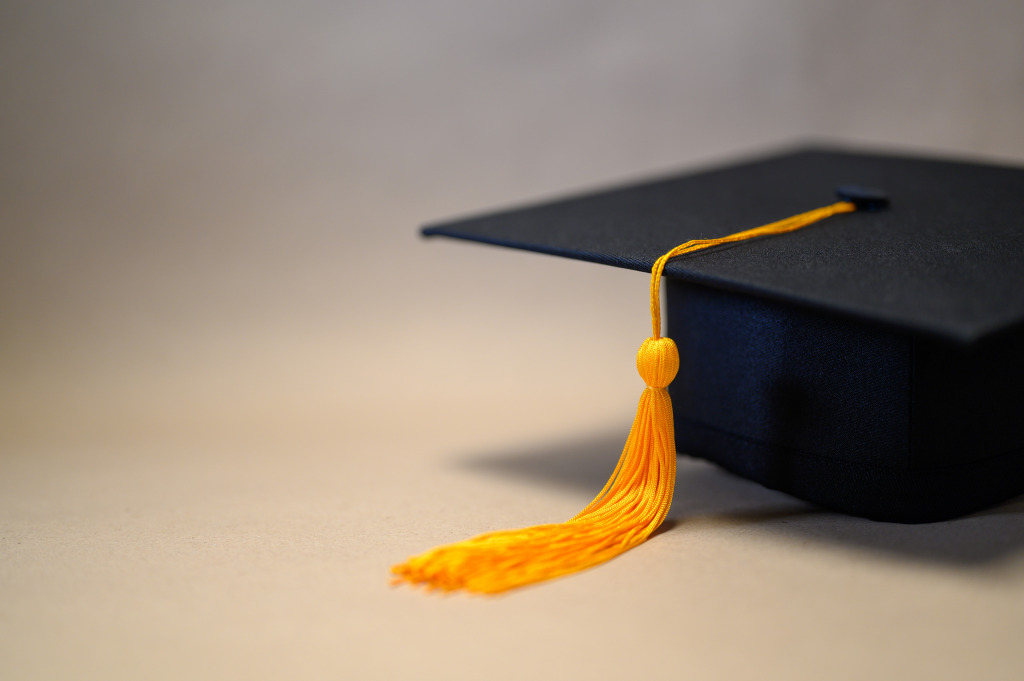 Graduation rates for Indiana's 2022 high school class remained mostly unchanged compared to the year prior, but certain student groups still lag behind their peers.
Data shows 86.61% of Hoosier students in the Class of 2022 reached graduation, according to a new report released Friday by the Indiana Department of Education, or IDOE.
That's almost the same as 2021, when the state graduation rate was recorded at 86.69%. In 2020, 87.69% of high school seniors earned high school diplomas.
Because state and federal testing requirements were waived in 2020 in response to the COVID-19 pandemic, the state education department advises "caution" when comparing current and past rates to the 2020 graduating class, however.
The state's latest graduation numbers are on par with other states. The national high school graduation rate was 86% in 2019, according to the National Center for Education Statistics, the most recent year for which figures are available.
Disparities persist
Although some graduate numbers are showing improvement, economic and racial disparities still persist between student groups.
Statewide, graduation rates increased by roughly a half-point for Black students and just more than a full point for Hispanic students.
English learners and special education students saw somewhat better gains.
The English learner graduation rate jumped from 82.8% in 2021 to 85.6% in 2022. The rate for students receiving special education services additionally increased to 76.4% in 2022, up from 74.5% in 2021. That continues to be the lowest graduation rate of all student groups, however.
Other student groups still trail behind their peers, too.
About 77.5% of Black students, 83.9% of Hispanic students and 83.1% of Pacific Islander students graduated as expected in 2022. That's compared to 92.1% of Asian students and 88.8% of White students.
While the graduation rate for those who receive free and reduced lunch—the nationally-recognized metric for calculating student poverty—increased from 82.8% in 2021 to 83.7% in 2022, the rate for paid meal students was roughly 8.5 percentage points higher.
Only 47.7% of charter school students graduated compared to 89.4% of traditional Indiana public schools in 2022, according to IDOE data. The numbers still show upward momentum for charter schools, which graduated just 40.2% of students in the 2019 graduating class.
IDOE pointed to non-waiver graduation rate improvements, which increased from 78.78% in 2021 to 80.58% in 2022.
The number of students who did not pass the 10th grade standardized exam to qualify for graduation without a waiver dipped 3 points from 2021 to 2022, although that still equates to about 5,000 Hoosiers graduating with the waivers.
To qualify for a waiver, a student was unsuccessful in completing postsecondary-readiness competency requirements by the end of their senior year, according to state statute.
Getting more Hoosiers across the finish line
Meanwhile, state officials are still pushing for greater K-12 reforms to better prepare graduates for postsecondary education and the workforce.
Indiana Secretary of Education Katie Jenner said the data indicates that many students are continuing to recover from the academic impacts of COVID-related learning disruptions.
"Graduating high school is an important milestone as students transition to their next step, whether that's employment, enrollment or enlistment leading to service," Jenner said in a statement.
In recent weeks, she has doubled-down on the importance of adding additional work-based learning opportunities for students and making it easier for high schoolers to access post-secondary education credentials before graduation. Jenner and other state education officials have called on state lawmakers to make curriculum reforms and degree requirement changes a priority in the 2023 legislative session.
"As we seek new and innovative ways to ensure students are best prepared for their future, we must continue to rethink how those four years are structured," she continued. "This includes increasing the number of students having access to a high-value postsecondary credential before graduation, increasing access to high-quality work-based learning opportunities that allow for additional skill development, as well as providing flexibility for high schools–allowing them to focus on strategic, rigorous coursework that is purposeful for each student's unique path."
Top Republican lawmakers have expressed a desire to "reinvent" high school in Indiana during the upcoming legislative session.
Democratic lawmakers said they will renew their call to automatically enroll qualified students into the 21st Century Scholars program, a statewide grant program that supports student enrollment at two- and four-year schools.
Big education-related funding increases have been requested by education department officials and other advocacy groups, but the state's key budget writers have expressed hesitancy about earmarking additional dollars amid inflation.
The Indiana Capital Chronicle is an independent, not-for-profit news organization that covers state government, policy and elections.
Please enable JavaScript to view this content.