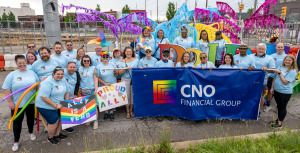 For the 14 Indiana companies that made Forbes' 2022 list of America's Best Employers for Diversity, efforts go far beyond diversifying the composition of the executive leadership team or the board of directors.
Many team up with not-for-profits that promote diversity, equity and inclusion efforts, find ways to lift small businesses led by underrepresented groups, and provide deep training to employees to help them recognize and deal with unconscious bias.
Despite landing their companies on Forbes list of 500 honorees, leaders of the five top-ranking Indiana companies interviewed by IBJ agree their work clearly is not done. However, they point to significant progress in recent years and increased awareness, partly due to racial unrest and disparities exposed nationally since 2020.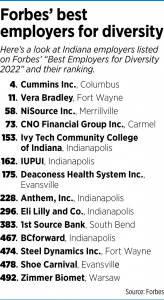 Forbes partnered with market research company Statista to determine the company rankings. Statista surveyed 60,000 Americans working for businesses with at least 1,000 employees and pinpointed the companies they identified as most dedicated to diversity, equity and inclusion. Survey participants were asked to rate their organizations on criteria such as age, gender, ethnicity, disability and sexual orientation equality, as well as that of general diversity.
Statista then asked respondents belonging to underrepresented groups to nominate organizations other than their own.
IBJ interviewed the top five ranking Hoosier companies to find out what made them among the top businesses in the nation when it comes to diversity. Here are their stories.
Cummins Inc., Columbus
No. 4 on Forbes' diversity list
Cummins has a deep history in championing diversity, a tone set by longtime CEO J. Irwin Miller, who steered the company for some 40 years before retiring in 1977.
As the first lay president of the National Council of Churches, Miller led the organization to undertake several risky civil rights initiatives and co-sponsor Martin Luther King's historic 1963 March on Washington.
His beliefs also permeated his company, where his thoughts on the importance of diversity are still displayed in factories, conference rooms and the executive board room.
More recently, the diesel engine maker became an early provider in domestic partner benefits in 2000 and was one of the leading companies to stand up against the Indiana's Religious Freedom Restoration Act—since revised—that many believed allowed discrimination against the LGBTQ+ community.
"Our commitment hasn't always been easy or popular, but we haven't shied away from it." said company spokesman Jon Mills.
In 2020, the company launched Cummins Advocating for Racial Equity—or CARE—an initiative to develop and take additional steps to help undo systemic discrimination against the Black community. Among other actions, Mills said, CARE distributes funds through that organization and Cummins' foundation to different not-for-profits to aid Black-owned business and groups addressing housing and police reform issues.
Cummins, which has 60,000 employees worldwide, also has developed a global diversity strategy, led by Carolyn Butler-Lee, vice president of diversity, equity and inclusion. Those strategies focus on accountability, recruitment, retention and development. The company also reviews talent management and accountability systems to mitigate bias.
Vera Bradley, Fort Wayne
No. 11 on Forbes' diversity list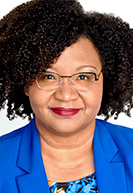 As a mid-sized company with 2,500 employees, Vera Bradley has to be more creative in improving diversity because it lacks all the resources of large global companies dominating the top of Forbes list, said Lanitra Berry, the company's diversity and inclusion manager.
Vera Bradley, which has 150 retail and outlet sites, is a leading designer of women's handbags, luggage and travel items as well as fashion and home accessories.
While the company has always had some diversity efforts, Berry explained, the pandemic and political unrest nationally since 2020 gave people, in general, time to reflect on positive remedies and led the company to create a more formalized process focusing on diversity.
Vera Bradley decided to centralize actions under a new position—diversity and inclusion manager, which has been Berry's role since then. Berry said one step was establishing partnerships with organizations supporting underrepresented populations.
For nearly three years, the company has partnered with not-for-profit Free Mom Hugs, which supports LGBTQ+ issues. Vera Bradley created and sells products geared toward "Pride awareness" and donates funds to the organization.
Last year, the company also started working with Women Who Create, which helps women of color in technical and design fields. Vera Bradley donated $20,000 to the organization and created the Unity Tote to raise awareness.
For Vera Bradley associates, the company has offered training on unconscious bias and disability inclusion awareness. Each month, the company celebrates a different type of diversity, such as Black History Month and Pride month or a group's heritage. Berry said associates share narrative stories on an internal website that everyone can read, as another way to create awareness and empathy for others.
NiSource Inc., Merrillville
No. 58 on Forbes' diversity list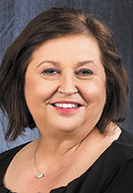 Violet Sistovaris, executive vice president and chief experience officer at NiSource Inc., said creating a culture of diversity at the Indiana-based utility company starts with leadership.
"Our board is very diverse, our senior leadership team is highly diverse," she said. The board is one-third women and one-third racially diverse, and the leadership team is almost two-thirds racially diverse and 38% female.
The company, she said, "has a fundamental belief that diversity makes us more innovative and therefore more valuable to customers, the community and the investors. … Many years ago, we declared it was a major goal."
In 2012, Sistovaris started the first women mentoring program and expanded it to minority employees. The company regularly brings in groups of these employees and provides them with training programs to fit their unique needs, she said.
More than 40% of NiSource's 7,600 employees participate in seven employee resource groups, including those geared to Latinos, African Americans, veterans, LGBTQ employees and women, said Sistovaris.
Last year, she said, NiSource elevated diversity oversight by hiring Carlos Ayala as vice president and chief diversity, equity and inclusion officer. He has responsibility for diversity programs and resource groups and is closely involved in interviewing and assessing job candidates.
"While we appreciate the recognition from Forbes, we are not done," she said.
CNO Financial Group Inc., Carmel
No. 73 on Forbes' diversity list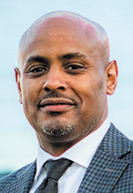 Aaron Mapp, CNO Financial Group's first senior director for diversity, equity and inclusion, said he started three years ago when the financial services holding company wanted one person to lead and strengthen diversity efforts.
In one of the company's issue surveys, he said, associates called for more meaningful programs and activities to bolster diversity efforts. The strategy focuses on education and awareness and employee engagement, as well as recruitment, selection and development. A gender transition policy and paternal leave policy were developed in response to associates' requests, too.
Mapp said CNO's education and awareness actions last year included some 70 events, business employee resource groups for veterans, LGBTQ and other groups, and 1,700 diversity-related courses.
In 2021, associates finished 1,600 hours of self-learn modules on dealing with unconscious bias, being more equitable and other diversity topics, he said. The company gives workers 16 hours of paid work time yearly to attend diversity programs or use modules, Mapp added. Last year, 76% of employees used at least four hours for those purposes, slightly over the company's goal.
All of those steps, Mapp said, help associates develop a better understanding of others' differences and cultural backgrounds.
The company also offers associates opportunities for professional development with courses on LinkedIn and to participate in a six-month job rotation plan to experience different business areas to create a "diverse talent pipeline," Mapp said.
To diversify the workforce, Mapp said CNO recruits employees by establishing close relationships with leaders of associations of Black and Latino actuaries and groups such as Hiring our Heroes.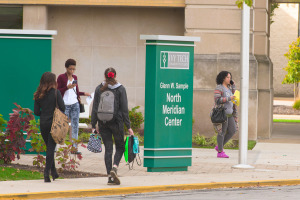 Ivy Tech Community College
No. 153 on Forbes' diversity list
Ivy Tech Community College wants people—employees, staff and students—to feel they belong at the school, said Ivy Tech President Sue Ellspermann. "We owe it to Hoosiers to create and be the diverse community college we should be."
The college, with 6,500 faculty and staff and some 150,000 students statewide, has been working more intentionally since 2019 when more than 100 college leaders said Ivy Tech needed to focus more on equity, diversity and belonging, she said.
Among the objectives adopted in 2019 are to eliminate systemic inequities for students, implement new structures to ensure faculty and staff diversity, increase leadership diversity and leverage leaders' power and privilege to drive positive change.
At that time, Ellspermann said, the college hired Denise Posey as vice president of diversity, equity and belonging, elevating that position from an executive director's post.
She believes Ivy Tech should reflect the college's diversity in its leadership. Of 19 chancellors, six are black, three are Latinx and eight are female. In addition to her, Ellspermann said chairs of the college board of trustees and foundation board of directors are female. "I believe diverse leaders are going to attract diverse talent," she said.
The college is intentionally expanding its hiring pool to achieve a more diverse faculty, recruiting out of diverse schools, and requiring everyone serving on search committees to take training in mitigating bias in the hiring process, she said. So far, 900 people have done so.
Ellspermann recognized more work needs to be done in hiring diverse faculty with master's and doctorates in some areas. "We're taking the long view. We're not there yet, but we're improving," she said.•
Please enable JavaScript to view this content.