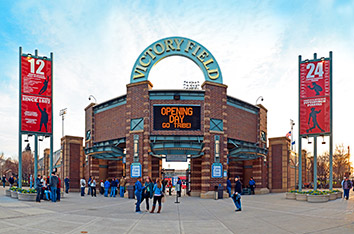 The Indianapolis Indians this week announced separate deals that will put 35 of their games on TV and allow the team to play home games in May before a limited number of spectators.
The Triple-A Minor League Baseball team said it received approval from the Marion County Public Health Department to play its May games at Victory Field at 25% stadium capacity—or about 3,450 spectators per game.
The Indians play only six home games in May, all against the Toledo Mud Hens from May 11-16. Tickets go on sale April 28.
The team, which missed its first season in 119 years last year because of the pandemic, will have a much busier home schedule in June, with 14 games at Victory Field on the calendar. Capacity limits, if any, have not been announced past May's games.
Meanwhile, the Indians said WNDY-TV Channel 23 (MyINDY-TV) will air 35 of the team's home games, starting with the May 11 home opener.
Coverage will include 10 games against the Iowa Cubs and nine against the Mud Hens.
Indians games also will be broadcast on radio on WNDE-AM 1260, with "Voice of the Indians" Howard Kellman entering his 45th year with the club. He'll be joined by Andrew Kappes and Cheyne Reiter.
Please enable JavaScript to view this content.