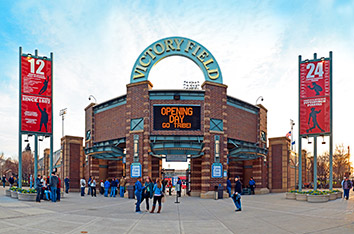 The Indianapolis Indians canceled their season Tuesday after Major League Baseball informed its Minor League Baseball affiliates that players would not be made available to compete in a pandemic-shortened season.
The Indians were founded in 1901 and have played 119 consecutive seasons—including through World War II—before this season.
The Indians, who serve as the triple-A farm team for the Pittsburgh Pirates, are sure to take a big financial hit from the decision, since most of the club's revenue comes from ticket sales, suite rentals and concessions.
It will also be another blow to the downtown tourism and hospitality industry. The Indians typically draw about 600,000 people per season to Victory Field, and many of those fans spend money at nearby businesses.
Randy Lewandowski, president and general manager of the Indians, said the club is "disappointed and saddened" by the cancellation
"We had remained hopeful that Indians baseball this summer would serve as a rallying cry for our community as we begin our recovery from the pandemic," Lewandowski said in written remarks.
Lewandowski told IBJ in an email that the team is "in a good financial position to weather this storm and looks forward to the 2021 Indians baseball season."
The Indians applied and received a federal Paycheck Protection Program loan for $918,000, Lewandowski said. He said the funds were used for payroll, including for part-time game-day staff, and for utilities. Under terms of the program, those loans do not need to be repaid if they are used for payroll.
Lewandowski said the Indians have no plans to furlough or eliminate full-time staff. He said it is "too early for us to characterize the [financial] losses, but we will be affected just like so many other small businesses and sports/entertainment/hospitality entities."
The Indians organization has been profitable for 44 consecutive years, bring in a low-seven-figure profit in recent years. In 2019, the franchise had $14.7 million in revenue. Of that, $6.6 million came from ticket sales and suite rentals, another $2.8 million came from concession sales and $4 million came from advertising deals.
Last season, the Indians averaged 8,600 fans per home game over 68 games, ranking fourth in Minor League Baseball.
Lewandowski previously told IBJ that playing at an empty Victory Field wouldn't be beneficial to the franchise because of its reliance on ticket sales.
"From Minor League Baseball's perspective, playing in front of no crowd doesn't benefit anyone because we rely so heavily on ticket and other [in-venue generated] revenue," he said in May.
MLB teams—in this case, the Pirates—generally cover player salaries for minor league affiliates.
Lewandowski said the club still plans to host other events at Victory Field throughout the summer.
So far, five specific events have been announced:
— Victory Field Blood Drive, July 7, noon to 5 p.m;
— 31st Annual Ice Cream Social, July 10, 11 a.m. to 2 p.m.;
— Grand Park College Summer League games, July 16, July 23 and July 30, 6:30 p.m.;
— Grand Slam Auto Show, Sept. 5, 9 a.m. to 3 p.m.;
— IndyHumane's Mutt Strut dog walk, Sept. 26.
Major League Baseball plans to play an abbreviated 60-game season starting July 23 or 24 in empty ballparks. It will be MLB's shortest season since 1878.
Please enable JavaScript to view this content.