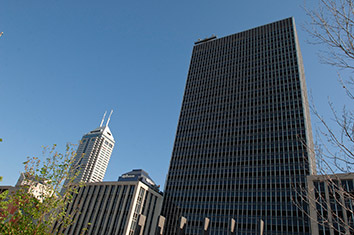 The Indianapolis City-County Council voted unanimously Friday morning to provide Indy Chamber with $25 million that will enable the business-advocacy group to quickly offer forgivable loans to small businesses in Marion County backed by the federal Paycheck Protection Program.
The council's goal is to ensure that money from the latest federal stimulus bill gets into the hands of Indianapolis small businesses owners that might not have had the resources or relationships to receive a loan in the first round of funding.
The funding will go to small businesses (50 employees or fewer) in Marion County. The loans will be for $75,000 or less. As part of the program, companies must commit to keeping employees paid for at least eight weeks if they want the loan to be forgiven.
The Coronavirus Aid, Relief and Economic Security Act, approved by President Donald Trump on March 27, set aside $350 billion in forgivable federally backed loans for small businesses that agreed to keep employees working through the economic downturn caused by the COVID-19 pandemic.
But the money was depleted in a matter of weeks, and the program drew criticism because many small businesses that desperately need the aid but lack existing relationships with large banks missed out. In response, Congress approved a second round of funding—which President Trump is expected to sign at noon Friday—and $30 billion was set aside for Community Development Financial Institutions, including Indy Chamber's Business Ownership Initiative.
The BOI—in part through a relationship with Bankable—will be able to offer Paycheck Protection Program loans as a Community Development Financial Institution. But first, it needs the upfront capital to do so, which the Indianapolis City-County Council is in a position to provide, a resolution reads.
With the $25 million, BOI will be able to provide loans to small businesses that would then be purchased by the Small Business Administration, which would reimburse the city.
Ian Nicolini, vice president of Indianapolis economic development for the Indy Chamber, said the city's funding won't be deployed until applications have been approved by the SBA, ensuring the funding is guaranteed to be reimbursed.
The funding could be available to businesses as soon as Monday.
Mayor Joe Hogsett's chief of staff, Thomas Cook, said the second round of funding of the Paycheck Protection Program is expected to run out quickly. Cities that take action to help facilitate these loans are likely going to see their small businesses benefit the most, he said.
The city funding comes from a fiscal stability fund, which at the end of 2019 had more than $80 million.
"The city has the ability to provide that upfront capital to protect countless Marion County jobs in a manner that will see its investment be fully reimbursed," the resolution states. "Ensuring that Marion County small businesses and their employees have access to this federal program in a way that, after reimbursement, will be entirely budget neutral is sound public policy."
The resolution also states that the policy is "particularly sound" because BOI is able to get Paycheck Protection Loans to smaller businesses and businesses operated by individuals in historically disadvantaged demographic groups, which are largely going unserved by the loans being processed by traditional banks.
"This pandemic has created tremendous demand for access to loan capital and federal programs," Nicolini said. "This liquidity would allow us to assist more small businesses to access those resources that maybe they missed out on in the first go-around."
He said the bill draft was made public Tuesday. And when the Indy Chamber team saw the carve out for CDFIs, they started working with the city to provide liquidity for the loans.
"Mayor Hogsett and his team and council leadership and individual council members all understood the gravity of this situation," Nicolini said. "We've been reporting on the outcomes on the rapid response loans regularly, and that's kept the dialogue open."
The money will be on top of Indy Chamber's Rapid Response Loan program, which was established in March to try to provide emergency help to small businesses. Those loans were meant to be a bridge in part to federal stimulus funds.
Indy Chamber has closed on 89 rapid response loans for a total of $1.83 million, with 43 more loans approved. It has had more than 1,000 requests for help totaling $20 million.
Indy Chamber has raised about $6 million to fund the rapid response loans.
Please enable JavaScript to view this content.