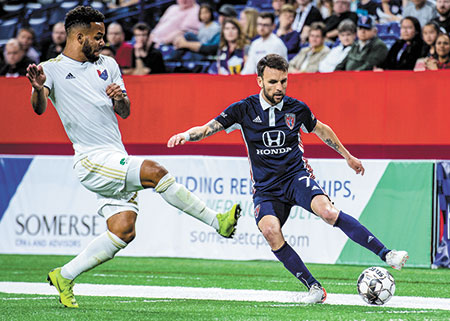 Attendance for the first Indy Eleven home game of the season will be limited to season-ticket holders because of the pandemic, officials for the professional soccer team announced Wednesday afternoon.
No general admission tickets will be sold for the May 8 home opener against Tulsa, the team said.
The team is set to host all 16 of its regular-season home games at IUPUI's Michael A. Carroll Stadium this season after playing the past three seasons at Lucas Oil Stadium.
The team did not share specific capacity limits for the first game, nor disclose its number of season-ticket holders.
Current capacity limits for sports venues are 25% in Marion County. In the case of Carroll Stadium, that's about 3,000 people.
The Indianapolis 500 on May 30 is allowed to use 40% of its maximum capacity, or about 140,000 spectators.
In a written statement, Indy Eleven officials said they will continues to work with the Marion County Public Health Department on a venue plan for remaining home games "that will put the health and safety of players, staff and spectators at the forefront."
Please enable JavaScript to view this content.