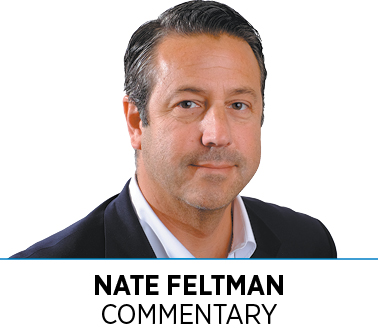 At a time when people are making decisions about where they live based not on the location of their job, but on the quality of life they will have where they live, Indy needs a plan, a vision and an identity. How will Indy compete in the race for talent?
Downtown's challenges are not short-term in nature. Many downtown CEOs are beginning to make plans for a smaller office footprint as they come to terms with a workforce that demands remote or semi-remote options.
Our city needs an aggressive plan to retain and attract talent, given that employers will continue to offer flexibility to their employees as to where they live. Part of that plan needs to contemplate how we will fill the office space that will continue to flood the market.
While I do not believe it is Mayor Joe Hogsett's job alone to set the vision and implement the plan, I do believe mayors are uniquely positioned to lead and set the tone. One does not need to look far to see what mayoral leadership looks like when it comes to placemaking and making investments that attract talent.
Mayor Jim Brainard in Carmel has proved what is possible when a mayor has a vision and a plan and works every day to implement that plan. When the arches on Carmel's Main Street went up some 15 years ago proclaiming Carmel's Arts & Design District, some snickered since the reality didn't match the proclamation. However, that vision has become a reality with public art, a performing arts center, art studios, home design boutiques and restaurants.
Some might rightfully argue that Indy's challenges are more complex than Carmel's and, therefore, comparing Indy to Carmel is unfair. But having a vision and a plan for the future of our city does not need to be overly complicated.
City leaders years ago decided to make sports and conventions a focus, and that plan continues to pay dividends as we prepare to host the Big Ten Football Championship this weekend and the College Football Playoff National Championship in January. What vision can we develop that is consistent with new economic trends and synergistic with our existing strategies?
Maybe making Indy the safest and most livable city in America? Maybe that is too simple, but at a time when many remote workers are looking for cities and states that are affordable, safe and easy to get around in, yet offer bigger-city amenities (e.g., museums, theaters, a world-class airport, professional and amateur sports), Indy can shine. If this were a driving vision, the mayor is uniquely positioned to lead on public safety and place-making.
Public safety comes under the purview of the Mayor's Office. Hogsett in his last city budget did make public safety a priority, allocating $261 million for the Indianapolis Metropolitan Police Department. But extraordinary focus from the Mayor's Office is necessary to rally the necessary resources and collaboration among neighborhood leaders, police, and the private and philanthropic sectors to cease the year-after-year record number of homicides in our city.
In terms of place-making, the mayor could play a pivotal role in the redevelopment of Circle Centre mall. There is an enormous opportunity to redevelop this valuable downtown space into a residential and mixed-use commercial development that includes outdoor gathering and recreational spaces like those developed in many other cities. The complicated ownership structure begs for mayoral leadership and direction. Developers with plans in hand are ready to spring into action.
Time is not our friend. Other cities have plans in motion. A vision and a plan are needed now. Let's pick some priorities and move quickly.•
__________
Feltman is CEO of IBJ Media. To comment, email nfeltman@ibj.com.
Please enable JavaScript to view this content.